Weeknight Rescue // April 2020 // Week 14
Welcome to Saturday, friends. Anyone else feel like they're running a commercial kitchen these days? Keeping a family fed 24/7 is no small task. Here's a meal plan that I hope will help.
Also, I'm doing another Quaranteen cooking class over on Instagram. Grab your kids or teens or just yourself and join me. I'm going to make seriously good chocolate chip banana bread. The class will go up Saturday at 2 p.m. PST.


I figured comfort food was in order this week and sheet pan chicken with crispy potatoes fits the bill. If you don't have or can't get a whole chicken, use legs or thighs or a combination of both. Any salad or green vegetable (like the kale below) completes the meal.


This is a dinner idea I pull out when I'm tuckered out and have lots of "this and that" in the fridge. Pretty much anything can go into a salad and that's the idea here. Set out oil and vinegar for dressing or whisk up any of the dressing recipes included in the post.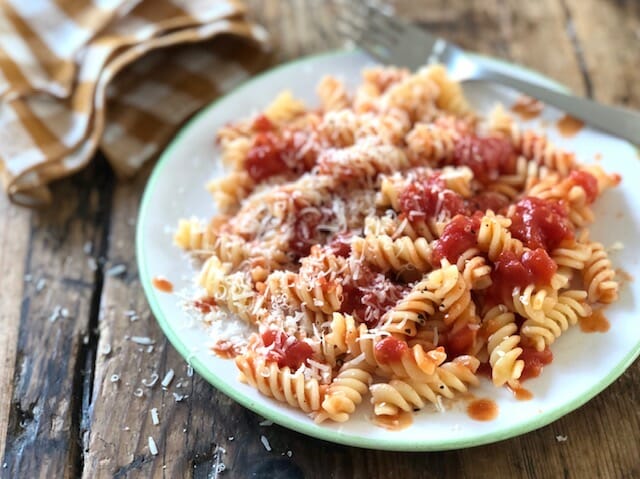 I made a double batch of this pasta sauce last week, so we used it for pizza one night and pasta another (we added cooked, sliced vegetarian sausage and a pinch of chile flakes). The recipe has become a big-time family favorite.


This is a "treat yourself" kind of supper, since it's so chin-dribblingly delicious. It's Korean-style beef done in the Instant Pot until fork tender, piled onto warm tortillas, and topped with crunchy slaw. I like to add a crunchy salad of sliced cucumbers and radishes with a splash of seasoned rice vinegar to serve on the side.


This is always a crowd pleaser in our house. It's a mess of Tex Mex flavors done in a single skillet. Serve with this colorful Mexican Slaw on the side for an extra dose of veggies at the table.


I've been stocking up on heartier veggies that will last a while, since I'm not going to the market often these days. Kale qualifies and this is a pretty quick and dirty way to make it tasty.

For those of you who either can't get bread at your local market or find baking a source of comfort, try this wholesome loaf. We've baked a few loaves over the past two weeks and enjoy it sliced and toasted for breakfast with a swipe of salty butter.
SHOPPING LIST // WEEK 14
Sheet Pan Greek Chicken & Potatoes
1 whole chicken (3 to 3.5 lbs)
3 lemons
1/3 cup extra-virgin olive oil
2 tablespoons dried oregano
11 cloves garlic
8 medium white or red potatoes
DIY Salad Bar
4 to 6 generous handfuls of greens (such as lettuce, spinach, dark leafies and/or chicories)
1 1/2 to 3 cups raw vegetables or leftover cooked vegetables
1/2 to 1 cup fresh fruit (such as chopped apples or pears, berries, or sectioned citrus fruits)
1 to 2 cups beans, legumes and/or grains
1 to 2 cups other protein-rich foods (such as cooked chicken, turkey, hard boiled egg, tuna, salmon, beef, tofu, pork, ham, or lamb)
1/2 to 3/4 cup shredded, crumbled, or cubed cheese (such as feta, Cheddar, Swiss, blue or goat cheese)
1/4 to 1/2 cup nuts and/or seeds (such as almonds, walnuts, peanuts, pumpkin seeds, sunflower seeds)
1/4 cup fruit such as raisins, dried cranberries, chopped apricot, chopped dried plums
Croutons
Favorite dressings
Pasta with Simple Tomato Sauce
One 28-ounce can whole peeled tomatoes
1 large yellow onion
3 tablespoons butter
1 tablespoon extra-virgin olive oil
12 ounce rotini, spaghetti, or any other pasta shape
Parmesan cheese for serving
Optional additions: fresh basil, fresh cracked pepper, 1/2 teaspoon minced Calabrian chiles, or 1 to 2 smashed anchovies
Instant Pot Korean Beef Tacos
1 1/2 pounds beef brisket
2 teaspoons canola oil
1 large Asian pear (or ripe conventional pear if you can't find Asian)
3 large cloves garlic
1 tablespoon sesame oil
2 tablespoons mirin
2 tablespoons seasoned rice vinegar
2 1/2 tablespoons soy sauce
2 tablespoons packed brown sugar
1 scallion (optional)
1 teaspoon sesame seeds (optional)
For serving: small flour tortillas, kimchi, or other pickled cabbage and Sriracha
Cheesy Tex Mex Skillet Supper
1 tablespoon extra-virgin olive oil
1 large yellow or red onion
1 teaspoon ground cumin
2 teaspoons ground chili powder
Pinch red chili flakes
2 large cloves garlic
1/2 pound ground beef
2 medium zucchini
1 cup uncooked corn kernels (fresh off the cob or frozen)
1 tablespoon tomato paste
1 1/2 cups cooked black beans (one 14- to 16-ounce can or box)
1 medium lemon
3 ounces grated sharp Cheddar cheese
Corn tortillas for serving
Sautéed Kale with Lemon and Garlic
1 bunch kale (any variety)
2 large cloves garlic
1 tablespoon extra-virgin olive oil
1/2 lemon
1 pinch crushed red pepper flakes (optional)
Simple No-Knead Wheat Bread
1 1/2 teaspoons molasses or honey
1 tablespoon active dry yeast (a little more than 1 packet)
2 cups whole-wheat flour (not pastry flour)
1 cup all-purpose flour
3/4 cup rye flour (substitute whole-wheat or white if you don't have rye flour)
1/2 teaspoons kosher salt
1 tablespoon butter
1 tablespoon sesame seeds, poppy seeds, or hemp seeds (optional)