Weeknight Rescue // November 2019 // Week 44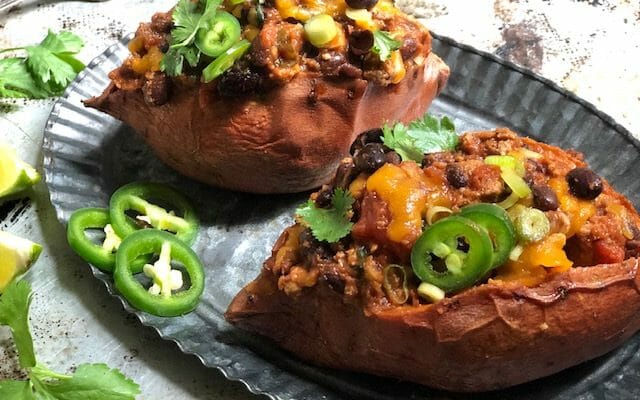 I don't know about you, but I'm stunned that Halloween is already behind us. Moving on, we've got lots of fall favorites in store this week. Enjoy the weekend, friends.


These meatballs are a snap to make and good for a crowd. Skip the pasta and serve these in shallow bowls with a crusty baguette and a pile of steamed broccoli on the side.


This has proven to be a surprisingly popular recipe on the blog. It's simple, affordable weeknight cooking that relies on canned clams and spaghetti. Add a green salad (with the dressing below) and dinner is done!


Everything Chicken is my quick fix for a chicken dinner. The options for what to serve alongside are endless…roasted potatoes, delicata squash, or this Reset Button Salad are all fair game.


The combination of tender sweet potatoes with just-so-spicy turkey chili is a good one. It's a one-dish meal that's nourishing and flavorful. Feel to serve the chili in bowls for any kids who aren't so keen on sweet potatoes.


This is an excellent (and pretty) easy way to enjoy delicata squash, which is in season at the moment. Slice, roast, and pile it onto tortillas for tacos. Warm up some black or pinto beans with a big spoonful of salsa stirred in to serve on the side. .


Shake a jar of this vinaigrette to stash in the fridge for quick salads. Double or triple the recipe if you've got salads planned all week long.

A chocolate chip cookie recipe thats pumped up with good-for-you ingredients and still plenty tasty. Add to school lunches or enjoy for an afternoon snack.
SHOPPING LIST // WEEK 44
Slow Cooker Turkey Meatballs
1 pound ground turkey
1 link uncooked spicy Italian turkey sausage (1/4 to 1/3 lb)
1/3 cup Italian seasoned breadcrumbs (preferably whole wheat)
1/4 cup Parmesan cheese
1 egg
4 tablespoons fresh parsley
1 tablespoon fresh basil
One 28-ounce can crushed or diced tomatoes
One 14.5-ounce can crushed or diced tomatoes
2 large garlic cloves
Big pinch crushed red pepper flakes
1 rounded teaspoon sugar
Weeknight Spaghetti and Clams
1 pound spaghetti
1 tablespoon extra-virgin olive oil
2 tablespoons butter
4 large cloves garlic
Four 6.5 ounce cans chopped clams in juice
1/4 cup fresh parsley
Pinch or 2 crushed red pepper (optional)
Everything Baked Chicken
2 boneless skinless chicken breasts (about 1 1/2 lbs)
1 lemon
3 tablespoons Everything bagel spice blend
Turkey Chili Stuffed Sweet Potatoes
6 medium sweet potatoes
1 tablespoon extra-virgin olive oil
1 large yellow onion
3 cloves garlic
1 pound ground turkey
Two 15-ounce cans black beans
1 tablespoon ground chili powder
1 teaspoon ground cumin
1/2 teaspoon smoked paprika
1/4 teaspoon cayenne pepper
One 28-ounce can plum tomatoes
1/4 cup fresh cilantro
Favorite garnishes: lime wedges, shredded cheese, sour cream, or scallions
Delicata Squash Tacos
2 delicata squash
1 tablespoon extra-virgin olive oil
Chili powder
1/3 cup white, apple cider or white wine vinegar
2 tablespoons sugar
1 small red onion
8 corn tortillas
1/2 cup crumbled cotija or feta cheese
1/3 cup fresh cilantro
1/4 cup sour cream
Salsa and lime wedges for garnish
Everyday Vinaigrette
2 tablespoons red wine vinegar
1 teaspoon Dijon mustard
1/2 teaspoon honey
1/3 cup extra-virgin olive oil
Chocolate Chip Makeover Cookies
2/3 cup unsalted almonds (raw or roasted)
2/3 cup rolled oats
1 1/3 cups whole wheat pastry flour
3/4 teaspoon baking soda
1 stick butter (4 ounces)
1/2 cup firmly packed brown sugar
1/2 cup granulated sugar
1 teaspoon vanilla extract
2 large eggs
1 1/3 cups dark chocolate chips (or 8 ounce dark chocolate bar)