Weeknight Rescue // September 2020 // Week 38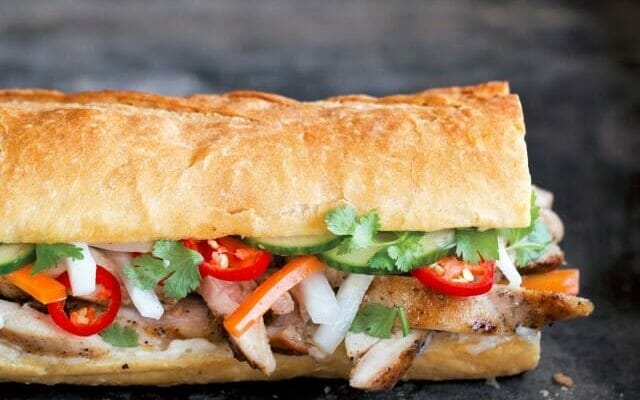 Cooking this time of year is all about relishing the last of summer produce and the first of fall favorites. I've been eating lots of tomatoes, but also juicy figs (from my own tree!) and tender pears. This week's menu reflects that sensibility with a heafy dose of practicality too. Enjoy!


You can tell this recipe has been on the blog for a while just looking at the photo from my early days with a camera. The dish is still delicious, however, and very easy to make. The recipe makes enough to serve six to eight, but feel free to cut it half if you have a smaller crew at home. The leftover pork is great with a salad or on a sandwich for lunch the next day.


If you haven't gotten to this recipe yet, now's the time. If you don't like goat cheese, try a creamy cow's cheese, like Boursin, instead. On the side, I often do a big, leafy salad with this vinaigrette.


A stupid simple recipe that you can make either in the slow cooker or the Instant Pot. It's a "set it and forget it" kind of meal that is a longtime blog favorite. You can use virtually any type of leafy greens and serve it over pasta, any grain, or roasted cauliflower.


A friend recently told me that the only way she'd eat clams as a kid was in a bowl of spaghetti. You might be surprised that your own kids embrace clams this way, too. It's nutritious and budget-friendly recipe made with canned clams, which makes it a good cook-from-the-pantry dinner.


Make sandwich night a little more interesting with flavor-packed banh mi. It's a Vietnamese-style sandwich made with marinated chicken, pickled vegetables on a crusty baguette. If you can, make the vegetables ahead of time, so it's easier to pull everything together come dinnertime.  


Made with buckwheat groats and only a few other ingredients, this is a super crunchy granola that reminds me a little bit of homemade Grape Nuts. Beware: highly addictive.

I shipped a batch of these wholesome blondies off the my college girl this week and she gave them two thumbs up. Stay tuned to my IG, since I'll be doing a demo of the recipe on Wednesday.
SHOPPING LIST // WEEK 38
Pork Tenderloin with Roasted Figs
2 cloves garlic
1 teaspoon fresh rosemary plus 2 big sprigs
1 tablespoon Dijon mustard
2 teaspoons pure maple syrup
Two 1 to 1-1/4 pound pork tenderloins
1 tablespoon extra-virgin olive oil
1 basket fresh figs (about 16 figs)
1 tablespoon balsamic vinegar
Tomato Zucchini Tart with Olive Oil Crust
1 1/2 cups whole-wheat pastry flour
1/3 cup plus 1 tablespoon extra-virgin olive oil
4 ounces goat cheese (chèvre)
2 medium zucchini
1 pound ripe tomatoes of any variety, including cherry tomatoes
2 tablespoons roughly chopped fresh basil
Slow Cooker Balsamic Chicken with Tomatoes and Chard
1 1/2 pounds boneless, skinless chicken thighs
1 large red onion
4 cloves garlic
1/4 cup balsamic vinegar
One 26-ounce box or 28-ounce can chopped tomatoes
1/2 teaspoon dried rosemary
1/2 teaspoon dried thyme
1 teaspoon dried basil
1 teaspoon dried oregano
1 bunch Swiss chard (or other leafy greens)
2 to 3 tablespoons grated Parmesan cheese
Whole grain pasta, brown rice or other grain for serving
Weeknight Spaghetti with Clams
1 pound spaghetti
1 tablespoon extra-virgin olive oil
2 tablespoons butter
4 large cloves garlic
Four 6.5 ounce cans chopped clams in clam juice
1/4 cup fresh parsley
Zest of 1/2 lemon plus 2 teaspoons lemon juice
Hanoi Chicken Banh Mi
1½ pounds boneless skinless chicken thighs
¼ heaping teaspoon sugar
1 tablespoon fish sauce
1 tablespoon fresh lime juice
1 1/2 tablespoon canola oil
1 large carrot
1 pound daikons, each no larger than 2 inches in diameter
2 teaspoons plus 1/2 cup sugar
1 1/4 cup distilled white vinegar
2 French baguettes
2-3 tablespoons mayonnaise
2 dozen thin slices of English cucumber
1 small jalapeño (optional for those who like spicy food)
1 bunch fresh cilantro
Homemade Buckwheat Granola
1 1/2 cups buckwheat (uncooked buckwheat groats)
1 cup slivered almonds (or other chopped nuts)
3 tablespoons sesame seeds
1 1/2 tablespoons extra-virgin olive oil
2 tablespoons maple syrup
1/3 cup raisins
Peanut Butter Chickpea Blondies
1/2 cup chickpeas
1/3 cup creamy natural peanut butter
3 tablespoons salted butter
2/3 cup packed brown sugar
1 egg
1 teaspoon vanilla extract
1/2 cup whole-wheat flour
1/2 cup all-purpose flour
1/2 teaspoon baking soda
1/2 heaping cup dark chocolate chips