Weeknight Rescue // Week 49 // December 2020
If I had to pick one word to describe this week's meal plan, it would be cozy…soup, pasta, and a very seasonal homemade cookie that would be terrific with a cup of hot tea. Enjoy!


The combination of tender sweet potatoes with turkey chili is a good one. It's a one-dish meal that's nourishing and flavorful and can be made ahead of time, is freezer-friendly, and great for leftovers. Feel free to serve the chili in bowls for any kids who aren't so keen on sweet potatoes.


Now's the time to take advantage of persimmons if you can get your hands on them. If you can't, swap in tangerines, apples, or pears. I'd pick up a rotisserie chicken or cook a few chicken breasts to slice and toss in the finished salad so it qualifies as a main dish.


If you've never tried (or perhaps ever heard of) Aush, it's a traditional Afghan soup I learned to make from my friend Humaira. It's a brothy base with noodles and chickpeas that you serve with a ridiculously tasty seasoned ground lamb. You top every bowl with a spoonful of Greek yogurt and the combo is pure magic, if you ask me. If you don't care for lamb, swap in ground beef or chicken instead.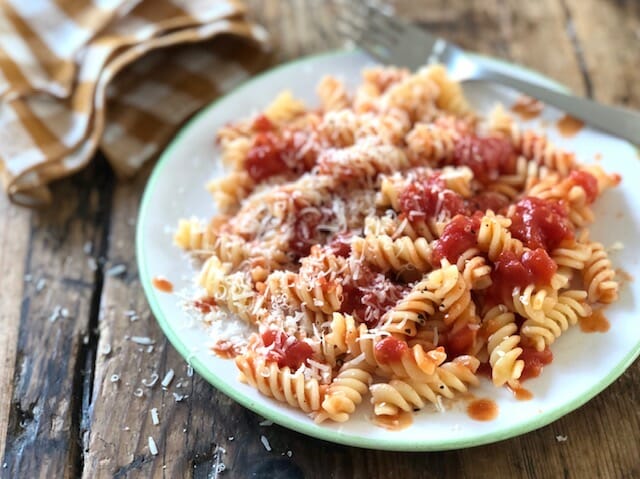 A pasta sauce you can practically make with your eyes closed…that's my kind of weeknight dinner. You can dress it up with crispy pancetta or calabrian chiles, but it's quite delicious straight up. This Shaved Brussels Sprouts Salad on the side would be nice. If you've never made it, give it whirl. Even my kids are crazy about it.


I'm really appreciating the comfort of a bowl of soup these days and finding the Instant Pot is calling my name. No worries if you don't have just the right type of vegetables or beans for this recipe. It may not turn out picture perfect, but it will nourish your family. Leave out the sausage for a vegetarian version.


An icy cold smoothie doesn't exactly fit into the cozy category, but I love starting my mornings with a blender full of this gorgeously green drink.

If you love a ginger cookie, but want a hit of something more wholesome, this is the ticket. Rye is a whole grain flour that gives this cookie terrific flavor along with crystallized ginger and molasses.
SHOPPING LIST // WEEK 49
Turkey Chili Stuffed Sweet Potatoes
6 medium sweet potatoes
1 tablespoon extra-virgin olive oil
1 large yellow onion
3 cloves garlic
1 pound ground turkey
Two 15-ounce cans black beans
1 tablespoon ground chili powder
1 teaspoon ground cumin
1/2 teaspoon smoked paprika
1/4 teaspoon cayenne pepper
One 28-ounce can plum tomatoes
1/4 cup fresh cilantro
Favorite garnishes: lime wedges, shredded cheese, sour cream, or scallions
Winter Kale Salad
1 pound red seedless grapes (about 2 cups of grapes)
3 tablespoons plus 1 teaspoon extra-virgin olive oil
1 tablespoon minced shallots
2 tablespoons plus 1 teaspoon Champagne vinegar (or white wine vinegar)
½ teaspoon Dijon mustard
1 teaspoon honey
6 handfuls baby kale (about 3 1/2 ounces) (arugula can be substituted)
2 Fuyu persimmons (substitute small apples/pears or 3 tangerines if needed)
2 ounces fresh goat cheese (chèvre)
Aush (Afghan Noodle Soup)
1 small yellow onion
1 tablespoon extra-virgin olive oil
2 cloves garlic
1 pound ground lamb (or ground beef or turkey)
1 1/2 teaspoons ground coriander
1 1/2 teaspoons paprika
2 tablespoons tomato paste
7 ounces uncooked spaghetti (doesn't need to be exact)
10 cups chicken broth (low-sodium if store-bought)
One 15-ounce can kidney beans
One 15-ounce can chick peas
1 large bunch swiss chard or kale
1 pint plain Greek yogurt
Pasta with Simple Tomato Sauce
One 28-ounce can whole peeled tomatoes
1 large yellow onion
3 tablespoons butter
1 tablespoon extra-virgin olive oil
12 ounce rotini, spaghetti, or any other pasta shape
Parmesan cheese for serving
Optional additions: fresh basil, fresh cracked pepper, 1/2 teaspoon minced Calabrian chiles, or 1 to 2 smashed anchovies
Instant Pot Italian White Bean Soup
1 1/2 cups dried cannellini beans
1 small chunk Parmesan cheese (with rind and at least a couple ounces)
1 tablespoon extra-virgin olive oil
1 large yellow onion
2 large carrots
1 rib celery
3 cloves garlic
One 15-ounce can diced tomatoes with liquid
8 cups low sodium chicken or vegetable broth
1 bay leaf
1/2 teaspoon dried oregano
1/2 teaspoon fennel seeds
1/2 teaspoon dried thyme
3 links pre-cooked Italian sausage (optional if you want vegetarian version)
1 large bunch kale
Super Green Smoothie
1 cup unsweetened macadamia nut milk (or other favorite milk)
1 tablespoon hemp seeds
1/4 teaspoon ground cinnamon, or to taste
1 1/2 teaspoon fresh ginger
1 small orange
1/2 cup coarsely grated carrot
1 cup baby spinach
Double Ginger Molasses Rye Cookies
4 ounces butter
1/4 cup honey
1/4 cup blackstrap molasses (or regular molasses)
1/2 cup packed brown sugar
1 egg
1 1/4 cups white whole wheat or whole-wheat pastry flour
3/4 cup rye flour
1 teaspoon ground cinnamon
1 teaspoon ground ginger
1/2 teaspoon ground cardamom
2 teaspoons baking powder
1/4 cup finely chopped crystallized ginger
Sugar for rolling the cookies