Print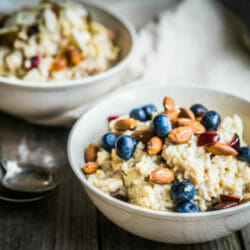 Make Your Own Microwave Oatmeal
This recipe makes a lightly sweetened oats mixture that's ready to be scooped up and microwaved into single-serving bowls of nourishing oatmeal. Be sure to use a deep cereal bowl for cooking the oats since they can bubble up and overflow.
2

cups

rolled/old-fashioned oats (not quick oats or instant oats)

½

cup

dried fruit (raisins; dried cranberries, blueberries or cherries; or diced dried apples, apricots or peaches)

½

cup

sliced, slivered, or chopped nuts (walnuts, almonds, pecans, or hazelnuts)

¼

cup

firmly packed brown sugar

½

teaspoon

ground cinnamon
Put the oats, dried fruit, nuts, brown sugar, and cinnamon into a large jar, storage container, or ziplock bag. Shake well until all of the ingredients are thoroughly mixed together.

To cook a bowl of oatmeal, first give your jar a hearty shake to mix any ingredients that have settled to the bottom of the container. Pour a rounded 1/3 cup of the oatmeal mixture into a deep cereal bowl. If the bowl is too shallow, the oatmeal may overflow in the microwave.

Pour 2/3 cup of water into the bowl and stir well. Microwave on high until the water is absorbed and the oats are tender, about 2 minutes. Remove from the microwave and stir. The oatmeal will thicken as it cools.

Add fresh fruit, more nuts, and milk if desired.