Make Your Own Microwave Oatmeal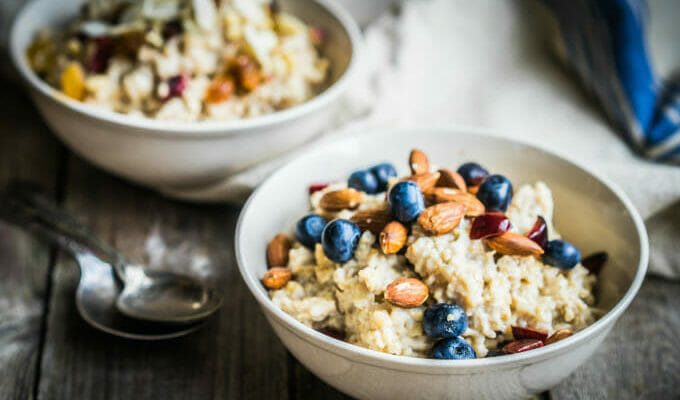 Here's what I found on the label of Quaker Oats Peaches and Cream instant oatmeal, the kind that comes in little packets and heats up in the microwave in the time it takes to retrieve a spoon to go with it:
–partially hydrogenated soybean oil
–artificial color
–artificial flavor
–corn syrup solids
They do this. To poor, humble, wholesome oatmeal. The label boasts well over 20 ingredients.
Even the more natural brands tend to be higher than need be in sugar and use instant oats rather than the rolled oats (rolled have a lower glycemic index and are slower to digest…both pluses).
So I set to crafting a "Make Your Own" Microwave Oatmeal…one the kids can do on busy weekday mornings with as much ease as opening a little packet. Compared to the boxed version, this one tastes better and is cheaper and greener and may help with kids' math skills and solve world peace.

How to Make Microwave Oatmeal
Start with just a few ingredients, not a few dozen: Rolled oats, nuts, dried fruit, and brown sugar. Add a little cinnamon or other spices if you like.
Put everything into a big jar with enough room that you can shake it all up. When you're ready to make a bowl of oatmeal, just scoop it from the container, add twice as much water as oats, and pop into the microwave.
Once it's cooked, give it a stir and add a splash of milk if you like. Feel free to add in any extras, such as fresh berries, sliced bananas, or diced pears. A drizzle of honey or maple syrup work is a fine addition as well.
Breakfast is done. And it's a much nicer way to treat your oats.
**Need more ideas for morning grains? Here you'll find my recipe for Overnight Steel Cut Oats and this one is for  Easy Breakfast Quinoa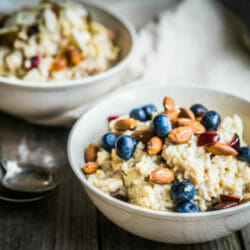 Make Your Own Microwave Oatmeal
This recipe makes a lightly sweetened oats mixture that's ready to be scooped up and microwaved into single-serving bowls of nourishing oatmeal. Be sure to use a deep cereal bowl for cooking the oats since they can bubble up and overflow.
Ingredients
2

cups

rolled/old-fashioned oats (not quick oats or instant oats)

½

cup

dried fruit (raisins; dried cranberries, blueberries or cherries; or diced dried apples, apricots or peaches)

½

cup

sliced, slivered, or chopped nuts (walnuts, almonds, pecans, or hazelnuts)

¼

cup

firmly packed brown sugar

½

teaspoon

ground cinnamon
Instructions
Put the oats, dried fruit, nuts, brown sugar, and cinnamon into a large jar, storage container, or ziplock bag. Shake well until all of the ingredients are thoroughly mixed together.

To cook a bowl of oatmeal, first give your jar a hearty shake to mix any ingredients that have settled to the bottom of the container. Pour a rounded 1/3 cup of the oatmeal mixture into a deep cereal bowl. If the bowl is too shallow, the oatmeal may overflow in the microwave.

Pour 2/3 cup of water into the bowl and stir well. Microwave on high until the water is absorbed and the oats are tender, about 2 minutes. Remove from the microwave and stir. The oatmeal will thicken as it cools.

Add fresh fruit, more nuts, and milk if desired.
Bowl of oatmeal photo credit: Alena Haurylik/Shutterstock