10 Best Trader Joe's Appetizer Hacks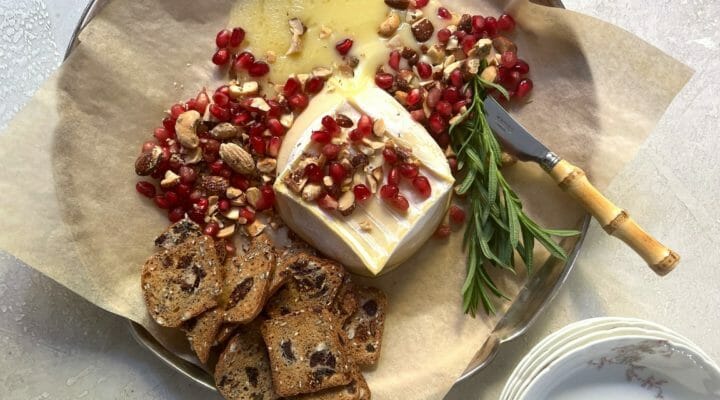 When it comes to throwing a party, be it for five friends or 50, I don't want to spend a whole week (or even a whole day) to pull it together. That's particularly true when it comes to appetizers. Luckily, there's no shortage of shortcuts for making beautiful bites without a whole lot of effort. A shop like Trader Joe's makes this particularly easy given the wealth of pre-prepped offerings. Not to worry if you don't have a TJs where you live, since you can find similar ingredients in ordinary supermarkets. So, if the idea of preparing party food is what's holding you up from gathering your near and dears, these Trader Joe's Appetizer Hacks have you covered. Feel free to scale the recipes up or down depending on how many people you are serving.
10 Trader Joe's Appetizer Hacks

Smoked Salmon Potato Appetizer
Cover mini potatoes with water in a saucepan and bring to a boil. Cook until tender enough to slide a knife into the center with relative ease (about 25 minutes). Drain the potatoes, cut in half, season lightly with salt, and top each half with a piece of smoked salmon, a dab of crème fraîche and a pinch of minced chives.


Creamy Basil Yogurt Dip with Rainbow Carrots
In a medium bowl, whisk together 1 cup non-fat Greek yogurt, 1/4 cup basil pesto, and 1 tablespoon olive oil. Cut petite carrots lengthwise in half. Spoon a heaping tablespoon of dip into sake or shot glasses and add a few carrots to each glass. Alternatively, serve the dip in a bowl with the carrots on the side. Makes 1 1/4 cups dip.


Baked Brie with Rosemary Nuts and Pomegranate
Set a 7- to 8-ounce square of French Pavé or round of Brie or Camembert on a parchment-lined baking sheet. Bake at 400 degrees until soft and oozy, 6 minutes (it's ok if some of the cheese runs onto the parchment). Transfer the cheese on the parchment to a serving plate (trim the excess parchment, if needed). Scatter 1/3 cup chopped Rosemary Nut Mix and 1/3 cup pomegranate seeds over the cheese. Serve with favorite crackers.


Mushroom-Crowned Trader Joe's Crispy Polenta
Cut one 18-oz package polenta into 12 rounds (1/3-inch thick). Heat a few Tbsp olive oil in a large non-stick or cast iron skillet over high heat. Brown the polenta until golden on both sides and remove from skillet. Drop the heat to medium-high and add 16 ounces sliced mushrooms to the oil remaining in the pan, 1 tsp kosher salt, and freshly ground black pepper to taste. Sauté until tender, 6 to 8 minutes. Stir in 1 Tbsp butter and the juice of 1 lemon. Top each polenta round with a small pile of mushrooms and a pinch of minced chives. Makes 12 pieces.


Prosciutto Wrapped Dates
Remove the pits from 16 Medjool dates and fill each one with a small piece of Point Reyes or other blue cheese. Cut the prosciutto slices from a 4-oz package in half lengthwise. Wrap each date with 1/2 slice of prosciutto. Bake at 400 until crispy, 8 minutes. Serve with toothpicks or spear with rosemary sprigs. Makes 16 appetizers.


Savory Trader Joe's Shrimp in Lettuce Cups
Defrost one 16-oz package large peeled, deveined cooked shrimp. Warm the shrimp in a saucepan over medium with 1/2 cup Trader Joe's gyoza sauce and (optional) 1-inch piece grated fresh ginger. Separate the leaves from 2 heads iceberg lettuce. To assemble, put 3 to 4 warm shrimp into a lettuce leaf, drizzle on a little more gyoza sauce, and top with 1 tsp chopped peanuts. Makes 15 to 20 lettuce cups.


Curry Tomato Soup Shooters
Empty one 32-ounce box creamy tomato soup, one 13.5-ounce can lite coconut milk, 1 tbsp curry powder, and 1 tsp kosher salt into a saucepan. Whisk over medium until blended and warm. Add several dashes cayenne to make it spicy, if desired. Transfer to small glasses or mini mugs and garnish with chopped cilantro. Makes about 5 1/2 cups of soup.


Crème Fraîche Deviled Eggs with Anchovies
Hard boil 4 eggs (this is the method for boiling eggs). Cut each egg in half lengthwise and scoop the yolks into a bowl with 1/4 cup crème fraîche, 2 tsp Dijon mustard, and several grinds of fresh black pepper. Use a fork to smash and stir until creamy. Spoon into the cavity of the eggs and top each one with 1/2 anchovy and a small sprig of dill. Makes 8 deviled eggs.


Lentil Goat Cheese Endive Boats
Heat 1 lb steamed lentils in the microwave for 2 1/2 minutes to warm. Mix in a bowl with one 11.6-oz jar Cracked Olive Salad. Spoon 1 to 2 Tbsp lentils into an endive leaf and top with a crumble of chèvre. Makes 32 lentil boats (any leftover lentils are tasty on their own).


Eggplant Flatbread Hack with Trader Joe's Feta
Spread a scant 1/4 cup Grecian-Style Eggplant over 1 Indian-Style flatbread. Top with a pinch of chile flakes and a few Tbsp crumbled feta. Bake on the bottom rack of the oven at 400 degrees until warm and a little crispy, 15 minutes. Cut into quarters. Makes about 25 appetizers-size pieces.

These are my best Trader Joe's Appetizer Hacks, what are yours?