Spaghetti with Butter, Egg, and Cheese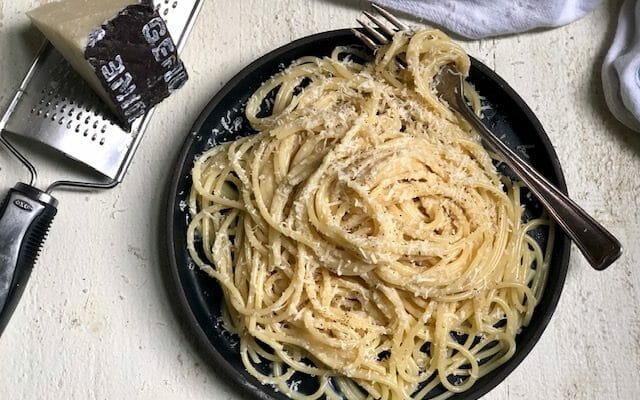 The plan was dinner and a movie with the whole family. It's a rare occasion these days and one I'd been excited about. Halfway through the evening, however, one of the kids, who'd been a bit under the weather to begin with, took a turn for the worse. I found myself back home, tucked her into bed, and wondered what to fix for dinner. A craving for comfort food combined with a bare pantry landed me on today's recipe, one I hadn't made in ages. In no time, I was crossed legged on the couch with a bowl of Spaghetti with Butter, Egg, and Cheese in my lap, thinking, "why don't I make this more often?"
An Easy Pasta for Everyone
Spaghetti with Butter, Egg, and Cheese is an easy fix for nights when you need to make supper, but are short on supplies.  A crowd-pleaser and kid-pleaser, it's essentially spaghetti carbonara's pork-free cousin.  You make the whole thing in the same vessel you use to cook the spaghetti. The heat of pot and pasta effectively cook the egg onto the noodles.

A Bowl of Comforting Spaghetti
This is just the sort of dish to make when comfort is in order: when someone comes home with reports of a broken promise, or a broken ankle, or perhaps when they're older, a broken heart.
It's the meal we ate when I was a girl visiting cousins whose house was always alive with children, pets, noise, and the smell of something good happening at the stove. We crowded around the dining table, which filled the better part of the kitchen, too many of us to reasonably fit. My aunt would plunk a giant pot of this spaghetti at the center. We would collectively pounce, devouring the pasta without much semblance of manners.

A Treasured Recipe 
My aunt learned to make the pasta from her mother, a native of Italy. She passed on to my cousins, and their children, to me and my children…and now you. It's well worth sharing (I even included it in my latest cookbook PREP). And much as I'm prone to tinker with recipes in an attempt to lighten them up or work in more vegetables or experiment with whole-grain pasta, Spaghetti with Butter, Egg, and Cheese should be left entirely alone. Get your added nourishment from generous salads and vegetables on the side. Those Italian grandmothers knew what they were doing with this one.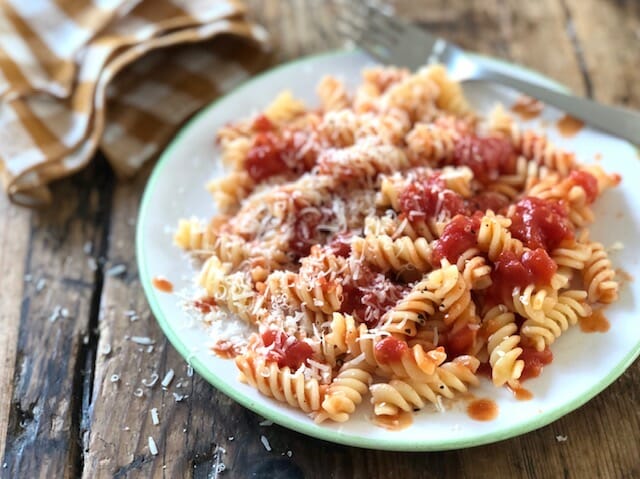 If you like spaghetti with butter, egg, and cheese, you might like:
Pasta with Simple Tomato Sauce
Weeknight Spaghetti and Clams. 
Instant Pot Mac and Cheese from Real Mom Nutrition
Gluten-Free Meyer Lemon and Brown Butter Pasta from This Mess is Ours
For more easy, nourishing recipes, find me on Instagram!

Spaghetti with Butter, Egg and Cheese
The handful of ingredients in this dish can be adjusted to suit your taste. Some like it cheesier, others prefer less milk, and others still, more butter. However you make it, do your best to get it from stove to table the minute the dish is assembled; that's when it is at its very best.
Ingredients
1

pound

spaghetti

Salt

3/4

cup

milk, plus more if needed

1

egg

2

tablespoons

butter

2/3

cup

freshly grated Pecorino Romano cheese, plus more to pass at the table

(substitute Parmesan, if desired)

Pepper to taste
Instructions
Cook the spaghetti in a large pot of generously salted water.

While the spaghetti cooks, whisk together the milk and egg in a small bowl.

Once the pasta is cooked al dente, drain.

Put the drained pasta back into the cooking pot. Turn the heat to low, add the milk/egg mixture and butter, and stir just until the milk thickens and coats the noodles, a minute or so.

Remove from heat. Add the cheese and stir again. Taste and add salt and pepper to taste. If the pasta gets too sticky, thin it with a little more milk.

Serve immediately with more Pecorino Romano at the table.
5 ingredients and 15 minutes will get you this crowd- and kid-pleasing dinner.
Click To Tweet