Red Lentil Coconut Curry Soup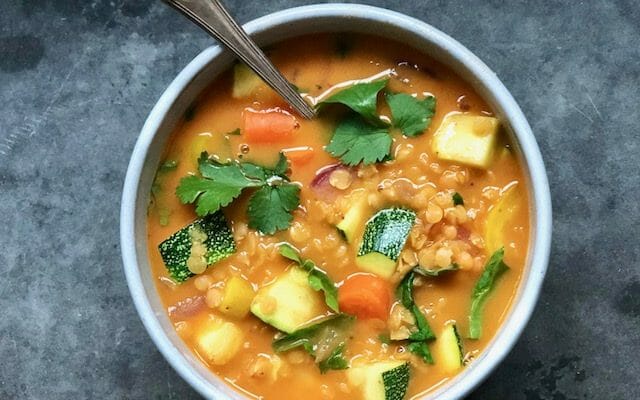 At six weeks pregnant, my sister Annie learned that at that stage of gestation, her baby was the size of a lentil. And so, from then on, the baby was called, "Lentil." Even before we all knew she was a she and after she grew to the size of a peanut, and then a grape, and then an eight and a half pound full-term infant, she remained, "Lentil."
When the baby arrived, I had to meet her, and quickly found my way onto a red-eye flight heading East.
Precious days they were, being in the company of a newborn and her awestruck and bone-tired parents. Having had three babies of my own, I know that a well-stocked refrigerator and freezer is gold in those early days, and so dedicated much of my energy doing just that.
Nutrient-Packed Meals
I set to work on dishes that were packed with nourishment and freezer-friendly. I decided to start with a lentil soup spiced with curry and enriched with coconut milk. I didn't see the irony of what I was cooking until well into my pot of soup. I had to laugh. A soup for Lentil, of course. What could be more appropriate?
And what better way to restore the energy of a new mama, and by turns, her nursing babe, than a pot of Red Lentil Coconut Curry Soup. The tiny legume is rich in iron, potassium, and fiber, and has more folate than any other plant-based food. Onions, garlic, ginger, and curry lend balance and flavor, not to mention health benefits all their own, something I touched on here.

A Lightened Up Recipe
The recipe calls for light coconut milk instead of regular because it means a significant savings in both fat and calories. Regular coconut milk weighs in at about 450 calories and 50 grams of fat per cup, whereas light is 150 calories with 15 grams of fat.  Yes, you give up some richness, but there's plenty of other goodness going on in this soup to make it a work.
I fed it to my sister and her doting hubby that first evening.
Lentil got hers second hand and apparently liked it very much.
As for the name, it didn't stick around past birth. They're calling the baby Louisa. Both names do start with an L and have six letters, but the latter will likely go over better come kindergarten.


Red Lentil Coconut Curry Soup
The red curry paste in this recipe lends Southeast Asian flavor and a hint of spiciness to this soup. It is sold in small jars in the Asian food section of many supermarkets and specialty stores. If you use whole red lentils instead of split, the soup will take longer to cook and likely require more water. I like to serve this with whole wheat pita bread that's been lightly brushed with olive oil, sprinkled with salt, and warmed in the oven.
Ingredients
2

teaspoons

extra-virgin olive oil

1

medium yellow onion,

finely chopped

2

cloves

garlic,

finely chopped

1

tablespoon

finely diced fresh ginger

4

cups

low-sodium canned chicken or vegetable broth

1

13.5-ounce can light coconut milk

1

tablespoon

plus 1 teaspoon red curry paste

(more if you like it spicy)

1 1/4

cups

split red lentils,

picked over and rinsed

2

tablespoons

packed brown sugar

2

tablespoons

fish sauce

(or 3/4 teaspoon salt)

3

medium carrots,

cut into small bite-size pieces

1

large zucchini,

cut into small bite-size pieces

1

lime,

cut in half

Salt to taste

1/2

cup

roughly chopped cilantro for garnish
Instructions
Pour the olive oil into a large pot and set over medium-high heat. Add the onion and sauté for several minutes until tender. Add the garlic and ginger, sauté another minute or so.

Add the broth, coconut milk, and curry paste and stir to blend. Stir in the lentils, brown sugar, and fish sauce and stir well.

Turn heat to high. When the soup boils, turn the heat down until the broth simmers.

Simmer for 5 minutes and add the carrots and zucchini. Cook another 8 to 10 minutes until the lentils are tender and the soup has thickened. Add the juice of the lime and stir well. If the soup is too thick for your liking, add a little water. Taste and add salt, if desired.

Serve in bowls with cilantro scattered over the top to garnish.