Hanoi Chicken Banh Mi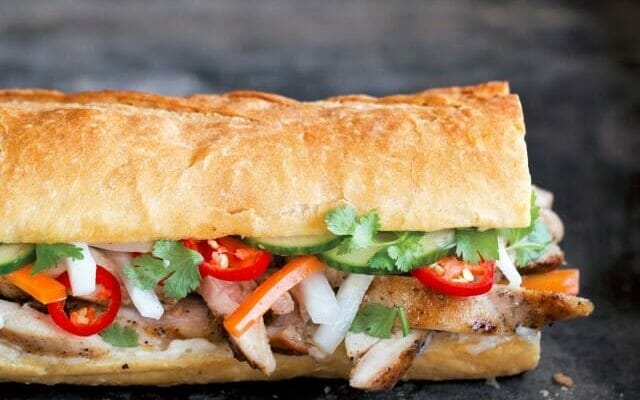 One of the most inventive parties I attended  in recent memory was a sunset hike and supper for a friend celebrating her 40th birthday last spring. She gathered all of her beloveds at the trailhead of a famously beautiful spot just over the Golden Gate Bridge in Marin County.
A Banh Mi Party
The party began at picnic tables abutting the parking lot where our hosts set out coolers of beer and bubbly. From there we hit the trail, one that wound through coastal brunch and ended at a black sand beach between two rocky cliffs. There, we huddled against the evening chill on a patchwork of picnic blankets while the birthday girl made the rounds. She carried with her an oversized backpack brimming with our supper: pork, chicken, and tofu banh mi sandwiches wrapped snug in paper and still warm. I've always loved banh mi, but somehow, that night, on that beach, with friends, and perhaps a tiny champagne high, they'd never tasted better.
Learn to Make Your Own
I've been jonesing to make authentic banh mi at home for myself ever since. Now, thanks to food writer Andrea Nguyen and her latest cookbook, The Banh Mi Handbook, I can. The book shares dozens of  inventive ideas for all the elements of the banh mi. I appreciate how she walks you through how to make your own rolls, offers recipes for homemade mayonnaise and sriracha aioli, and tempts you with the likes of Lemongrass Pork and Gingery Tofu Sliders (yes, please). But I also love that she isn't a snob. She won't make you feel guilty for buying a baguette at your local market (as I did) or using a store-bought rotisserie chicken if you have no time to do one up from scratch.
Below you'll find a "how to" on making your own banh mi featuring two recipes from Andrea's book: Hanoi Chicken and Daikon and Carrot Pickle. The combo earned rave reviews with my crew when I made them for a weeknight supper, and I'm quite sure they'd be equally welcome if you did, as my friend did, and served them at your next, fabulous banh mi birthday party.

Hanoi Grilled Chicken Banh Mi
Brilliant foods are often simple foods. I had this tangy-salty grilled chicken at a Hanoi cafe in 2003 and was struck by its bright flavor. So much so that I replicated it upon returning to the States. It's great with rice but is perfectly at home stuffed into baguette. When possible, grill it over an open flame for a nice charred flavor. The heavy dose of black pepper lends an edge to this chicken.
Ingredients
Grilled Chicken
1½

pound

boneless skinless chicken thighs

¼

heaping teaspoon

sugar

¼

teaspoon

salt

1¼

teaspoon

black pepper

1

tablespoon

fish sauce

1

tablespoon

fresh lime juice

1 1/2

tablespoon

canola oil
Daikon and Carrot Pickle
1

large

carrot, peeled and cut into thick matchsticks

1

pound

daikons, each no larger than 2 inches in diameter,

peeled and cut into thick matchsticks

1

teaspoon

salt

1 1/4

teaspoon

black pepper

2

teaspoons

plus 1/2 cup sugar

1 1/4

cup

distilled white vinegar

1

cup

lukewarm water
Sandwich
2

French baguettes

2-3

tablespoons

mayonnaise

2

dozen

thin slices of English cucumber

1

small

jalapeno,

thinly sliced (optional for those who like spicy food)

1

bunch

fresh cilantro
Instructions
Chicken
Trim and discard big fat pads from the chicken thighs. If the thighs are large and/or super uneven in thickness, butterfly them. Set aside.

In a bowl, stir together the sugar, salt, pepper, fish sauce, and lime juice. If needed, tweak the flavor to get a slightly tart-sweet, salty finish. Add the oil, then the chicken, coating the pieces well. Cover with plastic wrap and marinate at room temperature for 30 minutes.

To grill the chicken, preheat a gas grill to medium or prepare a medium-hot fire, or use a stove-top grill pan heated over medium-high heat with a little oil brushed on.

Cook the chicken for 6 to 10 minutes, turning several times, until clear juices flow out when you pierce the flesh with the tip of a knife. Cool for 10 minutes before cutting across the grain. Tumble in the cooking juices to include extra flavor in the sandwich.
Daikon and Carrot Pickle
Place the carrot and daikons in a bowl and sprinkle with the salt and 2 teaspoons of the sugar. Use your hands to knead the vegetables for about 3 minutes, expelling the water from them. They will soften and liquid will pool at the bottom of the bowl. Stop kneading when you can bend a piece of daikon so that the ends touch but the daikon does not break. The vegetables should have lost about one-fourth of their volume. Drain in a colander and rinse under cold running water, then press gently to expel extra water. Return the vegetables to the bowl if you plan to eat them soon, or transfer them to a 1-quart jar for longer storage.

To make the brine, in a bowl, combine the 1/2 cup sugar, the vinegar, and the water and stir to dissolve the sugar. Pour over the vegetables. The brine should cover the vegetables. Let the vegetables marinate in the brine for at least 1 hour before eating. They will keep in the refrigerator for up to 4 weeks.
Sandwich Assembly
Cut baguettes into six 6-inch pieces. Slice the rolls in half, but not all the way through so one side of top and bottom remain attached. If the bread is soft, crisp it slightly in a toaster.

Spread 1 to 2 teaspoons of mayonnaise on each roll. Pile the chicken into the rolls, followed by a small pile of the Daikon Carrot Pickle (you will not use up all the pickle), cucumber slices, optional jalapeno slices, and a few sprigs of fresh cilantro.
Recipes and photos reprinted with permission from The Banh Mi Handbook: Recipes for Crazy-Delicious Vietnamese Sandwiches (Ten Speed Press, 2014) by Andrea Nguyen. Photos by Paige Green.