California Queso with Crispy Broccoli
Thank you to Real California Milk for sponsoring this post
According to my friend Kate, who was raised in Dallas, Queso is practically a religion in her home state. It's a creamy cheese dip with a mild Tex-Mex kick that's always served with a side of corn chips. Traditionally, it's made by melting together two ingredients in the microwave: American cheese and canned tomatoes with chiles. The whole process takes all of 5 minutes. And just like you don't mess with Texas, it's my understanding that you don't mess with Queso either.
But here's the thing: I'm not in Texas. I'm a California girl, who is not particularly fond of processed cheese food. So, I decided to do a dip more fitting for my personal taste and for my affinity for my home state. I'm calling it California Queso.

What makes it California you ask? Well, it's all about the ingredients. I used two kinds of Real California Cheese — Cheddar and Pepper Jack — along with 1 percent milk. California is home to more than 1,300 dairy farms, after all, 99 percent of which are family owned.
For dipping, I swapped out the chips and use roasted broccoli instead, which makes sense given the fact that more than 90 percent of what's harvested in the US comes from, you guessed it, California.
Here's the other thing: my spin on Queso is more nutritious than the traditional recipe. And since a recent US News and World Report study found California to be the healthiest state of the union, it only makes sense that our cheese sauce is too. Relying on low fat milk for the base and using broccoli for dipping means it comes in at about 250 calories a serving. It's also an excellent source of calcium, vitamin D, and vitamin C, with a meaningful dose of protein (which makes it a filling snack).
Here's the most important part of all of this: California Queso is undeniably delicious. Creamy, cheesy, with a hint of heat from the chipotle? It's double-dipping-worthy… the sort of snack that will require restraint until you get it in front of your family for an afternoon nibble or guests for watching the game.
It's so good in fact, that even a tried-and-true Texan may want just want to give it a whirl.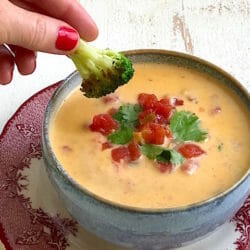 California Queso with Crispy Broccoli
This is a delicious (and more nutritious) spin on traditional Queso dip using Real California Cheeses cooked down into a creamy sauce perfect for dipping. Broccoli, roasted until crisp and doused with lime, is excellent paired with this sauce, though cauliflower and Brussels sprouts work as well. Feel free to double the recipe if you have a bigger crowd.
Ingredients
1 1/2

pounds

broccoli or baby broccoli

1 1/2

tablespoons

extra-virgin olive oil

3/4

teaspoon

kosher salt

½

lime

1

tablespoon

Real California butter

1

tablespoon

all-purpose flour

1

cup

low-fat Real California milk

3/4

cup

shredded Real California Monterey Jack cheese

1 1/2 ounces

1 3/4

cups

shredded Real California Cheddar cheese

3 1/2 ounces

⅛

teaspoon

ground chipotle

more if you like it really spicy

¼

cup

drained diced tomatoes with chiles

1 to 2

tablespoons

roughly chopped fresh cilantro
Instructions
Preheat oven to 425 degrees F.

Cut the broccoli heads into small florets that are about 1 ½ to 2 inches long and about the same across the top. Peel the broccoli stalks as needed and cut into 2-inch-long pieces.

Pile the broccoli onto a baking sheet, drizzle with olive oil and sprinkle with salt. Toss it together and spread it out on the baking sheet.

Roast the broccoli until tender and lightly browned, about 15 to 18 minutes, stirring the pan about halfway through. Remove from oven and squeeze the lime juice over the broccoli.

While the broccoli roasts, make the queso. Melt the butter in a medium saucepan over medium heat; whisk in the flour until smooth. Add the milk and whisk until smooth. Turn the heat up until the milk starts to bubble lightly. Cook, stirring regularly, until the sauce thickens enough to generously coat the back of the spoon, about 3 minutes. Add the cheeses, chipotle and tomatoes and stir to blend. Remove from heat and serve with the broccoli for dipping.