Chicken Tortilla Soup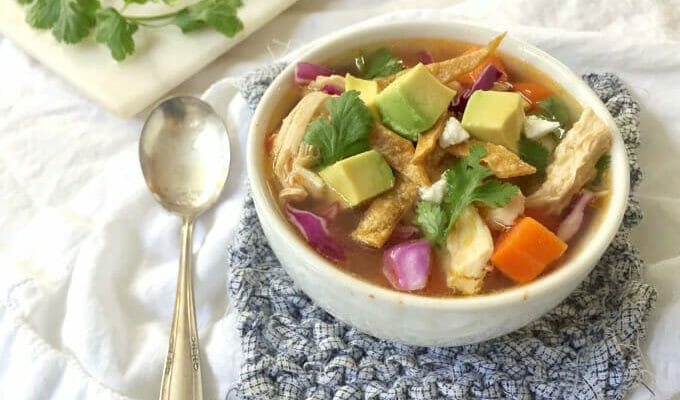 Baby it's cold. And we've got colds…. and flus and viruses. Soup is the best medicine I know; a fact borne out in plenty of scientific research. Indeed, studies have found that soup, specifically chicken soup, heals (and Chicken Tortilla Soup certainly qualifies).
While I was layed up, I thought a lot about chicken soup. More specifically, I craved tangy, spicy, cilantro-y chicken tortilla soup. Dreaming about it was all I could do: My husband, away on business, wasn't going to deliver the goods and it seemed irresponsible to task my children with standing over a boiling cauldron unattended.
Hence today, when I was finally feeling like myself again, I gathered up all my ingredients and made a pot. It's a tasty brew and chock full of curative properties.
How to Make Chicken Tortilla Soup
You start by stewing bone-in chicken breasts in plenty of broth. Cooking the chicken on the bone makes for a juicier result, plus the bone imparts flavor to the soup. I used the last of the Thanksgiving turkey stock in my freezer, making the soup both extra tasty, and a little bit sentimental.
The beauty of this soup is truly making it your own. All the seasoning comes at the tail end using whatever combination of lime juice, cilantro and jalapeño pepper suits you. I like to top each bowl with tortilla strips that I crisp in the oven, along with crumbled cotija, a salty Mexican cheese. Naturally, you can use crushed, store-bought tortilla chips as a short cut, and top the soup with shredded Cheddar or diced avocado if you can't get your hands on cotija. Get the kids in on the action by having them assemble their own bowls at the table.
A Packable Soup
You needn't wait to get the flu to make this soup. In fact, it's a much happier experience without it. I fed it to my robust brood tonight and it was a winner. It also happens to do fabulously inside a thermos, with little containers of crispy tortillas and cheese on the side, to be added at the lunch table.
If you have a friend who is sick, make this for them. Love in a bowl is meant for sharing.
If you like Chicken Tortilla Soup, check out:
Creamy Tomato Soup (without the cream)
Instant Pot Rice and Vegetable Soup
Five-Spice Delicata Squash Soup 

Chicken Tortilla Soup
Chicken tortilla soup is something I make year round, tinkering with the ingredients depending on what's in season. And like nearly everything coming out of my kitchen, I work in an abundance of vegetables. In winter, carrots, cabbage, and canned tomatoes are the major players. In the summer I trade those out for corn, zucchini and local Romas. For a short cut, use store-bought tortilla chips instead of cutting up corn tortillas and crisping them in the oven. Cubed avocado is tasty on top of this soup as well.
Ingredients
4

teaspoons

extra virgin olive oil, divided

1

large yellow onion, finely chopped

2

large cloves garlic, finely chopped

5 ½

cups

chicken broth

1

cup

diced tomatoes

(use canned when tomatoes are out of season)

1 1/2

pounds

skinless, bone-in chicken breasts

4

corn tortillas

Kosher salt

3

large carrots, peeled, cut into small, bite-size pieces

2 ½

cups

roughly chopped red cabbage

(about 1/3 of a head)

¼

cup

fresh lime juice

(2 to 3 limes), plus more if needed

¼

cup

chopped cilantro

1/2

to 1 tablespoon finely chopped jalapeno pepper

1/3

cup

crumbled cotija cheese

Cubed avocado for garnish

(optional)
Instructions
Preheat oven to 450 degrees

Heat 2 teaspoons of the olive oil over medium heat in a large Dutch oven or soup pot. Add the onion and sauté for a few minutes until slightly tender. Add the garlic and sauté another minute. Pour in the chicken broth and tomatoes and stir. Add the chicken breasts, being sure they are completely immersed in liquid. If not, add a little more broth until they are. Turn the heat to high. when the broth boils, reduce the heat so the liquid simmers. Set the timer for 10 minutes.

While the soup is cooking, stack the tortillas on a cutting board and cut into 1/4-inch-thick strips. Drizzle the remaining 2 teaspoons of olive oil on a baking sheet, put the tortillas strips on the oil and use your hands to lightly coat the tortillas. Spread them out and sprinkle with a pinch of salt. Bake in the oven until lightly browned, about 5 minutes. Remove and set aside.

After the chicken simmers for 10 minutes, add the carrots and cabbage to the broth, and continue to simmer until the carrots are tender and the chicken is cooked through (another 15 minutes or so). You can check this by cutting into the center of the chicken with a paring knife to have a peek.

Remove the chicken from the broth and set aside until cool enough to handle. Turn off the heat.

While the chicken cools, season the broth with the lime juice, cilantro and jalapeno (1/2 to 1 tablespoon depending on your personal tolerance for heat). Taste and add salt as needed, keeping in mind that the soup will be topped with cotija, which is quite salty. The chicken broth you use will play a big part in how much salt is required.

Once the chicken is cool, pull the meat off the bones and shred into bite-size pieces. Add it to the soup and give it all a big stir.

To serve, ladle the soup into bowls, sprinkle with the cotija followed by the tortilla strips and cubed avocado.