Homemade Buckwheat Granola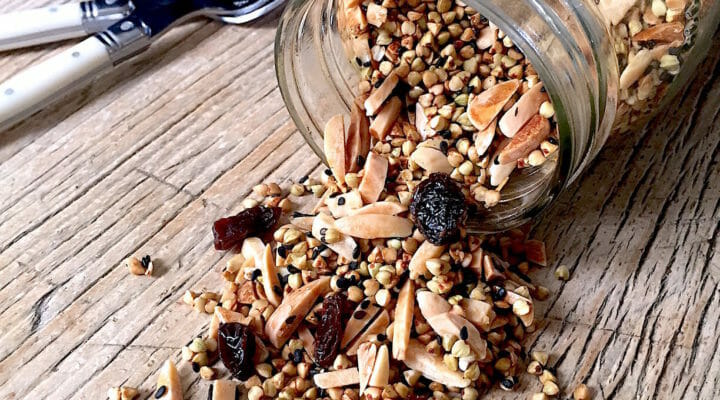 My only experience cooking buckwheat was the giant pot of hot cereal I made for fifty 4th graders on a class overnight. The group was re-enacting life in a 19th century Russian settlement and the meals were in keeping with the times. The kasha, as it's known, was one of the least appealing dishes I've ever cooked or eaten. This is why I had to laugh when I read these words in Carolynn Carreño's new book, Bowls of Plenty, " I don't love buckwheat cooked. It reminds me of something you'd eat in a cold Russian winter when you didn't have a lot of options." Luckily, Carreño followed that up with a terrific recipe for homemade buckwheat granola.
Buckwheat is Better When Baked
Since Carreño so aptly nailed my opinion on kasha, I was intrigued to find an entirely different approach to cooking buckwheat in the pages of her book, which features gorgeous grain-based recipes, from amaranth to wild rice. One batch of her Buckwheat Crunch and I was hooked. Turns out buckwheat groats fare better when baked than stewed on the stovetop. As Carreño says, "They're like nature's Grape Nuts."

Today's recipe is my spin on the one in Bowls of Plenty. You start with uncooked buckwheat groats, which you can find in the bulk bin section of natural food markets or on some grocery store shelves (likely under the Bob's Red Mill brand). Toss that with slivered almonds, sesame seeds, olive oil, maple syrup, and salt.  I do this right on the baking sheet, which means one less bowl to clean. Then bake it until golden brown and crunchy.
Gluten-Free Buckwheat Granola
Fun Fact: Buckwheat isn't wheat at all. It's considered a pseudo grain, similar to quinoa and amaranth, and is gluten free. It's excellent with sliced bananas under a pool of cold milk or sprinkled over plain yogurt with fresh berries. The combination of buckwheat, almonds, sesame seeds, and olive oil, means it's a good source of fiber, antioxidants, healthy fats, and protein, which collectively will keep you filled up through a busy morning.
If you like Buckwheat Granola, you might like:

Homemade Buckwheat Granola
Skip the standard granola or store-bought Grape Nuts and give this crunchy breakfast cereal a try. It has just a handful of ingredients, bakes up in 20 minutes, and is loaded with good-for-you ingredients.
Servings
10
Makes about 3 1/2 cups
Ingredients
1 1/2

cups

buckwheat

(see notes)

1

cup

slivered almonds

3

tablespoons

sesame seeds

1/4

heaping teaspoon kosher salt

1 1/2

tablespoons

extra-virgin olive oil

2

tablespoons

maple syrup

1/3

cup

raisins
Instructions
Preheat oven to 325 degrees F.

Put the buckwheat, almonds, and sesame seeds on a large baking sheet. Sprinkle the salt and drizzle the olive oil and maple syrup over the top. Thoroughly stir everything together with your hands or a rubber spatula. Spread on the baking sheet and bake until toasted and lightly browned, stirring halfway through, about 20 minutes total.

Let cool on the counter to allow the cereal to crisp up. Scatter the raisins over the top. Transfer to a jar or other sealed container.
Recipe Notes
Look for uncooked buckwheat groats. You do not want roasted buckwheat or buckwheat cereal.
Adapted from a recipe in Bowls of Plenty: Recipes for Healthy and Delicious Whole-Grain Meals by Carolynn Carreño