Easy Moo Shu Vegetables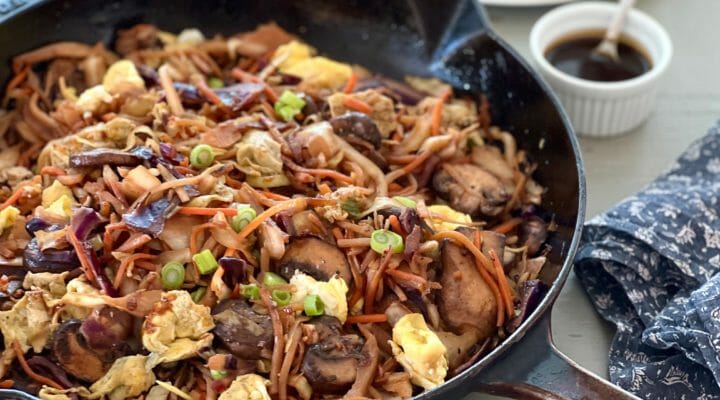 I got hooked on the flavors of this dish as a kid when going out for Chinese food always included a steaming plate of Moo Shu Pork. I loved the ritual of piling meat and vegetables on a thin pancake, spooning on the dark, sticky sauce, and rolling it up. As I've shifted towards a more plant-based diet, I continue to indulge my love for Moo Shu. The difference? It's built on vegetables instead of pork. This recipe for Easy Moo Shu Vegetables is my homespun take on Chinese takeout that satisfies a craving every time.
What is Traditional Moo Shu Pork?
From what I can gather Moo Shu Pork is a home cooked dish from Shandong, China that's made with pork, mushrooms, beaten eggs, and vegetables. Serving the mixture on thin pancakes with hoisin sauce wasn't part of its origin story. That was a twist on the original when the dish entered the American dining scene in the 1960s. This recipe is inspired by that Americanized version of the meat and vegetables original.

An Easy Way to Make Moo Shu
It's hard to argue with the ease of Chinese food takeout, which is why I wanted to make homemade Moo Shu as effortless as possible. As such, the recipe calls for a few convenience items, including pre-shredded carrots and cabbage, and pre-sliced mushrooms. That shortcut takes nearly all the work out of the recipe, which means the hands-on time is very little and it takes all of 12 minutes to cook. Also, the recipe calls for ingredients that are readily available in most ordinary supermarkets, right down to the flour tortillas, which make a suitable substitute for Chinese-style pancakes. Add a swipe of sticky sauce in the form of hoisin and you've got Easy Moo Shu Vegetables indeed!
Is This Dish Healthy?
One of the arguments for cooking food at home is that you know what's in there. Restaurant food tends to be higher in added fat, salt, and sugar than home cooked meals, with fewer vegetables. As for this recipe, it has a heap of vegetables – several cups per serving, in fact. Scrambled eggs and nuts provide protein, and if you use whole-grain tortillas, you'll get a few extra grams of fiber, too. Add to all that, the stir fry method used for this dish is a healthy approach to cooking. That being said, it does have a fair bit of sodium. If you're watching your intake, you can use low-sodium soy sauce and trim back the salt. Consider adding two tablespoons of finely chopped fresh ginger and a pinch of red chile flakes to boost the flavor if you scale back on salt.
Can you Make This Moo Shu Vegan?
Yes! Simply swap about eight ounces of soft tofu for the eggs. Scramble it in the hot sesame oil just as you do the eggs and proceed with the recipe as written. It's a very flexible recipe in general, so feel free to tinker with the vegetables, add bamboo shoots if you like, or finish the dish with crunchy bean sprouts.
Regardless of how easy and healthy this dish is, it's mostly just darn delicious. You can get it on the table quicker than a takeout driver can get to your doorstep, so why not go homemade?

If you like Moo Shu Vegetables, you might like other Asian-inspired dishes:
Vegetarian Chinese "Chicken-less" Salad
Pork Tenderloin Lettuce Wraps with Ginger Lime Dressing
My recipe for Tofu Satay on Simply Recipes

Easy Moo Shu Vegetables
The emphasis with this recipe is ease, so no need to be too rigid with measurements and ingredients. You can swap in bean sprouts for carrots (add them when you add the cabbage), replace the cashews with peanuts, almonds, or even bamboo shoots, and experiment with other varieties of mushrooms. Also, if you want to add a layer of flavor, mince two tablespoons of fresh ginger and add to the skillet along with the garlic.
Ingredients
4

eggs

(use 8 ounces soft tofu for a vegan version)

1/2

teaspoon

kosher salt,

plus a few pinches

1

tablespoon

toasted sesame oil,

divided

2

large cloves garlic,

minced

One

8 to 10 ounce-package sliced white/cremini mushrooms

(about 2 cups sliced)

5-

ounces

packaged shredded carrots,

½ bag or 2 cups

16-

ounces

packaged shredded cabbage/coleslaw mix

(doesn't need to be exact)

5

scallions,

thinly sliced white and light green parts

2

teaspoons

soy sauce

2

tablespoons

rice vinegar

3-4

tablespoons

hoisin sauce,

plus more to add at the table

¼

cup

chopped cashews

(roasted or raw)

4 to 6

whole-wheat or white flour tortillas
Instructions
Crack the eggs into a small bowl and beat to blend.

Heat 1 ½ teaspoons sesame oil in a wok or large skillet over medium-high. When hot, add the beaten eggs, a pinch of salt, and scramble until just cooked. Spoon out of wok and set aside.

Remove any residue from the eggs. Heat the remaining 1 ½ teaspoons sesame oil over medium-high. Add the garlic and stir fry 1 minute. Add the mushrooms and a pinch of salt, and turn the heat to high. Stir fry until they begin to soften and are glossy, 4 to 5 minutes. Add the carrots and stir fry until a little tender, about 2 minutes. Add the cabbage, scallions, soy sauce, rice vinegar, and 1/2 teaspoon salt and stir fry until the cabbage is barely tender, a few more minutes (you want a little crunch). Add the hoisin sauce and stir to combine. Gently stir in the scrambled eggs. Taste and add more hoisin, if desired.

Warm the tortillas in the microwave or on the stove. Put the warm tortillas, dish of chopped cashews, and hoisin sauce at the table. To serve, spoon the vegetables onto a tortilla, add a sprinkle of nuts, and add a little more hoisin sauce.