Easy Pork Chops with Apples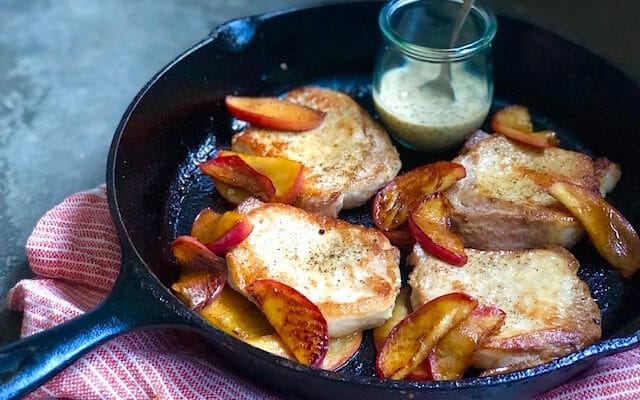 Despite my propensity to eat a mostly vegetarian diet, I joke that pork is the primary reason I haven't gone whole hog on plant-based eating. Whether it's thinly sliced prosciutto or a roasted tenderloin, I do have a thing for pork. These Easy Pork Chops with Apples are no exception. They're simple to make and excellent for a weeknight supper.
You start by seasoning boneless chops with salt and pepper and get them going in a hot skillet. While those cook, thinly slice an apple, which you'll sauté in the same pan where you cooked the pork. Then it's just a matter of stirring together a tangy mustard sauce to spoon over the top, which will take you all of one minute to assemble.

The Easiest Pork Chop to Cook
This recipe calls for boneless chops that are cut from the loin, which means they cook quickly and evenly with little guess work. Because the meat is so lean, it's key not to overcook it. If you have an instant read thermometer, now is the time to pull it out. I aim for a max of 140 degrees in the thickest part of the chop. The pork will continue to cook as it rests, so that number will rise even after it's pulled from the skillet.
Is Pork Healthy?
How "the other white meat" measures up in terms of nutrition all depends on what cut you choose. Across the board, pork is a good source of protein as well as B vitamins and zinc. The cuts I recommend the most are the tenderloin and loin, since they're the leanest of the bunch. Processed pork products, such as bacon and sausage, on the other hand, are high in saturated fat and processed with nitrates (a preservative linked to cancer). That doesn't mean they're entirely off limits, just that it's best to enjoy them less frequently and in moderation. Regardless of what cut you buy, trimming the visible fat will minimize the amount of saturated fat on your plate

What about Pork and Sustainability?
As a broad category, there's no doubt that plant foods beat out animal products in terms of sustainability. They're less taxing from an environmental standpoint, both in terms of water demands and carbon output. Within the animal kingdom, however, it's worth noting that pork has a lighter carbon load than beef, goat, and lamb. Regardless of what I'm choosing from the butcher case, however, my approach is to eat less of it, less often, buy good quality, and enjoy every bite.
A Smaller Portion of Pork
Along those lines, you'll note that this recipe doesn't make a giant portion. The suggested number of servings is one (smallish) chop per person. Try filling the rest of your plate with heaps of vegetables, salad, and potatoes or a favorite whole grain. It will be a more sustainable plate with piles of produce, which is a win, win, if you ask me. If that serving size doesn't work for your family, feel free to scale up the recipe. You'll get no judgements from me.

If you like these Easy Pork Chops with Apples, check out:
Pork Tenderloin with Roasted Figs
Pork Tenderloin Lettuce Wraps with Ginger Lime Dressing
Honey Hoison Pork Tenderloin from Smart in the Kitchen
Skillet Pork Chops with Cabbage from Simply Recipes

Pork Chops and Apples and Maple Mustard Sauce
This is a quick and easy way to get a pork chop supper on the table in under 15 minutes. This isn't a generous portion, certainly by American restaurant standards, so be sure to heavy up on the veggies and other sides. Feel free to scale the recipe up or down depending on how many are at your table.
Ingredients
4

boneless pork loin chops that are about 1-inch thick

½

heaping teaspoon kosher salt

Freshly ground black pepper

2

tablespoons

whole grain Dijon mustard

1

tablespoon

pure maple syrup

1

tablespoon

sour cream

1

teaspoon

apple cider vinegar

1

tablespoon

extra-virgin olive oil

1

large thinly sliced apple
Instructions
Put the pork chops on a plate and sprinkle both sides with the salt and a generous shower of black pepper.

Put a cast iron or other large heavy skillet on the stove over medium-high heat. Leave it to get very hot, 2 to 3 minutes. Add the oil and tilt the pan so it coats the bottom and gets hot. Lay down the chops and cook until nicely browned on the first side, about 4 minutes. Turn them over and cook until an instant read thermometer measures 140 degrees in the thickest part, another 2 to 3 minutes. The time will vary depending on the size of the chops. If you don't have an instant read thermometer, cook them until the meat is just a hint pink when you cut into the center.

While the chops brown, in a small bowl stir together the mustard, maple syrup, sour cream, and vinegar. Set aside.

Transfer the cooked chops to a plate to rest. Add the sliced apple to the pan and sauté until golden and a little tender, a few minutes more. Return the chops to the pan. Spoon a little sauce over each chop and serve immediately.