Turkey Chili Stuffed Sweet Potatoes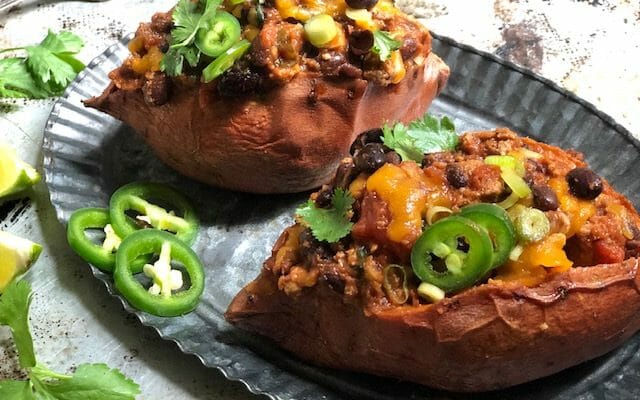 A few months back I confessed to knowing little about professional baseball. I'm also equally in the dark about football. For example, I didn't know until 20 years into our relationship that Mr. Mom's Kitchen was a quarterback for his high school football team. It was a crime of immense ignorance according to my friend Kate, who is from Texas where all things football carry enormous social currency. She said even she knew he was the quarterback.
Chili Stuffed Sweet Potatoes: For Game Day (or Any day) 
What I do know is that it's football season, which means time to pull out those game-day dishes.  As such, I thought I'd arm you with a tasty recipe that's a whole lot more nourishing than typical football fare. Here's more good news:  Turkey Chili Stuffed Sweet Potatoes are just as well suited for a weeknight supper as they are for watching the game .

Is this Chili Healthy?
Chili is often rich in fatty meats, such pork, bacon, and sausage, which is likely why it was found to be one of the nine most fattening winter foods as reported in this article. A single bowl of chili (from Chili's, no less) tops 700 calories with 49 grams of fat (20 of it saturated).
This healthy chili relies on a combination of beans and ground turkey for heft, making it rich in fiber, folate and protein. Serving it over roasted sweet potatoes delivers heaps of vitamin A and makes it truly a one-dish meal, since your vegetable is built in.
Is the Chili Recipe Spicy?
The chili has plenty of flavor, without being too spicy. If you want to turn up the heat, include a few dashes of cayenne when you add the other spices or a small, minced jalapeno pepper when you add the cilantro.
Can you Make Chili Stuffed Sweet Potatoes Ahead of Time?
One big upside to chili is that it's a perfect make-ahead dish. I'd argue the flavors brighten after a day or two in the fridge. It's also freezer-friendly, so make a double batch and store the extras for next time. As for the sweet potatoes, they're ideally roasted the same day you serve them, but  in a pinch, cooking them ahead and reheating them works, too.

How to Make a Slow Cooker Chili
While the recipe requires little in the way of hands-on time (the only real prep is chopping an onion and garlic cloves), it does require you to watch the pot. If you prefer a slow cooker recipe, check out this Turkey and Butternut Squash Chili, which would be a nutrition power house over sweet potatoes. You might also like this Instant Pot Beef and Butternut Squash version. 
Toppings for Stuffed Sweet Potatoes
Once you have your chili going on the stove, gather favorite toppings to go with your finished dish. Anything goes, really, but a few possibilities include pickled jalapeños, grated cheese, chopped cilantro, sour cream or Greek yogurt, tortilla chips, sliced scallions, pico de gallo, and crumbled bacon.
My personal preference is a dab of salsa and sour cream, a bundle of cilantro, and my very own quarterback to keep me company.
Be sure to check out these other tasty sweet potato recipes.
4 Ingredient Sweet Potato Enchiladas 
Cheese and Sweet Potato Crostini 
Carrot and Sweet potato Soup by Once Upon A Chef 


Turkey and Black Bean Chili Stuffed Sweet Potatoes
A healthy spin on game-day chili. These chili-stuffed sweet potatoes are full of healthy ingredients and perfect for watching the game or weeknight supper. They're packed with protein, fiber, vitamin A with no shortage of flavor. Finish with your favorite chili garnishes, from shredded cheese to pickled jalapeños.
Servings
6
servings (with some leftover chili)
Ingredients
6

medium sweet potatoes

1

tablespoon

extra-virgin olive oil

1

large yellow onion,

chopped

3

cloves

garlic,

minced

1

pound

ground turkey

3

cups

cooked black or pinto beans (two 15-ounce cans, drained and rinsed)

1

tablespoon

ground chili powder

1

teaspoon

ground cumin

½

teaspoon

smoked paprika

1/4

teaspoon

cayenne pepper

1

kosher salt,

plus more as needed

One

28-ounce can plum tomatoes

1

cup

water

¼

cup

finely chopped fresh cilantro

Any favorite garnishes, such as lime wedges, shredded cheese, sour cream, or scallions
Instructions
Preheat oven to 400 degrees. Wash and dry sweet potatoes, prick several times with the tip of a sharp paring knife, and set on a parchment-lined baking sheet. Cook until the potatoes are very tender all the way through. The time will vary from roughly 40 to 60 minutes depending on their size.

Heat the oil in a large, lidded pot or Dutch oven over medium-high heat. Add the onion and sauté for a few minutes until it begins to turn tender and translucent. Add the garlic and sauté another minute or two, being sure it doesn't brown or burn. Add the turkey, chili powder, cumin, paprika, pepper, and salt, and cook, stirring regularly, until the turkey is cooked through. Break up the meat into crumbly bits, like taco meat, as it cooks.

Add the tomatoes, squeezing them with your hand into bits as you put them into the pot. Add the beans and water, turn the heat to high and cook until the liquid hits a full boil. Drop the heat and cook for 20 minutes. If the chili is too thick, add a little more water. If it's too thin, turn the heat up and let it boil rapidly until the chili thickens to your liking. Add the cilantro and stir. Taste and add more salt if needed.

To serve, slit roasted sweet potatoes down the center and squeeze them to open up the orange fleshy insides. Spoon a generous serving of chili on top. Garnish as desired.