Best Pan Roasted Almonds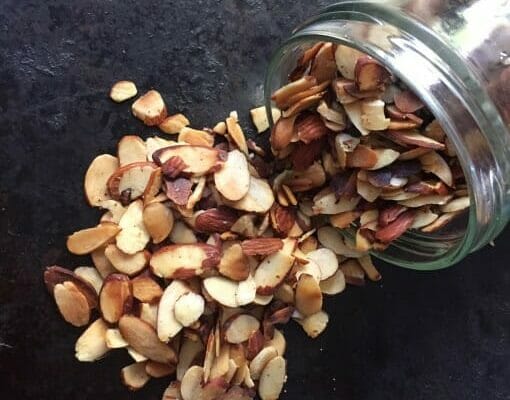 My mom seems to forget that she's an excellent home cook. She's the one, after all, who gave my brother and sister and me the freedom and confidence to cook from a very young age, which may explain why two of us landed in food careers (the third cooked her way through college in restaurant kitchens).
My Mom's Pan Roasted Almonds
Despite that, my mom downplays her cooking chops, humbly turning the reins in the kitchen to the rest of us. The truth is, nobody can do up a pan of mac and cheese, always in enormous volumes, like she does. And my kids will be the first to tell you that my pots of applesauce aren't quite as good, and never as generous, as grandma's are. Her Chocolate Power Bark, shared here a few months ago, is a hands-down favorite. And today, I'm fired up to pass along a recipe for some seriously tasty Pan Roasted Almonds.
They don't look like much (what's the big deal about sliced almonds, after all?), but they're a game changer. Just ask the grandkids, who light up when they find a batch, still warm from the skillet, waiting for them when we come for dinner.
How to Make and Store Almonds
These almonds are a snap to make. You brown them in an olive oil-slicked skillet (I use cast iron). Then, add salt to your liking and enjoy them warm or cool. Store them in a covered container or jar in the pantry or fridge. They're miles better than what you'll find in a bag of pre-roasted almonds.
How to Use Pan Roasted Almonds
Eat them warm, or store them in a jar in the fridge, where they stay crisp and delicious, excellent any which way. Here are a few ideas:
Sprinkle

 over cooked vegetables, such as broccoli or asparagus doused with lemon juice

Add

 to yogurt, the saltiness making a nice counterpoint to the tang of yogurt and sweetness of fruit

Toss

 into salads, from spinach to kale to delicate lettuces

Scatter

 over very simple pastas, particularly pesto pasta or Butter, Egg, and Cheese

Add

 to grains, such as rice, oatmeal, quinoa, or farro

Use

 as a garnish for avocado or nut butter toast.
Or, perhaps best of all, simply poured into hungry little hands who don't want to miss out on their fair share.
P.S. You can find affordable bags of sliced almonds at Trader Joe's and Costco. If you buy a large amount, store it in the freezer, since nuts go rancid over time when stored in the pantry.

If you like my best pan roasted almonds, check out:
Coconut Cashew Fig Energy Balls
Homemade Nut Bars from the Beaming Baker

My Mom's Killer Pan Roasted Almonds
A simple pan-toasted almond that is somehow tastier than anything you'll get by browning them in the oven. Delicious as a quick snack and perfect for topping salads, vegetables, or yogurt.
Servings
2
cups (16 two-tablespoon servings)
Ingredients
2

teaspoons

extra-virgin olive oil

2

cups

sliced raw almonds

1/2

teaspoon

kosher salt
Instructions
Heat the olive oil over medium high in a large cast iron or other heavy skillet, tilting the pan so the oil coats the bottom. Add the almonds and spread along the bottom. Leave for 1 to 2 minutes until they start to brown and get fragrant.

Use a spatula to stir the almonds around the pan. Sprinkle the salt over the nuts and stir again.

Continue to cook the almonds, stirring every 30 seconds or so, until they are nicely brown and have a deeply toasted flavor, about 5 minutes time in total.

Transfer to a baking sheet or piece of parchment paper until they've cooled to room temperature.

Store in a jar with a lid in the refrigerator.