Healthy Breakfast Toast with All the Toppings
I'm a super fan of toast, so much so that I devoted an entire chapter of Rise & Shine to breakfast toast. Here's why:
It only requires a few ingredients
Takes just a few minutes
Is easy enough to outsource to a child
It's tasty!
Can be made for breakfast, yes, but for lunch, snack, or even supper, too
Done right, it can be enormously nutritious.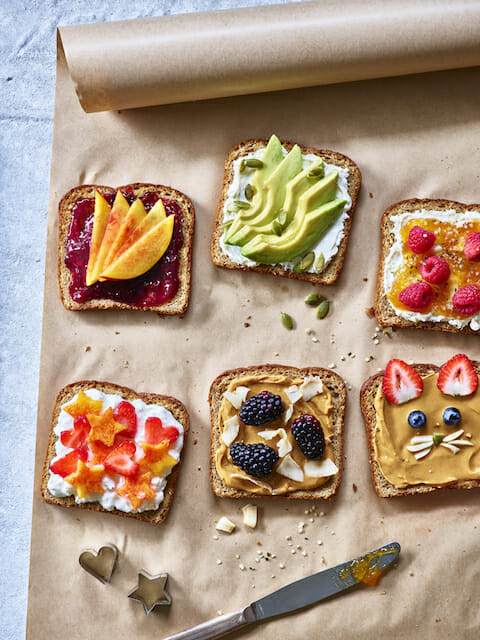 Here are a few "how-tos" on getting the most nutrition onto every slice:
Start with a wholesome loaf. Ideally choose a whole grain bread with at least a few grams of fiber. Head here for my post on how to choose a healthy bread.
Add a favorite spread, such as nut and seed butters, cottage cheese, cream cheese, all-natural jam, avocado, hummus, or tapenade.
Layer on fruits, vegetables, or both. Practically any fresh or frozen (defrosted) fruit will do and vegetables can run the gamut from sliced cucumber to leafy greens.
Add nourishing toppings such as favorite seeds, chopped nuts, dried fruits, granola, and cacao nibs.
Finish as desired with salt, pepper, herbs, spices, honey, olive oil, lemon juice, lime juice, salsa, and so on.


Energy-Boosting Breakfast Toast
A good slice of bread and a few favorite toppings is all it takes to make a simple, nourishing breakfast. Go sweet or savory, crunchy or not, nothing is off limits.
Ingredients
1

slice

whole grain bread

Spread of your choice

peanut butter, any nut or seed butter, cottage cheese, cream cheese, all-natural jam, smashed avocado, hummus

Sliced or diced fruits

apple, pear, grapes, banana, peach, apricot, figs, fresh or frozen and defrosted berries, or other favorite fruits

Vegetables/leafy greens

cucumbers, tomatoes, peppers, arugula, baby spinach, or other favorites

Favorite toppings

chia seeds, hemp seeds, pepitas, nuts, coconut, dried fruits, granola, cacao nibs

Seasoning

salt, pepper, chiles, herbs, spices, salsa, honey, lemon or lime juice
Instructions
Toast bread until lightly brown.

Add spread of your choice.

Top with a fruit or vegetable, or both, as desired.

Scatter on any toppings you like.

Finish with appropriate seasonings.
Photo credits: Leigh Beisch