Honey Glazed Sweet Potatoes with Pomegranate and Cilantro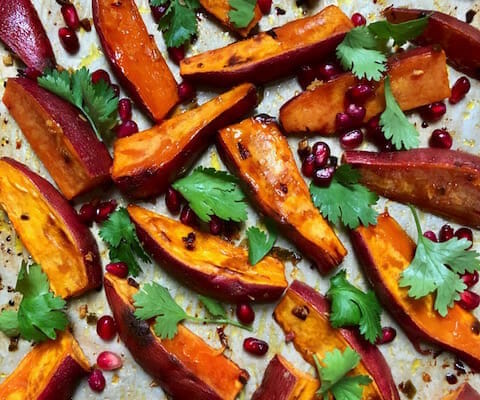 Thanks to Sprouts Farmers Market for sponsoring this post
The sweet potato, it seems, is a divisive topic, at least when mashed with butter, crowned with marshmallows, and served at the Thanksgiving table. An informal poll on my Facebook page found a deep divide between those with great enthusiasm for this cloyingly sweet classic and those who hate it with a capital H.
Where do I stand? I suppose you could call me Switzerland on the topic, since truth be told, I've never had this popular iteration of holiday spuds.  In our house, Thanksgiving sweet potatoes are always served very simply, usually cut into thick slabs and slowly roasted.
Trying Something Different
This year, though, when Sprouts Farmers Market asked me to develop a new Thanksgiving side dish, I set out to do something a little different. My goal? Sweet potatoes as compelling as any marshmallow-crowned casserole, minus the heaps of  sugar, butter, and bag of Campfire minis. 

Clearing up the Confusion
Before I launch into this recipe, though, let me set the record straight on what qualifies as a sweet potato. In a nutshell, it's likely that anything labeled a sweet potato or a yam in the supermarket is actually a sweet potato. The orange-fleshed tubers I used for this recipe, for example, are sweet potatoes, as are their white-fleshed, pale brown-skinned cousins. True yams hale from Africa and South America and are fairly uncommon in American markets.
Holiday Table Worthy
Whatever you choose to call them, these sweet, tangy, and just a tiny bit spicy spuds are 100 percent worthy of space on your holiday table. Easy to make, you just toss wedges of sweet potato with ginger, honey, lime juice, and olive oil. I've taken to using Sprouts extra-virgin olive oil, since I like the flavor and it comes at a very friendly price.
Once the potatoes are good and glossy, roast them in the oven until tender and caramelized.  Garnish the finished dish with pomegranate seeds and fresh cilantro to add a pop of brightness.
They're so good, you won't even miss the marshmallows.


Honey Glazed Sweet Potatoes with Pomegranate and Cilantro
Ginger, honey, jalapeno, and lime make an excellent glaze for sweet potatoes that cook until tender inside and slightly caramelized outside. Pomegranate seeds and fresh cilantro add brightness. If you want to get some of your prep done ahead of time, you can cut the sweet potatoes and make the dressing several hours ahead of time and just leave at room temperature. Just toss the two together and roast when the dinner hour approaches. Alternatively, you cook the dish entirely ahead of time and either serve at room temperature or briefly reheat at 425 degrees until warm.
Ingredients
3

pounds

sweet potatoes/yams

about 4 large

¼

cup

Sprouts extra-virgin olive oil

3

tablespoons

honey

2

tablespoons

lime juice

1

tablespoon

finely chopped fresh ginger

1 ½

tablespoons

finely chopped jalapeno pepper

2

large cloves garlic,

minced

1

teaspoon

kosher salt

1/2

cup

roughly chopped, loosely packed fresh cilantro

1/2

cup

pomegranate seeds
Instructions
Preheat the oven to 425 degrees. Cover 2 large baking sheets with parchment paper.

Cut the sweet potatoes in half crosswise. Cut each in half lengthwise and cut each half into 4 to wedges. Each sweet potato should yield 16 wedges.

In a large bowl, whisk together the olive oil, honey, lime juice, ginger, jalapeno pepper, garlic, and salt until the honey dissolves and the ingredients are blended. Add the sweet potatoes to the bowl and use your hands to toss them in the dressing until every sweet potato is coated and glossy.

Divide the sweet potatoes between the 2 baking sheets and spread them out. Drizzle any dressing remaining in the bowl over the sweet potatoes.

Bake for 15 minutes. Remove from oven and turn the sweet potatoes over. Continue to bake until the sweet potatoes are very tender and slightly caramelized, another 10 to 20 minutes.

Transfer to a serving platter. Taste a sweet potato and add more salt if needed. Scatter the pomegranate seeds and cilantro over the top.