Lighter Chocolate Pot De Creme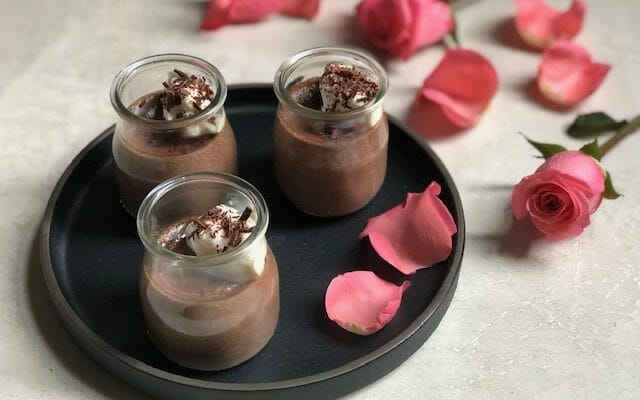 This being Valentine's day, I figured it was the perfect opportunity to talk about one of my favorite topics: dessert. Occasionally I get a look of surprise from friends or colleagues when they see me tucking into something decadent. Somehow, as a dietitian, I'm not supposed to eat such goodies. But I'm rather fond of sweets, particularly chocolate. And I find deprivation only backfires.
There is indeed room for indulgence in a healthy diet, for adults and kids. It's really a matter of how much you eat and how often you eat it. I have a few guiding principles around indulging:
Make it worth your while
That is, go for good quality, whether it's a piece of delicious dark chocolate or a slice of cake from your favorite bakery.
Keep it Petite
Opt for the kid's scoop at the ice cream parlor, divide dessert three ways after a meal out, or split those giant cookies sold at so many coffee houses.
Pile on the Fruit
Enjoy a slice of cake with loads of berries, accompany a scoop of vanilla ice cream with fresh grilled pineapple.
Minimize the Goodies 
Usually if there are sweets around, it's something homemade that doesn't linger too long. Ice cream is something we go out for instead of keep in the freezer.
Make Baking Wholesome
Gravitate towards fruit-based desserts, swap out some of the white flour for whole grain, scale back the sugar, butter and cream, and so on. Cooking Light and Eating Well magazines are good resources, as well as "Good to the Grain," a baking book written by a seasoned pastry chef who does wonders with whole grain flours.
This pot de creme recipe fulfills all of the guiding principles: it's worth your while, the portions are small, though satisfying, it's wonderful with berries, when they are in season, it won't linger in your fridge, and it has less cream and sugar than most recipes out there.
This recipe is a little simpler than most. I've skipped a few steps that might make my pastry chef sister-in-law shudder in her baking clogs. Luckily she had a baby yesterday and won't likely be reading this post.


Lighter Chocolate Pot de Creme
Chocolate Pot De Creme is really just a fancy name for chocolate custard. These are decadent tasting but come in at a reasonable 265 calories each. Also, if your kids aren't crazy about dark chocolate, use semi-sweet instead of bittersweet.
Ingredients
3

ounces

bittersweet chocolate

1

cup

low-fat milk

½

cup

heavy cream

¼

cup

sugar

2

egg yolks

1

whole egg

1

teaspoon

vanilla extract

Whipped cream or fresh berries for garnish

(optional)
Instructions
Preheat oven to 325°F. Arrange five 4-ounce heatproof ramekins or other cooking vessels in a deep baking dish.

Shave, grate or finely chop the chocolate and put it in a medium bowl.

Combine the milk, cream and sugar in a small saucepan and cook over medium-high heat until the sugar dissolves and bubbles form around the edge of the pan. Pour milk over the chocolate and stir with a whisk until the chocolate is completely melted and smooth. Allow it to cool for a few minutes until it is warm, not hot, to the touch.

Gently whisk the egg yolks, egg and vanilla in a small bowl until blended. Add the eggs to the chocolate and whisk until smooth. Pour it into the 5 ramekins. Fill the baking pan with enough very hot tap water to reach halfway up the sides of the ramekins.

Bake until the edges of the chocolate are firm and the center moves a little when jiggled, about 20 minutes. The time may vary, however, depending on the size of your ramekins. Avoid touching the top of the cremes because they won't be quite so pretty.

Take the baking pan out of the oven and remove the cups from the pan. Allow them to cool on the counter for an hour.

Cover with plastic wrap and refrigerate at least 2 hours before serving. Just before serving sprinkle a tiny pinch of fleur de sel over the top of each cup.