Parmesan Cheddar Seed Crackers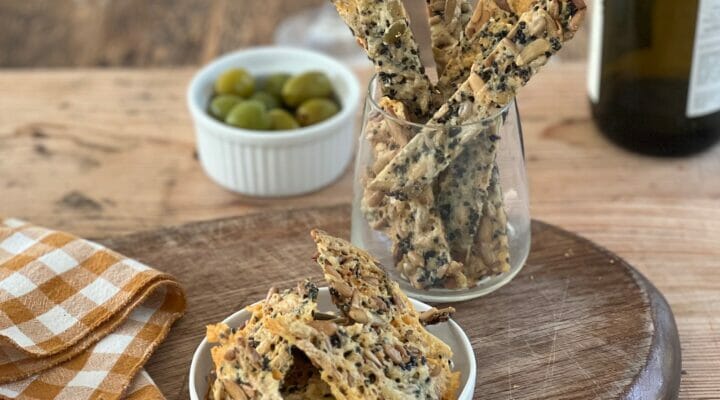 Dare I say this is one of the most "try to eat just one" recipes I've created to date. The texture alone has me reaching for seconds before I've finished firsts. Add in two of the planet's most flavorful hard cheeses — Parmesan and Cheddar — and you're pretty much done for. I've prepped them five times and counting. It's not hard to do, since they're a snap to make. Indeed, Parmesan Cheddar Seed Crackers are my new go-to for when company comes and I want a pre-dinner nibble to wow a crowd.
The inspiration for this recipe was a package of crackers I picked up at a specialty market in Berkeley. I thought they were terrific, though pricey and a bridge-crossing away from where I live. Seeing how simple the ingredients were, I tried my hand at a homemade version. After a few attempts, I landed on a formula that worked well and tasted as good (maybe better?) as the original.

Honestly Easy to Make
The method for making these is dead easy. You toss pumpkin, sunflower, and sesame seeds with grated Parmesan and Cheddar cheese. Spread the mixture evenly on a sheet pan and bake until golden. That's it. Once out of the oven, you can cut the crackers into slender strips (elegant) or break them into craggy shards (rustic and foolproof).

Tips for Parmesan Cheddar Seed Crackers
While the ingredients in these are few, a few pointers might help guarantee success:
Use raw, unsalted seeds if you can find them.
Distribute the cheese evenly on the baking sheet and don't spread things too thin. The cheese is effectively the "glue", so if there's a section without enough cheese, the crackers will be fragile. If you're worried the crackers won't hold together, add a bit more cheese.
If you're cutting this into thin crackers, you must work quickly and do it immediately after it's out of the oven.
You can shake on a few dashes of cayenne or other favorite spices for added interest.
Scatter any leftover crumbly cracker bits over cooked vegetables or a salad for flavor and crunch.

If you like Parmesan Cheddar Seed Crackers, you might like these other little bites:
Everything Bagel Flatbread Crackers
Smoked Salmon Potato Chip Canapés

Parmesan Cheddar Seed Crackers
You may want to do a double batch of these, they're that good. Add a few dashes of cayenne pepper to the mix for a kick of heat. The crackers are fragile, particularly if you cut them rather than breaking them into shards, so handle with care.
Ingredients
1

packed cup coarsely shredded sharp Cheddar cheese

1

cup

finely grated Parmesan cheese

¼

cup

raw pepitas

(shelled pumpkin seeds)

¼

cup

raw sunflower seeds

2

tablespoons

raw sesame seeds
Instructions
Preheat oven to 375 F. Line a large baking sheet with parchment paper.

In a medium bowl, use your hands to gently toss together the Cheddar, Parmesan, pepitas, sunflower seeds, and sesame seeds until everything is evenly mixed together.

Dump the cheese/seed mixture onto the baking sheet and spread it into a rectangle that's about 7 X 12 inches. Make sure the cheese is evenly distributed and the edges are tucked into a relatively even line.

Bake until golden around the edges and just beginning to brown slightly towards the center, about 8 minutes. Remove from oven. For long slender crackers, as soon as it's out of the oven, immediately transfer to a cutting board and use a large knife to cut it crosswise into long, slender crackers. Alternatively, let cool and use your hands to snap into jaggy pieces. The crackers are delicate, so handle with care. Store in an air-tight container where it will keep well for about 1 week.