Roasted Cabbage Wedges with Miso Ginger Scallion Butter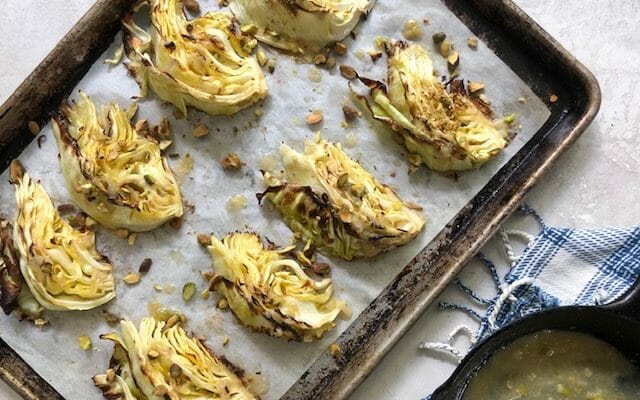 Perhaps it's taking things a bit far to call this cabbage sexy. But I can say it's a whole lot sexier than the cabbage that came from the kitchens of my Irish ancestors, who did little more than cook it in big pots of boiling water. With St. Patty's Day approaching, I figured I'd take the opportunity to share a different approach to a vegetable that has sustained generations on the Emerald Isle. These Roasted Cabbage Wedges are hardly traditional, but are so delicious, I imagine my Irish forebears would approve.

How to Make Roasted Cabbage Wedges
First up is to start with a very hot oven. While it's pre-heating, cut your cabbage into eight wedges, leaving the core intact so the pieces hold together. From there, lightly coat the cabbage with olive oil and season with salt. Roast the cabbage until the thickest part of the leaves are tender and the wedges are nicely caramelized. I developed the recipe using conventional green cabbage, but the method would also work with Savoy, red, or Napa cabbage. You may need to adjust the cooking time if you use a different variety.
Miso, Ginger, Scallion Butter
Roasting is one of the best techniques I know for cooking cabbage. That said, the real magic in this recipe is the Miso, Ginger, Scallion Butter. It also happens to be easy to pull together. You start by sautéing thinly sliced scallions in olive oil. Then, whisk in fresh ginger, miso paste, rice vinegar, a smidge of sugar, and a tablespoon of butter. I recommend white or mellow miso, which gives the sauce a kick of salty, umami flavor without being overpowering. You thin the mix with enough water so that it can be easily drizzled over the cooked cabbage. To finish, scatter roughly chopped roasted pistachios over the top.

Cabbage Nutrition
Not only are these Roasted Cabbage Wedges immensely tasty, they pack a wallop of good nutrition as well. Cabbage falls into the category of cruciferous vegetables, which means a powerhouse of phytochemicals (plant compounds linked with a decreased risk for cancer). Cabbage is also low in calories, high in fiber and vitamin C, and a source of numerous other vitamins and minerals.
How to Serve Roasted Cabbage Wedges
I think this dish makes a perfect side to roast chicken, skillet pork chops, and of course, old-school corned beef. That said, I've enjoyed it for lunch with crusty bread and as part of a vegetarian dinner with a salad and bowl of cooked lentils. It's tasty any which way you want to serve it…I dare say, even a little bit sexy.

For more recipes with cabbage, check out:
Sausage, Cabbage, and Apple Skillet Supper
Colorful Cabbage Salad with Apples and Walnuts
Crunchy Asian-Style Slaw with Chicken or Tofu Skewers
Stuffed Cabbage Rolls on Simply Recipes
Chinese Chicken Salad by Weelicious

Roasted Cabbage Wedges with Miso Ginger Scallion Butter
Cut cabbage into sturdy wedges and roast until just tender and slightly caramelized. While the cabbage cooks, whisk together the miso butter sauce to drizzle over the finished cabbage. You'll likely have leftover sauce, which is excellent spooned over boiled potatoes, green beans, or roasted sweet potatoes.
Ingredients
1

medium head green cabbage

2

tablespoons

extra-virgin olive oil,

divided

¼

heaping teaspoon kosher salt

4

scallions,

white and light green parts thinly sliced

1

tablespoon

salted butter

1

teaspoon

finely grated fresh ginger

1

teaspoon

brown sugar

1

tablespoon

rice vinegar

3

tablespoons

water

2

teaspoons

white or mellow miso paste

3

tablespoons

roasted salted pistachios.

chopped (optional)
Instructions
Pre-heat oven to 450 degrees F.

Cut the cabbage in half through the core. Cut each half into 4 wedges. Lay the wedges on a baking sheet lined with parchment paper or a silicon baking mat. Drizzle 1 tablespoon olive oil over the cabbage and use your hands to rub it over the surface. Sprinkle the salt over the top.

Roast until the cabbage is just tender with edges that are browned and a little crispy, about 20 minutes.

While the cabbage roasts, heat 1 tablespoon olive oil in a medium skillet over medium heat. Add the scallions and sauté until a little tender, 2 minutes. Add the butter, ginger, brown sugar, vinegar, and water and whisk until the butter melts. Remove from heat, add the miso, and whisk just until creamy. 

When the cabbage is done, drizzle a spoonful of the warm Miso Butter over each wedge. You will have some leftover. Store it in the fridge to use over other cooked vegetables, such as boiled potatoes, roasted sweet potatoes, or stir-fried green beans.