Roasted Delicata Squash with Maple Syrup and Thyme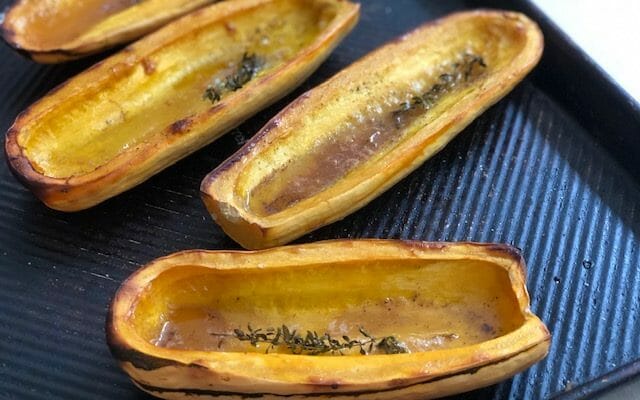 Hard winter squash, from pumpkin to butternut, is enormously nourishing, not to mention tasty to eat. It's an excellent source of vitamins A and C, and delivers a meaningful dose of fiber, too. But it's not the easiest vegetable to work with. Indeed, sometimes when I spy these bright winter beauties at the market and imagine myself back in my kitchen trying to wrestle the hard flesh into a cooked dish, I walk on by. That said, this Roasted Delicata Squash with Maple Syrup is a bit of an exception.

What is Delicata Squash?
Delicata is one squash variety that's a little easier on the cook. It's become a fall and winter staple in our house, and one my kids quite fancy. Smaller than most varieties, delicata is cylindrical in shape, features a creamy color, with green and orange stripes down its length. The flavor is sweet, the texture more tender than mealy, with skin that's thin enough to eat when cooked. If you are wondering how to prepare delicata squash, read on.

Easy Roasted Delicata Squash with Maple Syrup
My method for cooking delicata involves nothing more than splitting it down the center, scooping the seeds, dotting the insides with butter and maple syrup, and baking it until tender. It will take you all of five minutes to assemble with no need to fuss with a peeler or strong-arm the flesh into fat cubes. If you want to take it a step further, split delicata makes an excellent vessel for stuffing.

Can you Eat Delicata Squash Seeds?
As for those seeds, though littler than pumpkin or butternut, they are just as suitable for a snack. Here is how to roast the seeds:
Rinse in a colander and shake well
Spread out on a parchment-lined baking sheet
Toss lightly with olive oil and scatter with salt
Roast in 300 degree oven until browned.

If you like Delicata Squash with Maple Syrup, you might also like:
How to Microwave Spaghetti Squash
https://www.momskitchenhandbook.com/uncategorized/arugula-delicata-squash-and-pomegranate-salad/Arugula Salad with Delicata Squash and Pomegranate
Kale Salad with Delicata Squash from Liz's Healthy Table

Roasted Delicata Squash with Maple Syrup and Thyme
The skin of this squash is entirely edible, though you may find it preferable to eat the tender insides. Figure about a half squash per person, although smaller appetites may do with a quarter of a squash.
Ingredients
3

whole delicata squash

1 1/2

tablespoons

butter

(or olive oil for a vegan version)

1 1/2

tablespoons

pure maple syrup

Salt and pepper to taste

6

sprigs fresh thyme or 1/2 teaspoon dried thyme
Instructions
Preheat oven to 450 degrees F.

Wash the squash. Use a large, sharp knife to slice off the stems. Cut the squash in half lengthwise. Use a spoon to scoop out the seeds and string. Discard. Set the squash cut-side-up on a baking sheet.

Put a dab of butter in the center of each squash. Drizzle the maple syrup into the cavity of each one. Sprinkle salt and freshly ground black pepper over the flesh of the squash. Set a small sprig of thyme or sprinkle the dried thyme in each half.

Bake until the squash is very tender when pierced with the tip of a knife. The time will vary depending on the size of the squash, but will range from 35 to 45 minutes.

Remove from oven and serve.