Shaved Brussels Sprouts Salad with Lemon and Pecorino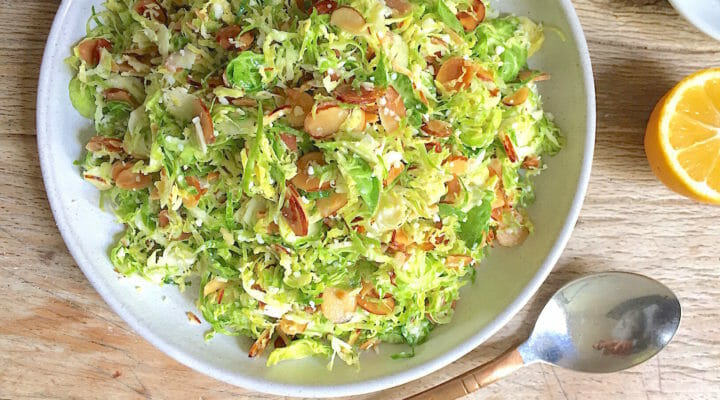 Back in September, I bought a simple navy dress on sale while on a work trip to New York. It's the perfect dress. It doesn't wrinkle, can be dressed up or down, worn with tights or bare legs, with sandals or boots, belted or loose, plus, it's my favorite color. Perhaps it goes without saying that I've worn it so often, my girls refer to it as "the dress", as in, are you wearing "the dress" AGAIN?
This salad is my vegetable version of "the dress".  It all started with lunch at a restaurant called Barbuto where I was, hands down, the least hip person in the place. The fact that I was nerding out to our bearded waiter about their Brussels sprouts salad didn't help matters.  I grilled him for information, made notes on my phone, and then tinkered semi-obsessively in my kitchen until I got it right. I've made it so many times that my girls now refer to it as "the salad" as in "are you making "the salad" AGAIN?"
Super Nourishing
Some things are just like that. Worth repeating. And this Shaved Brussels Sprouts Salad has other very good reasons to be repeated. Brussels sprouts, like their brassica brethren (think cauliflower, kale, broccoli, cabbage, and collard greens) are astonishingly good for you. Indeed, they are one of the most nutrient dense foods you can eat. One cup exceeds your daily needs for vitamin C and vitamin K (good for bones), with a whole cocktail of phytochemicals and antioxidants linked to minimizing risk for diabetes, heart disease, and cancer, all at just 38 little calories. The fact that the Brussels in this salad are served raw rather than cooked may have its upsides too, since some of its cancer-fighting compounds (along with certain vitamins) lose their potency when heated.
Inside Tip
One tip: you can do the work of shaving Brussels sprouts in a matter of seconds using the slicer blade of a food processor. If you have a Japanese mandolin, that will do the trick as well.
Now, if you don't mind, I'm off to make another batch of "the salad", probably while wearing "the dress" as well.


Shaved Brussels Sprouts Salad with Lemon and Pecorino
The work of shaving Brussels sprouts can be done in seconds by using the slicer blade of a food processor. Alternatively, a Japanese mandolin will do the trick. This salad is excellent the minute it's made, and just as good the next day.
Ingredients
3/4

cup

sliced almonds

1

pound

Brussels sprouts

2

ounces

finely grated Pecorino Romano

(about 1/2 cup)

1/4

cup

lemon juice

(Meyer lemon if you have it)

2 1/2

tablespoons

extra-virgin olive oil

1/2

teaspoon

kosher salt
Instructions
Preheat oven or toaster oven to 350 degrees F. Spread the almonds on a baking sheet and bake until golden brown, about 8 minutes. Remove from heat and let cool.

Trim off a thin slice from the bottom of the Brussels sprouts and wash well. Use the slicer blade of a food processor to shave the Brussels sprouts. Alternatively, use a Japanese mandolin to slice them very thin.

Put the Brussels sprouts, almonds, Pecorino Romano, lemon juice, olive oil and salt into a large bowl and toss well. Serve.
This post includes some affiliate links. Mom's Kitchen Handbook earns a tiny percentage from purchases made from these links.