Slow Cooker Turkey Butternut Squash Chili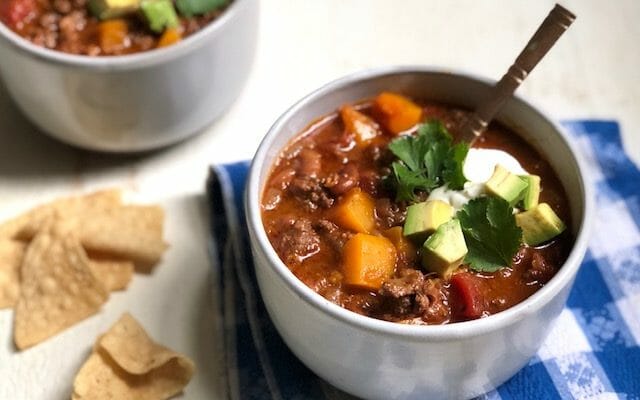 Why is it that the food we associate with watching sporting events inevitably falls into the not-so-good for you category? It's a question I pondered on New Year's Day while watching football along with a small crowd at my dad's house. While the antics on the field held little interest for me, I was enchanted by the big bowl of Fritos on the buffet. And though I managed to forgo the rest of the party offerings — the Doritos, M&Ms, onion dip, and potato chips — triple dipping into a bag of "Scoops" was enough to leave me with a mild tummy ache and a reminder of why I usually lay off the snack foods aisle.
Which brings me to the point of this recipe. Chili. Butternut squash chili made in the slow cooker to be exact. Just the sort of no-brainer meal you can cook up for Superbowl that isn't going give you a hangover worse than the one you'll get from all the strawberry wine coolers you plan on drinking this Sunday (I'm onto you, lady).
Slow Cooking Simplifies
Chili can be an enormously nourishing meal that doesn't smack of a health prescription. Doing it in the slow cooker takes all of babysitting out of the equation, so you can keep your eye on the game instead of the stove. And if you don't happen to be much of a football fan (that would be me), you can tuck it away for a weeknight supper when the craving for spice and comfort strikes.

This particular chili is borrowed from our friends at the Zen of Slow Cooking. I tinkered with the orginal by replacing red peppers with diced butternut squash, an appropriate swap for a mid-winter meal. The squash adds a touch of sweetness — a welcome contrast to the spices — and delivers a heap of vitamin A, vitamin C, and a whole host of other nutritious goodness.
A Short Cut for Spices
As far as seasoning the chili goes, the recipe takes a short cut by calling for a single spice mix in lieu of half a dozen spices. You can either head over to the Zen of Slow Cooking and order their Southwest Fiesta blend or pick up a packet of taco seasoning at the market. Be aware that the level of spiciness in taco mix varies by brand. And be sure to review the list of ingredients. It appears that most major manufacturers no longer use MSG in their products, but it's worth a peek anyway.
All the Toppings
You can put a little more party into your chili pot by setting up a toppings bar alongside your slow cooker. Chopped cilantro, sour cream, avocado, crumbled Cotija, grated sharp Cheddar, chopped red onion, tortilla chips, sliced scallions, salsa, and lime wedges are all fair game.
Just leave out the Fritos…er…and maybe the wine coolers, too.
For more ideas for healthier Superbowl eats check out:
12 Healthier Ideas for Game Day Eats
Black Bean Chili Topped Sweet Potatoes

Slow Cooker Turkey Butternut Squash Chili
A full-flavored chili embellished with butternut squash, which adds a hit of sweetness to the smoke and heat of the dish. It's comfort food that comes with a whole lot of nourishment. If you want to make this when winter squash is no longer in season, substitute 1 cup red bell peppers for the squash.
Total Time
6
hours
20
minutes
Ingredients
2

teaspoons

extra-virgin olive oil

1

medium diced yellow onion

1

pound

ground turkey

One

1 1/4-ounce packet taco seasoning mix

2

cups

cubed (1/2-inch) butternut squash

1

cup

corn kernels,

fresh or frozen

One

15-ounce can pinto beans,

rinsed and drained

One

14.5-ounce can diced tomatoes,

not drained

1

tablespoon

tomato paste

2

tablespoons

flour

1/3

cup

water

1/2

teaspoon

Kosher salt

1/8

teaspoon

Cayenne pepper

(more if you like it spicy)

Garnishes, such as sour cream, avocado, cilantro, cheese, and lime juice
Instructions
Heat the olive oil in a large skillet over medium-high heat. Add the onion and saute until tender, 5 minutes. Add the turkey and saute until cooked through, breaking up the turkey with a spoon as it cooks. Transfer to the slow cooker.

Add the taco seasoning mix, squash, corn, beans, tomatoes, tomato paste, flour, and water. Secure the lid on the pot and cook until the chili thickens and is full of flavor, low for 6 hours or high for 4 hours. Add the salt and cayenne and stir well.

Ladle into bowls and top with favorite garnishes.