Slow Cooker Pinto Beans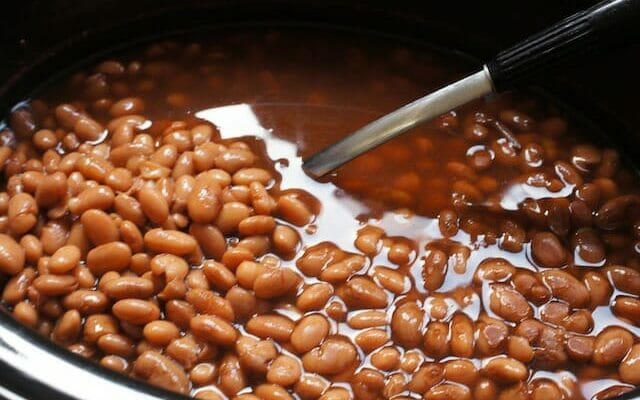 A single food can be  the springboard for an entire supper, and few ingredients have as much to offer as the humble bean. Pinto beans in particular are appealing because they have a creamy texture and mild flavor, are widely available, and dirt cheap.  Making Slow Cooker Pinto Beans is the start of a multitude of soups, salads,  plates of hearty rice and beans, and of course, tacos and tostadas.
The Crock Pot Makes Cooking Beans Easy
While a sturdy pot set on the stovetop cooks beans just beautifully, the slow cooker allows you to do the job without minding the store, so to speak. It's become a matter of course in our house to get the crock pot going with a pound of beans on Monday morning to use in meals throughout the week. While I've tinkered around with different techniques, nothing has been as successful as the bare bones approach by Mexican food aficianado Deborah Schneider in her book The Mexican Slow Cooker

.
To Soak or Not to Soak Pinto Beans
The beans aren't soaked in advance in this recipe. I get consistent and creamy results every time using this method. Everything goes into the slow cooker all at once and the five-ingredient recipe calls for nothing more exotic than crushed red pepper. It really doesn't get any easier than that. And the result?
One delicious pot of crock pot pinto beans. They were so good, in fact, that the first time I made them my daughter, Rosie did up a bowl for her after school snack (what could be more warm and nourishing!). She didn't even mind that those same beans were the centerpiece of our meal just a few hours later.

How Long to Cook Pinto Beans in the Slow Cooker?
The cooking time for crock pot beans can vary depending on the age of the beans. Older beans tend to take longer to cook (and it's pretty tough to know how long your beans have been sitting on a supermarket shelf). The best bet is to cook them until they are plump and tender, but not mushy. Un-soaked pinto beans typically take between 7 and 9 hours on the "low" setting.  If you want to speed things up, use the "high" setting and they will be done closer to 4 hours.
Variations for Slow Cooker Pinto Beans Recipe
The recipe as written is quite simple, but there are a number of ways you can adjust the recipe to suit your mood. Here are a few ideas:
Make them smoky by adding a few slices of bacon, a ham hock, or a smoked turkey leg at the beginning of cooking.
Keep them entirely vegetarian, but start the pot off with chopped onion and peppers before adding the beans and water.
Tinker with the spices, adding a few teaspoons of cumin, chili powder, or paprika.
How to Use Slow Cooker Pinto Beans
There are endless possibilities for for making meals using a pot of slow cooker beans. Here are a handful to get you started:
Build tostadas on a base of corn tortillas crisped in a pan with a slick of oil or toasted in a 400 degree oven. Then, top with pintos, salsa, a chopped cabbage salad, and crumbled cotija cheese.
Make chile-topped sweet potatoes. Delicious and healthy.
Make simple breakfast huevos rancheros (which are perfectly acceptable for lunch or dinner, too).
Spoon warm beans into a lunchbox thermos, top with salsa and cheese. Pack a stack of tortilla chips on the side.
Make a simple soup. You can swap pinto beans in for the black beans using this recipe. 

If you like Slow Cooker Pinto Beans, check out:
Printable guide on slow cooking six beans and legumes
For more healthy, easy recipes, follow me on  INSTAGRAM

Slow Cooker Pinto Beans
These pinto beans couldn't be easier to make in a slow cooker. Any that you don't use within a few days can be stored in a container or resealable bag and kept in the freezer. To turn whole pintos into a healthy version of refried beans, saute a little onion and garlic in olive oil until tender, add the beans and some of the cooking liquid, and cook for a few minutes. Then, mash with a fork or puree in a blender.
Total Time
8
hours
1
minute
Servings
6
cups (12 1/2 cup servings)
Ingredients
1

pound

dried pinto beans

(2 1/2 cups), rinsed, picked over for tiny stones

7 1/2

cups

water

1

teaspoon

crushed red pepper

2

teaspoons

salt

1/4

teaspoon

black pepper
Instructions
Put the beans, water, crushed red pepper, salt, and black pepper into the slow cooker and stir. Cover and cook on low until the beans are tender but not falling apart (7 to 9 hours). The time will vary depending on the size and age of the beans. Once cooked, turn off the slow cooker. If you leave the beans in the slow cooker for a while, they will continue to absorb the liquid as they cool, making them more tender and creamy.
Recipe Notes
Adapted from The Mexican Slow Cooker by Deborah Schneider

This post includes a link to purchase. Mom's Kitchen Handbook gets a small percentage of purchases made from this link. It is part of what keeps this blog up and running, so thank you for your support.