Harvest Bowls with Glossy Green Sauce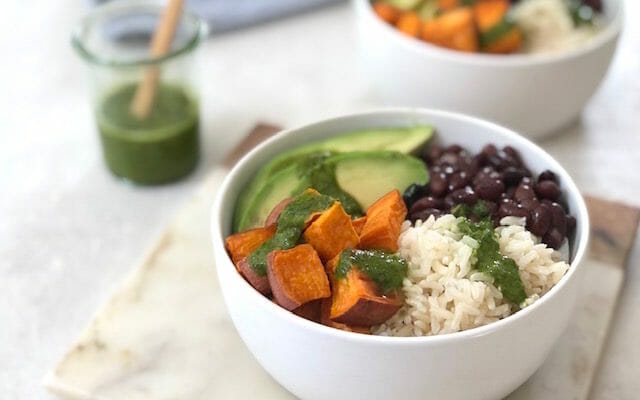 Big news hit the food world this week. Eleven Madison Park, a New York City restaurant with three Michelin stars is going 100 percent plant based. I'm intrigued as to how chef Daniel Humm will retool a menu built on dishes like honey-glazed duck and foie gras. I will have to watch the magic from the sidelines, though, since rumor has it meals go for $335 a person, not including wine or tip. Instead, I'll make my own plant-based dishes at home, the most recent of which are these Harvest Bowls with Glossy Green Sauce. They may not be Michelin-star fancy, but they are delicious.
Plant-Based Gets Popular
I don't know how the numbers shake out, but interest in vegan cooking is up. We are certainly eating more plant-based meals in our house. Ditto for a number of friends in my circle, who are adding more meatless meals to their menus, cutting out red meat, and in some cases, going entirely vegan. Plenty of parents are being pushed by a younger generation interested in plant-forward eating. I count myself among them, which is something I wrote about here.
The good news is, with chefs and food writers trotting out meatless recipe inspiration and food companies offering quality vegan ingredients, it's easier than ever to eat a vibrant plant-rich diet. The notion that being vegan means endless plates of bland tofu and brown rice is a thing of the past. These colorful Harvest Bowls are a perfect example. There is no shortage of color, flavor, texture, or nutrition here. Plus, they're darn easy to pull together.

Tip: Make Extra Cilantro Sauce
The key to the dish is that Glossy Green Sauce, which pulls it all together. It's a tangy, herbaceous elixir of cilantro, lime, and a hit of chiles that pairs deliciously with everything in the bowl, most especially the tender sweet potatoes. It takes no time to whiz it up in a blender and then spoon over the finished bowls. I like to double the amount of sauce and use the leftovers on other dishes throughout the week. It's tasty drizzled over roasted carrots, tossed with warm chick peas, added to tacos, and spooned onto grilled vegetable sandwiches. It's also excellent on grilled shrimp for those who dare to dip into the animal kingdom.
A Flexible Vegetarian Bowl
As for everything else in these Harvest Bowls, it's all quite flexible. Brown rice can be swapped out for virtually any other grain, including sorghum, farro, quinoa, freekeh, or barley. Chick peas, white beans, lentils, or pinto beans can take the place of black beans. You could also work in other ingredients if you like, such as sautéed leafy greens, chopped Little Gem lettuce, pickled jalapeños, shredded cabbage, corn, and roasted pepitas.
What you won't find with these bowls is a $335 price tag or a Michelin Guide restaurant reviewer nosing around your kitchen.
Enjoy!
If you like these Bowls, here are more plant-based recipe inspiration:
Cauliflower Tostadas with Chipotle Crema
Asian Noodles with Not-So-Spicy Peanut Sauce
"Almost Vegan" Spaghetti Alfredo with Pecan Alfredo
Falafel Burgers with Creamy Yogurt Sauce
Creamy Polenta with White Beans and Roasted Broccoli by Simply Recipes
Asada Mushroom Tacos by Pamela Salzman


Harvest Bowls with Glossy Green Sauce
These nourishing bowls have a bit of a Tex Mex flair with a slightly spicy cilantro-spiked sauce that brings all the flavors together. Tip: double the sauce. It's delicious and you can use leftovers on other vegetables, sandwiches, or tacos throughout the week. 
Ingredients
Bowls
2

medium to large

sweet potatoes

1

tablespoon

extra-virgin olive oil

1/2

teaspoon

kosher salt

1

cup

uncooked long grain brown rice

11/2

cups

cooked black beans (one 15-ounce can, drained)

1

large

ripe avocado, cut into thick slices

Optional additions: pickled jalapeños, crumbled Cotija, roasted pepitas
Glossy Green Sauce
2

roughly chopped cups

cilantro (leaves and stems), about 1 bushy bunch

2

scallions, white and light green parts, cut in a few pieces

1/4

cup

extra-virgin olive oil

2

tablespoons

lime juice

1 1/2

tablespoons

white wine vinegar

1/2

teaspoon

kosher salt

1/4

teaspoon

red chile flakes (more if you want it spicier)
Instructions
Preheat oven to 400 degrees F. Cut the sweet potatoes into 1/2-inch cubes and transfer to a baking sheet lined with parchment or a silicon baking mat. Drizzle with olive oil, sprinkle with salt, and toss well. If the baking sheet seems crowded, transfer some of the sweet potatoes to a second baking sheet. Roast until slightly browned and tender enough that a little knife slips right through, about 25 minutes.

While the sweet potatoes roast, cook the rice using your favorite method or make it as follows: Fill a medium saucepan with water and a few teaspoons of salt and bring to a boil. Add the rice and cook at a boil (like you cook pasta) until tender without any starchy bite. The time will vary depending on the rice, but figure 35 minutes or so. Set a colander in the sink and drain. Taste the rice and add a little salt, if needed. 

Make the Glossy Sauce by putting all the ingredients in a blender and run until smooth, scraping down the sides and running again as needed.

Warm the beans either on the stove in a small saucepan or in the microwave. Taste and season with salt as needed.

Assemble by dividing the sweet potatoes, rice, beans, and avocado among 4 bowls, like a cereal or soup bowl. Drizzle with Glossy Sauce. Top with optional additions, if desired.