Weekend Huevos Rancheros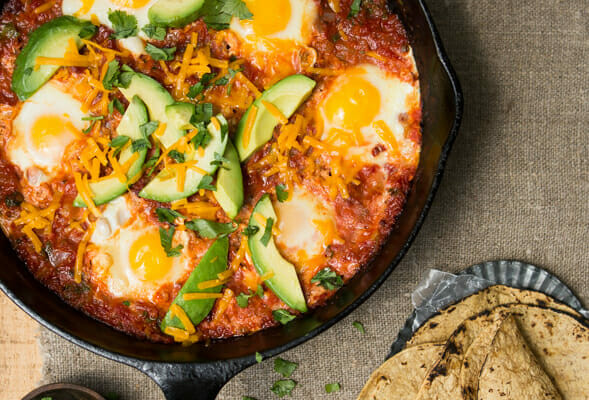 You can have your rack of lamb, your beef Wellington, your roasted goose with all the trimmings. I'll take this big pan of Huevos Rancheros any Christmas day over the more traditional trappings of the holiday table. And I do, each and every year when Mr Mom's Kitchen makes a batch on Christmas morning, dishing it out to whoever happens to gather that morning. Some years it's just our little family, others it's too many to fit around our dining room table. It's meant to be served generously and eaten sloppily, a delicious, crowd-pleasing meal that persists as a favorite cooking tradition in our house.
A Family Tradition
The recipe comes from my late father-in-law, a man with a larger-than-life personality who was affectionately known as "Big Joe".  He was a skilled home cook and a famously gracious host who was never shy about adding hot sauce to a skillet or bourbon to a dinner guest's glass. These eggs were a signature dish, which he thankfully passed down to the next generation.
Perfect for a Crowd
Big Joe's take on Huevos Rancheros is an ideal recipe for a big group, since everything is done in a single pan and the recipe can easily be doubled (though you may need to employ a second pan to make room for all those eggs). The chipotle-spiced, bacon-flecked sauce can be made ahead of time and stored in the fridge, making light work of brunch the next morning. Enjoy it, as we do, on holiday mornings.  But don't hesitate to pull it out on other days too; it's far too special a dish to save only for special occasions.
If you like these Huevos Rancheros, you might like:
Prosciutto and Spinach Egg Cups
Easy Breakfast Casserole, a recipe I developed for Simply Recipes
Mexican Chilaquiles with Scrambled Eggs from Hola Jalapeño

Big Joe's Huevos Rancheros
Every Christmas morning my husband makes up a big pan of these Huevos Rancheros. It's become my favorite meal of the holiday: soft eggs nestled in a smoky, chipotle- spiced tomato sauce under a cover of melted Cheddar. The sauce can be made a day ahead of time, just to the point before you add the eggs. If you are lucky enough to have leftovers, they are just as tasty reheated the next day. You can make this vegetarian by leaving out the bacon.
Ingredients
6

bacon slices

1

medium onion

, finely chopped

one 28-ounce can diced tomatoes

, with liquid

1/2

cup

water

1

chipotle chile en adobo

, minced into a puree (about 1 tablespoon)

1

tablespoon

lime juice

1

teaspoon

kosher salt

, plus a generous pinch, divided

2/3

cup

roughly chopped cilantro

, divided

8

eggs

8

corn or small flour tortillas

1

cup

coarsely grated sharp Cheddar cheese

Sliced avocado or sour cream

, for serving (optional)
Instructions
Set a large skillet over medium heat. Lay the bacon slices flat in the pan. Cook until the slices are deeply browned on one side and begin to curl up, about 5 minutes. Using a fork, turn the slices over and cook the second side until browned and most of the fat is rendered, another 3 minutes or so. Transfer to a plate covered with a couple of paper towels to absorb the drippings. When cool enough to handle, cut crosswise into 1/2-inch-wide pieces.

Pour off all but about 2 teaspoons of the bacon fat from the pan and re- turn to medium heat. Add the onion and cook until tender and translucent, scraping up any tiny bacon bits off the bottom of the pan. Add the chopped bacon, tomatoes with their liquid, water, chipotle, lime juice, and 1 teaspoon of the salt to the pan. Stir well. Adjust the heat so the sauce simmers. Cook, stirring occasionally, until the tomatoes soften and a little of the liquid cooks off, about 10 minutes. It should look like a thick, chunky sauce. If it appears too dry, add 2 tablespoons more water.

Add half the cilantro and stir. Crack the eggs into the sauce, spacing them evenly in the pan, and sprinkle a generous pinch of salt over the top. Set a lid, large pot, or piece of aluminum foil over the skillet so that it's completely covered (I invert a wok on top of the pan). Simmer the eggs, adjusting the heat as needed, until done to your liking. For runny eggs, the whites should be cooked but the yolks still soft to the touch, about 6 to 8 minutes. Hard-cooked eggs will take an additional 2 minutes or so.

While the eggs are cooking, heat the tortillas in another skillet set over high heat or directly on the burner if you have a gas range, quickly warming each side. You want the tortillas warm and maybe a little blistered, but not crispy. Wrap in a napkin or dish towel to keep warm until ready to eat.

When the eggs are done, scatter the cheese and the remaining cilantro over the top. Serve right from the pan: spoon an egg and plenty of sauce onto a tortilla and top with avocado or sour cream, if desired. Eat like a very messy taco, or use a fork and knife.
Photo credit: Erin Scott Studio