Weeknight Rescue//Cheesy Baked Pumpkin Pasta/ Chopped Chicken Salad/Pork Chops w/Apples/ Sweet Potato Black Bean Bowls/Fish Sliders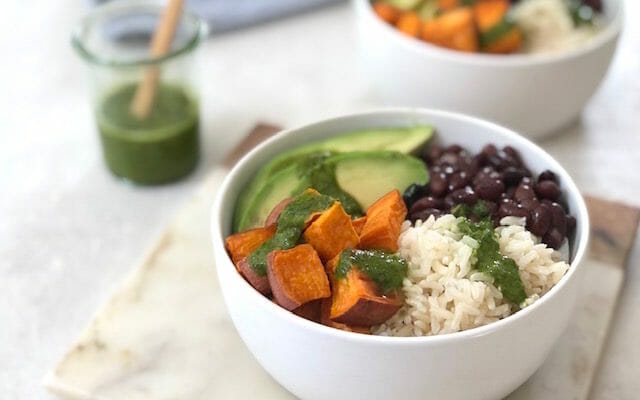 It's really starting to feel like the holidays and as so many of us do this time of year, I'm gearing up for some requisite baking over the weekend. I've included the recipes I've got planned as well as five dinners to get you through!


This has all the elements of comfort food that we crave this time of year — pasta, cheese, warmth, deliciousness. It also happens to pack in six cups of vegetables and is so seasonal, now is the time to make it.


If you're looking for something light and crunchy, this salad is the ticket. It's tossed with a lemony dressing seasoned with oregano and a little kick of heat. You can make the salad vegetarian by substituting one can of chickpeas or four hard boiled eggs for the chicken.


These nourishing bowls are a fan favorite in my house. Roasted sweet potatoes, brown rice, black beans, and avocado get dressed up with a tangy, slightly spicy cilantro sauce. Add pickled jalapeños, Cotija cheese, toasted pepitas or whatever else strikes your fancy.


This is the sort of supper my mom made on the regular every fall when we were kids. My version has a little something extra in the form of a quick pan sauce built on Dijon mustard and sour cream. It's delicious with the chops.


Using store-bought breaded fish fillets is a huge time and energy saver for these fish sliders. Shredded cabbage and a simple creamy caper dressing add great texture and flavor to these. I'm always game for an extra vegetable side and these crispy baked sweet potato "fries" would be a great addition (or just a plate of crunchy raw veggies).


My best granola yet and I'll be making a triple batch to package up for holiday gifts. It lasts a few weeks, travels great for shipping, and is easy to make. If you plan to give this for gifts, too, be sure to make enough to stash in your own pantry as well.

My aunt Franny's Lemon Coconut Walnut Bars are a seasonal must in my house. I routinely give these bars as gifts, since it's easy to make up a big sheet pan (no cookie cutters needed). They're sturdy, appropriately sweet, and oh so good. They also freeze well.
SHOPPING LIST
Cheesy Pumpkin Pasta with Kale and Bacon
4 slices bacon (optional if you prefer a vegetarian versio)
16 ounces penne pasta (use whole-grain and/or gluten-free as desired)
1 bunch kale
One 15-ounce can pumpkin (not pumpkin pie filling)
1 ¾ cup low-fat milk
1 cup low-fat cottage cheese
3 dashes nutmeg
2 ½ cups coarsely grated, lightly packed Gruyere cheese (about 4 ounces)
Chopped Salad with Chicken and Lemon Oregano Dressing
2 tablespoons lemon juice
1 tablespoon red or white wine vinegar
2 teaspoon Dijon mustard
1 teaspoon honey
11/2 teaspoons dried oregano
½ teaspoon crushed red pepper flakes
1/3 cup extra-virgin olive oil
3 large cloves garlic, smashed and peeled
1 ¼ pounds boneless, skinless chicken breasts
1 large head Romaine lettuce or several heads Little Gems
1 cup diced Persian or English cucumber (about 2 Persian or ½ English)
6 thinly sliced radishes
½ cup diced fennel
1 cup diced sugar snap peas (about 3 ounces)
⅓ cup roasted almonds, chopped (I prefer salted)
3 tablespoons minced chives
Easy Pork Chops with Apples
4 boneless pork loin chops that are about 1-inch thick
2 tablespoons whole grain Dijon mustard
1 tablespoon pure maple syrup
1 tablespoon sour cream
1 teaspoon apple cider vinegar
1 tablespoon extra-virgin olive oil
1 large apple
Sweet Potato Black Bean Bowls with Glossy Green Sauce
2 medium to large sweet potatoes
1/4 cup extra-virgin olive oil
1 cup uncooked long grain brown rice
11/2 cups cooked black beans (one 15-ounce can)
1 large ripe avocado
1 bushy bunch cilantro (2 cups chopped)
1 1/2 tablespoons lime juice
1 1/2 tablespoons white wine vinegar
1/4 teaspoon red chile flakes
Optional additions: pickled jalapeños, crumbled Cotija, roasted pepitas
Fish Sliders with Creamy Caper Dressing
16 ounces breaded frozen fish fillets
1/3 cup non-fat Greek-style yogurt
2 tablespoons light mayonnaise
2 tablespoon capers
2 teaspoons pickle relish
1 teaspoon ketchup
½ teaspoon Dijon mustard
8 slider buns
1 cup finely shredded cabbage
Pickled jalapeños, if desired
Maple Coconut Granola
3 1/2 cups rolled oats (not quick oats)
1 cup roughly chopped raw nuts (almonds, walnuts, hazelnuts, pecans, cashews)
1/4 cup raw pumpkin (pepitas) or sunflower seeds
3/4 cup unsweetened, shredded coconut
1/2 teaspoon kosher salt (Diamond Crystal is the brand I use)
1/2 cup extra-virgin olive oil
1/2 cup pure maple syrup
3/4 cup dried fruit, such as raisins, dried cranberries, dried cherries, or chopped dried apricots
Aunt Franny's Lemon Coconut Walnut Bars
2/3 cup butter (salted or unsalted)
1/2 cup sugar
1 3/4 cups all-purpose flour or whole-wheat pastry flour
2 eggs
1 cup packed light brown sugar
1 teaspoon vanilla extract
3/4 cup walnuts
1 1/2 cups shredded, unsweetened coconut
1 large lemon
1 cup confectioners' sugar