Weeknight Rescue//Fall 2022//Black Bean Soup/ Sweet Potato Latkes/Pasta with Simple Tomato Sauce, Chicken Taquitos/Crunchy Slaw with Tofu or Chicken Skewers
As we roll into Hanukkah and approach Christmas, I thought some very simple dinner recipes might be appreciated. You'll also find a very delicious latke recipe from the fabulous Amelia Saltsman, and my tried and true cranberry muffins, a stack of latkes with a twist, and a bunch of healthy recipes for dinners at home. Enjoy!


This black bean soup is about as quick as it comes as far as getting dinner on the table. I like to set up a little toppings bar and include favorite fixings, such as salsa, sour cream, avocado, crumbled bacon, and/or fresh cilantro. You could serve the taquitos below alongside the soup, if you like. 


These latkes are delicious any time of year, but are especially timely during Hanukkah. Made with squash and sweet potatoes, they're a little different than the norm. I like to serve them with crème fraîche and a colorful salad, such as this Baby Kale one.


I know cold weather cooking tends to lean on hearty soups and starchy sides, but I like to mix in dishes that are on the lighter side. This bright, flavorful salad does it for me every time. Top it with broiled or grilled skewers of either chicken or tofu. Leftovers make an excellent lunch.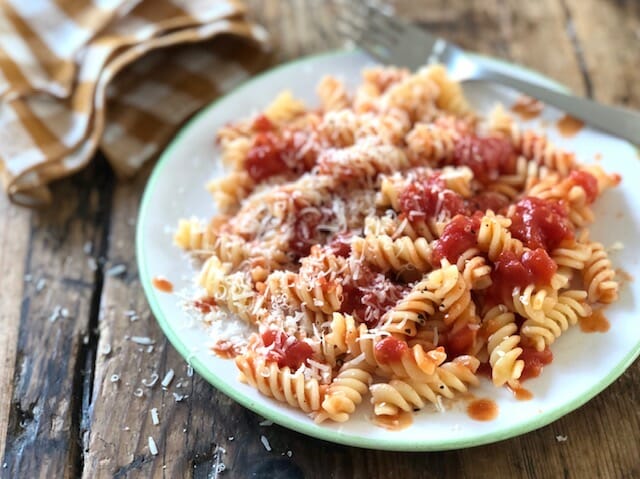 Sometimes a basic plate of pasta with red sauce hits the spot. This sauce couldn't be easier and is delicious tossed with any shape of pasta you like. Add freshly shaved Parmesan and a crisp salad (I've been leaning heaving on this dressing I developed for Simply Recipes).


I recently made a double batch of these taquitos and stashed the extras in the freezer. They're baked, not fried, and quick to pull together (especially if you start with a rotisserie chicken from the market). Substitute pinto or black beans for chicken if you want a meat-free version. Bottom line? They're very tasty …I like to douse them with my favorite taco sauce (Cholula) and serve with a side of avocado, and dish of black beans.


I baked a batch of these beauties this morning as a welcome home gift for my kids, who are arriving this week. They're very popular around here and are a "must-make" when cranberries are in season. If you have leftovers, they freeze surprisingly well.

This smoothie is a tasty way to set your day off on the right foot. It's packed with nutrient-rich fruits and veggies and so tasty, it goes down easy.    
Three-Ingredient Black Bean Soup
Three 15-ounce cans black beans
One 12-ounce container pico de gallo salsa (fresh chunky salsa, about 1 1/4 cup)
1/4 cup sour cream, plus any other favorite garnishes, such as shredded Jack or Cheddar cheese, cilantro, lime wedges, and salsa
Sweet Potato and Butternut Squash Latkes
1/2 pound sweet potatoes
1/2 pound butternut squash
1 small onion
2 eggs
2 heaping tablespoons unbleached all-purpose flour or potato starch
1/4 teaspoon baking powder
Few drops of Tabasco
Mild oil with a medium-high smoke point (such as grapeseed, sunflower, avocado)
Labneh (or Greek Yogurt or creme fraiche)
Harissa
Smoked salt (or fleur de sel, or other finishing salt)
Asian-Style Salad with Skewers
1/2 cup lime juice (3 to 4 juicy limes)
2 tablespoons sambal oelek (spicy Indonesian Chile sauce or sub a few teaspoons sriracha)
2 tablespoons fish sauce
2 tablespoons canola oil
2 1/2 tablespoons packed brown sugar
1 pound boneless skinless chicken breast or firm tofu
1/2 head Napa cabbage (shredded, about 5 cups)
1/2 head red cabbage (shredded, about 9 cups)
2 large naval oranges
2/3 cup fresh basil or fresh cilantro
1/2 cup fresh mint
3 scallions
1/4 cup roasted salted peanuts
Pasta with Simple Tomato Sauce
One 28-ounce can whole peeled tomatoes
1 large yellow onion
3 tablespoons butter
1 tablespoon extra-virgin olive oil
12 ounces rotini, spaghetti, or any other pasta shape
Parmesan cheese to pass at the table
Optional additions: ½ teaspoon crushed Calabrian chilies in oil, handful fresh chopped basil, fresh cracked pepper, or 1 to 2 smashed anchovies
Oven Baked Chicken Taquitos
3 cups shredded cooked chicken
1 1/2 cups coarsely grated sharp Cheddar cheese (3 to 4 ounces)
1/3 cup mild salsa
1 bunch fresh cilantro (optional)
12 six-inch corn tortillas
Cranberry Muffins
1 cup whole-wheat pastry flour
1 cup oat flour (you can make this using rolled oats)
2 tablespoons flax meal
1 teaspoon baking powder
1/2 teaspoon baking soda
3/4 cup buttermilk
1 egg
1/3 cup fresh orange juice (the juice from about 1 large orange)
Zest from 1/2 large orange
3/4 cup granulated sugar
4 tablespoons butter
2 cups fresh or frozen cranberries
3 tablespoons rolled oats 
3 tablespoons packed light or dark brown sugar
3 tablespoons chopped walnuts
3/4 teaspoon ground cinnamon
1 tablespoon cold butter
Super Green Smoothie
1 cup unsweetened macadamia nut milk (or other favorite milk)
1 tablespoon hemp seeds
1/4 teaspoon ground cinnamon, or to taste
1 1/2 teaspoon fresh ginger
1 small orange
1/2 cup coarsely grated carrot
1 cup baby spinach