Weeknight Rescue // February 2023 // Week 6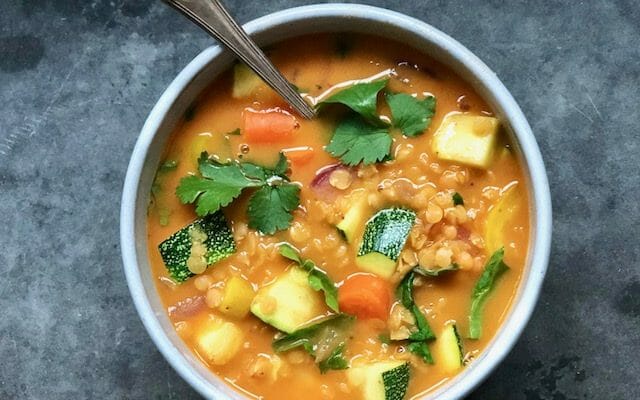 The line up for this week includes a few recipes I haven't thought about in a while, including the Spinach and Feta Filo Pie, which is a personal favorite. I'm also a big fan of the Tahini Almond Butter Cookies, which you can pull together in a matter of minutes. If you've got Super Bowl meal planning on the brain, you may want to check out these healthyish game day eats.


I'm crazy about this spinach pie! It's wholesome and tasty. The recipe calls for frozen spinach, which is one of the reasons it's relatively easy to assemble (no washing, stemming, or cooking the spinach in advance). Leftovers are terrific the next day reheated in the oven.


Definitely one of my top soups of all time, this is both filling and incredibly nourishing. If you've got homemade chicken or veggie brought on hand, pull it out. There is nothing like homemade stock for making a terrific pot of soup!


This is simple comfort cooking and doesn't call for anything fancy. The chops are accompanied by a tangy sour cream mustard sauce that is kind of a game changer for the dish. If you don't have apples, use figs, pears, or serve with a bowl of applesauce.


Make sandwich night a little more interesting with flavor-packed banh mi. It's a Vietnamese-style sandwich made with marinated chicken, pickled vegetables on a crusty baguette. If you can, make the vegetables ahead of time, so it's easier to pull everything together come dinnertime.


Delicata squash is tender, nutritious, and terrific in a taco. Slice them thin, roast, and then pile onto corn tortillas with pickled onions and other favorite taco fixings.


This smoothie is a tasty way to set your day off on the right foot. It's packed with nutrient-rich fruits and veggies and so tasty, it goes down easy.

These wholesome cookies are one of my favorites on the site. They take minutes to make and can be done with or without the chocolate dip. Feel free to swap in peanut butter or another nut or seed butter for tahini.
SHOPPING LIST // WEEK 6
Spinach and Feta Pie
1 tablespoon extra-virgin olive oil
½ large yellow onion
1 pound frozen spinach
¼ teaspoon ground nutmeg
¾ cup low-fat cottage cheese
6 ounces feta cheese
2 eggs
6 sheets whole wheat or regular filo dough
3 tablespoons butter
Red Lentil Coconut Curry Soup
2 teaspoons extra-virgin olive oil
1 medium yellow onion
2 cloves garlic
1 tablespoon fresh ginger
4 cups low-sodium chicken or vegetable broth (32 ounce box)
One 13.5-ounce can light coconut milk
1 tablespoon plus 1 teaspoon red curry paste
1 1/4 cups split red lentils
2 tablespoons packed brown sugar
2 tablespoons fish sauce (or 3/4 teaspoon salt)
3 medium carrots
1 large zucchini
1 lime
1/2 cup cilantro for garnish
Easy Pork Chops with Apples
4 boneless pork loin chops that are about 1-inch thick
2 tablespoons whole grain Dijon mustard
1 tablespoon pure maple syrup
1 tablespoon sour cream
1 teaspoon apple cider vinegar
1 tablespoon extra-virgin olive oil
1 large apple
Hanoi Chicken Banh Mi
1 ½ pounds boneless skinless chicken thighs
¼ heaping teaspoon sugar
1 tablespoon fish sauce
1 tablespoon fresh lime juice
1 ½ tablespoon canola oil
1 large carrot
1 pound daikons, each no larger than 2 inches in diameter
2 teaspoons plus ½ cup sugar
1 ¼ cup distilled white vinegar
2 French baguettes
2-3 tablespoons mayonnaise
1 English cucumber
1 small jalapeño
1 bunch fresh cilantro
Delicata Squash Tacos
2 delicata squash
1 tablespoon extra-virgin olive oil
Chili powder
1/3 cup white, apple cider or white wine vinegar
2 tablespoons sugar
1 small red onion
8 corn tortillas
1/2 cup crumbled cotija or feta cheese
1/3 cup fresh cilantro
1/4 cup sour cream
Salsa and lime wedges for garnish
Super Green Smoothies
1 cup unsweetened macadamia nut milk (or other favorite milk)
1 tablespoon hemp seeds
1/4 teaspoon ground cinnamon, or to taste
1 1/2 teaspoon fresh ginger
1 small orange
1/2 cup coarsely grated carrot
1 cup baby spinach
Tahini Almond Butter Cookies
1/4 cup almond butter
1/4 cup tahini
2 cups almond flour
2 tablespoons chia seeds
1/4 cup pure maple syrup
1/2 teaspoon kosher salt
2 teaspoons vanilla extract
3 ounces bittersweet chocolate (or 1/2 cup dark chocolate chips)