Weeknight Rescue // February // Week 7
Happy Valentine's Day, friends. Here's the menu for this week, which includes a few recipes to celebrate your loved ones. Bon appétit.


A stupid simple recipe that you can make either in the slow cooker or the Instant Pot. It's a "set it and forget it" kind of meal that is a longtime blog favorite. You can use virtually any type of leafy greens and serve it over pasta, any grain, or roasted cauliflower.


This is always a crowd pleaser in our house. It's a mess of Tex Mex flavors done in a single skillet. Serve with a crunchy salad or plate of cut up raw veggies.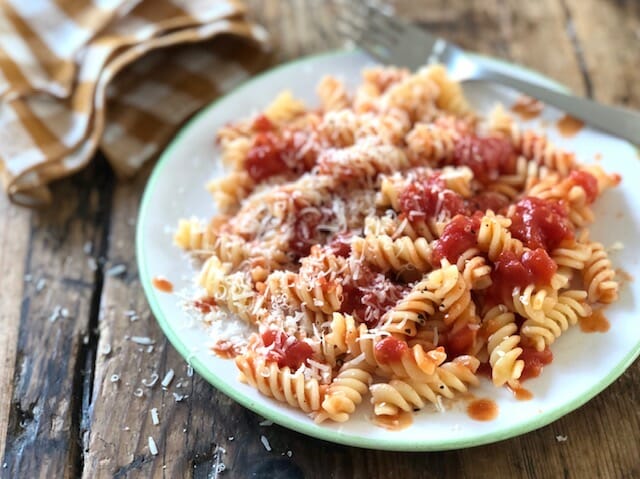 A pasta sauce you can practically make with your eyes closed…that's my kind of weeknight dinner. You can dress it up with crispy pancetta or Calabrian chiles, but it's quite delicious straight up. This Shaved Brussels Sprouts Salad on the side would be nice. If you've never made it, give it whirl. Even my kids are crazy about it.


Farro, a hearty grain with Italian roots, is the foundation for these vegetarian patties that pair with a tangy lemon dill yogurt sauce. Double the recipe and refrigerate (or freeze) the extra patties for lunches or even brunch. Serve these with an arugula salad with this vinaigrette or a Kale Salad Kids Love.


If you're looking for a last minute idea for Valentine's Day at home, this may be the ticket. A classic cheese soufflé paired with a simple green salad, it's a scrumptious meal to share with your sweetie.


Grab a muffin tin and three ingredients and you've got the makings for an easy breakfast or brunch.

I'm crazy about this simple, decadent chocolate cake that is so rich, a little sliver goes a long way. Add a spoonful of crème frâiche whipped cream and dessert is done.
SHOPPING LIST // WEEK 7
Instant Pot Balsamic Chicken with Tomatoes and Greens
2 pounds boneless, skinless, chicken thighs
1 bunch swiss chard
2 teaspoons extra-virgin olive oil
1 red large onion
4 whole cloves garlic
¼ cup balsamic vinegar
1 26-ounce box or 28-ounce can chopped tomatoes
½ teaspoon dried rosemary
½ teaspoon dried basil
1 teaspoon dried oregano
Whole grain pasta, brown rice, polenta, other favorite grain
Parmesan cheese (optional)
Cheesy Tex Mex Skillet Supper
1 tablespoon extra-virgin olive oil
1 large yellow or red onion
2 teaspoons ground chili powder
Pinch red chili flakes
2 large cloves garlic
½ pound ground beef
2 medium zucchinis
1 cup uncooked corn kernels
1 tablespoon tomato paste
1 ½ cups cooked black beans
1 medium lemon
3 ounces grated sharp Cheddar cheese
Corn tortillas for serving
Pasta with Simple Tomato Sauce
One 28-ounce can whole peeled tomatoes
1 large yellow onion
3 tablespoons butter
1 tablespoon extra-virgin olive oil
12 ounces rotini, spaghetti, or any other pasta shape
Parmesan cheese
Farro Cakes with Lemon Dill Yogurt Sauce
3 medium zucchinis
2 cups cooked farro
3 large eggs
3 green onions
3 tablespoons chopped fresh flat-leaf parsley
1 tablespoon chopped fresh thyme
1 cup whole grain breadcrumbs
2 tablespoons white whole wheat flour
2 cloves garlic
2 tablespoons extra-virgin olive oil
1 ½ cups plain Greek yogurt
2 tablespoons finely chopped fresh dill
1 lemon
1 tablespoon lemon juice
1 tablespoon extra-virgin olive oil
½ teaspoon Kosher salt
Cheese Soufflé for Two
½ cup finely grated aged Parmigiano-Reggiano cheese
1 tablespoon unsalted butter
2 tablespoons all-purpose flour
Pinch of nutmeg
½ teaspoons kosher salt
¾ cup whole milk
1 small garlic clove
¾ cup finely grated semi-hard cheese such as Manchego
3 large eggs
1 lemon
Pretty Prosciutto and Spinach Egg Cups
6 thin slices prosciutto
1 cup baby spinach or baby kale
6 eggs
1 tablespoon finely chopped fresh chives (optional)
Almost Flourless French Chocolate Cake
7 ounces bittersweet chocolate
14 tablespoons salted butter
1 cup sugar
5 eggs
2 tablespoons all-purpose flour
Confectioners' sugar
Softly whipped cream (optional)
Fresh berries (optional)