Weeknight Rescue/January 2022/Week Two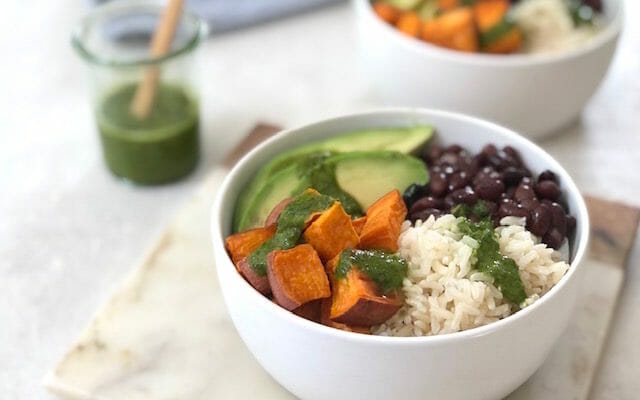 From a cooking standpoint, January is going swimmingly in our house so far. With two of my kids still home from college, we cooked a ton (and also made room for the last of the holidays sweets). Moving onto the week ahead, below you'll find the full line-up. Side note: keep your eyes on your inboxes, since I've got something in store for 2022 to help us all keep on on track with feeling good and eating well.


To me, winter is officially slow cooker season, and these crowd-pleasing pork sandwiches are a good way to go. The tenderloin, which is a lean cut of meat, cooks down into tender, pull-apart pork that's excellent on a soft bun with a pile of crunchy slaw. Assemble a big plate of crudite and add Green Goddess or Ranch for a tasty dip. 


A relative newcomer to the blog, these nourishing bowls are a fan favorite in my house. Roasted sweet potatoes, brown rice, black beans, and avocado get dressed up with a tangy, slightly spicy cilantro sauce. Add pickled jalapeños, Cotija cheese, toasted pepitas or whatever else strikes your fancy.


This lighter version of mac and cheese is built on a base of cooked carrots that you whirl with low-fat milk into a creamy puree. All you have to do is add pasta, sharp Cheddar and chopped chives and bake until bubbly. Throw a sheet pan of broccoli (there's an easy recipe in my cookbook, PREP) in the oven to roast alongside the pasta.


A sheet pan supper is an easy way to get around doing a lot of dishes and this is a tasty way to get it done. The combination of wild blueberries and balsamic vinegar here pairs perfectly with the chicken and sweet potatoes. It's one-dish dinner with very little clean up.


This is everything you want in a cozy stew: satisfying, flavorful, and nourishing. Chickpeas do double duty in this dish by serving as its foundation as well as a crispy topping to scatter on at the very finish. It's so filling, no extra sides or salads are needed.


This is a good one if you or someone you love is down with a cold (or Covid) or just needs a little burst of brightness in the morning. It does require fresh turmeric, which isn't available everywhere (but worth seeking out if you can find it).

Poor celery is a bit of an underdog in the kitchen, which is why I love this salad so much. It shows off celery at it's best. It's paired with salty Pecorino, slivers of Medjool dates, chopped nuts, and a dressing with a spicy kick. Bright, refreshing, and an easy side to so many mains.
SHOPPING LIST // WEEK 3
Slow Cooker Pulled Pork Sandwiches w/ Apple Cabbage Slaw
1/2 cup apple cider or apple juice
1 cup favorite barbecue sauce
2 cloves garlic
1 medium red onion
1 pork tenderloin (~1 1/4 lbs)
4 cups shredded green cabbage (~1/4 of large cabbage)
1 large apple
1 carrot
1/4 cup apple cider vinegar
2 teaspoons sugar
4 to 5 soft sandwich buns (whole grain, if possible)
Sweet Potato Black Bean Bowls with Glossy Green Sauce
2 medium to large sweet potatoes
1/4 cup extra-virgin olive oil
1 cup uncooked long grain brown rice
11/2 cups cooked black beans (one 15-ounce can)
1 large ripe avocado
1 bushy bunch cilantro (2 cups chopped)
1 1/2 tablespoons lime juice
1 1/2 tablespoons white wine vinegar
1/4 teaspoon red chile flakes
Optional additions: pickled jalapeños, crumbled Cotija, roasted pepitas
Creamy Carrot Mac and Cheese
1 pound carrots, peeled
2/3 cup water
12 ounces penne pasta
1 1/4 cup low-fat milk
5 ounces sharp Cheddar cheese
2 tablespoons fresh chives
1/2 teaspoon salt
Freshly ground black pepper
Wild Blueberry Balsamic Sheet Pan Chicken
1 pound sweet potatoes
1 medium red onion
1 tablespoon extra-virgin olive oil
2 tablespoons balsamic vinegar
1 heaping cup frozen wild blueberries
3 tablespoons whole-grain Dijon mustard
1 tablespoon honey
1 1/2 teaspoons kosher salt
Freshly ground black pepper
One 3 1/2 to 4 pound chicken
Coconut Lime Chickpea Curry
1 tablespoon extra-virgin olive oil
1 large yellow onion
2 large cloves garlic
One 2-inch piece fresh ginger
1 ½ teaspoons ground turmeric
1/8 teaspoon cayenne pepper
1 teaspoon kosher salt
½ teaspoon black pepper
Two 15-ounce cans chickpeas
Two 13.5-ounce cans organic light coconut milk
2 cups low-sodium vegetable broth
1 bunch kale
2 tablespoons lime juice
To garnish: 3/4 cup plain yogurt, 1/2 cup torn mint leaves, 1 cup crispy/crunchy salted chickpeas
Turmeric Tonic
1/4 cup fresh lemon juice (about 1 1/2 lemons)
3 tablespoons honey
1/2 cup unpeeled, fresh turmeric (about 2 1/2 ounces)
1 scant tablespoon fresh ginger
Chocolate Hemp Amaze Bars
1 cup rolled oats
½ cup chopped raw hazelnuts or almonds
½ cup raw hemp hearts
⅓ cup raw pepitas (shelled pumpkin seeds)
6 medjool dates
⅓ cup cashew butter, peanut butter, or almond butter
¼ cup honey
¼ cup water
¼ cup cacao nibs
¼ cup cocoa powder
½ teaspoon kosher salt
1 heaping tablespoon hemp seeds
¼ cup dark chocolate chips