Weeknight Rescue//May 2022//Farro and Fig Salad, Afghan Chicken, Pasta with Simple Sauce, Burgers, Cauliflower Tostadas
I got a jump start on this week's menu by making a few from the line-up last week. The Afghan Chicken and the Beef and Mushroom Burgers did not disappoint! And if you've never done the baked eggs down at the bottom of the menu, they're so easy and so good. Enjoy!
.


This farro is proof that you don't need meat at the center of the plate to call it dinner. Add a simple vegetable on the side to fill out the meal, such as roasted sweet potatoes . If your crew demands more protein on their plate, toss chickpeas with herbs, lemon and olive oiI or pick up a rotisserie chicken.


This recipe comes to me by way of my friend, Humaira, who is from Afghanistan and skilled in the kitchen. You braise chicken legs and thighs on the stove in a generous amount of turmeric, onions, garlic, and coriander, then stir yogurt in at the very end and top with a heap of fresh cilantro. It's a real keeper.


The beef in these burgers is cut with finely chopped sautéed mushrooms, which means the burgers are cheaper, lower in saturated fat, and a little lighter on the planet. More good news? The mushrooms blend seamlessly into the mix and they're darn juicy.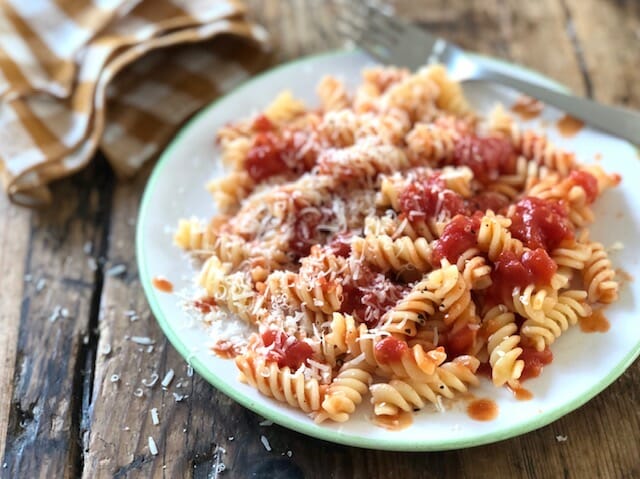 This sauce in this pasta is ridiculously simple, boasting just a few ingredients and about 5 minutes of hands-on time. It's always a hit in my house. Consider making a double batch and stashing the extras in the freezer for your next pizza or pasta night.


Though not exactly traditional tostadas, these are definitely crave-worthy. The dish is on the lighter side, so add a side of homemade or canned pinto or black beans embellished with a spoonful of salsa.


Make a batch of this dressing to stash in the fridge this week. It's terrific tossed with chopped Romaine, drizzled over roasted vegetables, or with crunchy vegetables for dunking.

These are genuinely easy enough to do for a weekday breakfast, but add some chopped herbs and they're special enough for brunch. For breakfast, I like to add a side of whole-grain toast to dunk into that tender yolk.
SHOPPING LIST // WEEK 23
Farro and Fig Salad with Arugula and Feta
1 cup farro
2 tablespoons lemon juice
1 tablespoon red wine vinegar
2 tablespoons extra-virgin olive oil
2 tablespoons shallot
1 teaspoon Dijon mustard
¼ heaping teaspoon dried turmeric
¾ cup dried figs
2 gently packed cups arugula
1/2 cup crumbled feta cheese (2 ounces)
Afghan Chicken in Yogurt Sauce
1 1/2 cups full-fat Greek yogurt
3 pounds skinless, bone-in chicken legs and/or thighs
4 tablespoons extra-virgin olive oil
1 very large or 2 medium yellow onions
4 cloves garlic
1 tablespoon ground turmeric
1 1/2 teaspoons ground coriander
1 cup roughly chopped fresh cilantro
2 1/2 cups brown or white basmati rice
Pasta with Simple Tomato Sauce
One 28-ounce can whole peeled tomatoes
1 large yellow onion
3 tablespoons butter
1 tablespoon extra-virgin olive oil
12 ounce rotini, spaghetti, or any other pasta shape
Parmesan cheese for serving
Optional additions: fresh basil, fresh cracked pepper, 1/2 teaspoon minced Calabrian chiles, or 1 to 2 smashed anchovies
Blended Beef Burgers
1/3 pound cremini or white button mushrooms
3/4 pound lean ground beef
Four whole grain Flatout Foldits, English muffins, or other favorite buns
Cauliflower Tostadas
1 large head cauliflower
2 tablespoons extra-virgin olive oil
1 teaspoon chili powder
1/2 teaspoon ground cumin
8 six-inch corn tortillas
½ heaping cup plain yogurt
1 small chipotle pepper en adobo (sold in cans in the Mexican food section of the market)
2 large ripe avocados
1 tablespoon lime juice
Pickled onions or pickled jalapeños
1 ½ cups finely shredded red or green cabbage
Lighter Green Goddess Dressing
1/2 cup light mayonnaise
1/2 cup light sour cream
1/2 cup chopped scallions
1/2 cup fresh basil leaves
1 lemon
1 medium cloves garlic (optional)
1 teaspoon anchovy paste or 1 small anchovy (optional)
Easy Baked Eggs
1 tablespoon butter
8 eggs