Weeknight Rescue//Week 20//Spring 2023
With Memorial Day fast approaching, I figured it was time to pull out a few cookout recipes and dishes that hint of summer. Make them this week or set them aside for your holiday gatherings next weekend.


This recipe was the inspo for a lobster/shrimp roll combo that I did for my daughter's graduation party on Friday night. The rolls were a hit! That said, the recipe is easy enough for a weeknight supper. Add corn on the cob and sliced watermelon and you might just feel like you're at the beach.


Throwing something on the grill is an easy fix for dinner, especially if you have friends joining you. In this case, it's skirt steak (or flank steak) along with an Italian-style salsa verde. Grill or roast some little potatoes or other vegetables and toss together a salad with this vinaigrette.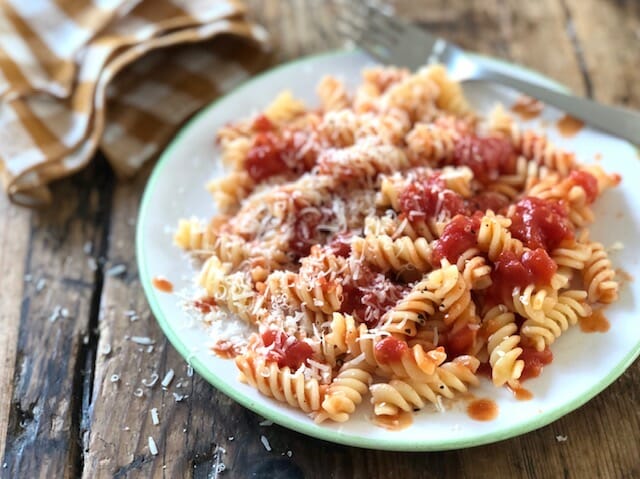 Sometimes a basic plate of pasta with red sauce hits the spot. This sauce is delicious tossed with any shape of pasta you like. Add freshly shaved Parmesan and a crisp salad (I've been leaning heaving on this dressing I developed for Simply Recipes). For a second veggie, try roasting asparagus using this method..


These quesadillas are a good way to use up leftover chicken or repurpose a rotisserie chicken from the store. Pair quesadilla wedges with a plate of crunchy veggies and a simple guacamole (1 avocado smashed with a few teaspoons lime juice, a tablespoon of minced onion, and a pinch of salt).


A simple pot of beans like this can be transformed into dinner in no time. Make them the center of a DIY taco bar, do up burrito bowls like these, or whirl them into a quick soup like this.


My kids always talk about how often I made these tender eggs when they were little. They did (and still do) love dunking toast fingers into the yolk. If you've never used this method, give it a try!

I consider this bark to be a cross between an oatmeal cookie and granola. It's darn tasty. It's made by pressing a mix of oats, nuts, brown sugar, and maple syrup onto a cookie sheet, baking it, and then breaking it into shards. It's a good one to make on the weekend and pack into lunches, enjoy for snacks, or crumble over plain yogurt for breakfast. 
Lighter New England-Style Shrimp Rolls
12 ounces medium cooked, peeled, deveined shrimp, defrosted (~36 medium shrimp)
1/4 cup light mayonnaise
2 tablespoons lemon juice
1/2 cup diced celery
1/2 cup diced fennel
1 tablespoon minced fresh chives
2 teaspoons fresh tarragon (or dill)
1 teaspoon sriracha
4 hot dog buns (whole grain if you can find them)
4 teaspoons salted butter
Grilled Skirt Steak with Salsa Verde
1 1/4 pounds skirt steak (or flank or hangar steak)
1 tablespoon shallot
1 1/2 tablespoons capers
1/4 cup fresh parsley
3 tablespoons fresh cilantro
2 teaspoons lemon juice
Zest of 1/2 lemon
1/3 cup extra-virgin olive oil
Pasta with Simple Tomato Sauce
One 28-ounce can whole peeled tomatoes
1 large yellow onion
3 tablespoons butter
1 tablespoon extra-virgin olive oil
12 ounces rotini, spaghetti, or any other pasta shape
Parmesan cheese to pass at the table
Optional additions: ½ teaspoon crushed Calabrian chilies in oil, handful fresh chopped basil, fresh cracked pepper, or 1 to 2 smashed anchovies
Loaded Chicken Quesadillas with Avocado Salsa
2 Whole Grain Flatout Flatbreads or large whole-wheat tortillas
1 cup grated Monterey Jack cheese (~2 ounces)
1/2 cup grated zucchini (~1/2 medium zucchini)
1/2 cup shredded cooked chicken (or cooked beans for vegetarian version)
1/4 cup corn kernels (fresh or defrosted frozen)
4 tablespoons tomatillo salsa
1 teaspoon olive oil or cooking spray
1/2 avocado
1/2 lime
Instant Pot Black Beans
1 pound dried black beans
3 large garlic cloves
1 teaspoon dried oregano
1 teaspoon ground cumin
1 teaspoon crushed red pepper flakes
Soft-Cooked Eggs with Buttered Toast "Soldiers"
2 cold eggs
2 slices bread
Butter
Coconut Granola Bark
3 cups rolled oats not quick oats
1 cup slivered almonds
1 cup unsweetened shredded coconut
1/4 cup flax meal
1/4 teaspoon salt
1/4 cup pure maple syrup
1/2 cup firmly packed brown sugar
4 tablespoons water
1/4 cup canola oil
1 egg white
1 teaspoon vanilla extract