Weeknight Rescue//Week 42//October 2021
I'm a day late with my meal plan, but hopefully it's landed in time to get you set up for the week. Included in the menu are plenty of fall favorites, including Easy Pork Chops with Apples and a delicious Fig & Farro Salad (check out the Instagram demo I did for this last year if you're interested). Enjoy the weekend!


This is simple comfort cooking and doesn't call for anything fancy. The chops are accompanied by a tangy sour cream mustard sauce that is kind of a game changer for the dish. If you don't have apples, use pears, leave them out, or just serve with a bowl of applesauce.


This farro is proof that you don't need meat at the center of the plate to call it dinner. Add a simple vegetable on the side to fill out the meal, such as roasted sweet potatoes or delicata squash. If your crew demands more protein on their plate, I'd suggest roast chicken (pick up a rotisserie one if you're short on time).


Six ingredients including pantry staples is all it takes to make this healthier version of chicken Parm. You can pair it with any type of pasta, a side of veggies, and store-bought or homemade marinara, such as the one below. It makes a great lunch leftover cut into chicken fingers with your favorite sauce for dipping. It also freezes well if you want to make extra for another day.


Get lentils going in your slow cooker with Indian spices and you've got a mega nourishing filling for a twist on traditional tacos. Pile the lentils onto corn or flour tortillas and finish with yogurt, cilantro, and if you have some on hand, a favorite Indian chutney.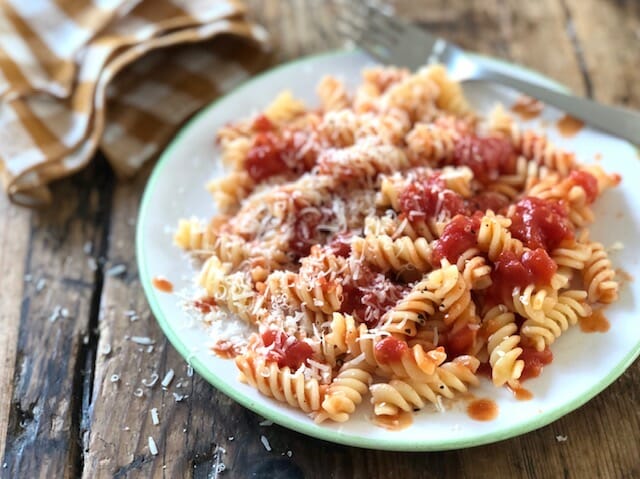 This simple sauce is so good and so easy. Consider making a double batch, using the extras for the Chicken Parm featured above. The sauce freezes well, too.


If you're a fan of cottage cheese like I am, consider this recipe a keeper. I eat it often as a sub for lunch or afternoon snack along with a pile of veggies and whole-grain crackers or pretzel thins.

This is the perfect after school snack or after dinner treat. It's crunchy, salty, and sweet all at once, with enough good stuff in there to keep everyone satisfied.
SHOPPING LIST // WEEK 41
Easy Pork Chops with Apples
4 boneless pork loin chops (~1-inch thick)
2 tablespoons whole grain Dijon mustard
1 tablespoon pure maple syrup
1 tablespoon sour cream
1 teaspoon apple cider vinegar
1 tablespoon extra-virgin olive oil
1 large apple
Farro and Fig Salad with Arugula and Feta
1 cup farro
2 tablespoons lemon juice
1 tablespoon red wine vinegar
2 tablespoons extra-virgin olive oil
2 tablespoons shallot
1 teaspoon Dijon mustard
¼ heaping teaspoon dried turmeric
¾ cup dried figs
2 gently packed cups arugula
1/2 cup crumbled feta cheese (2 ounces)
Best Baked Chicken Parmesan
1 cup Italian seasoned bread crumbs (homemade or store-bought)
3 tablespoons finely grated Parmesan cheese
1 egg
2 tablespoons butter
4 boneless, skinless chicken breasts (about 1 1/2 pounds)
1 1/3 cups marinara sauce for serving
Slow Cooker Indian Lentil Tacos
1 1/2 cups French green lentils
2 tablespoons extra-virgin olive oil
1 medium onion
2 medium carrots
2-inch piece fresh ginger
2 cloves garlic
1 small jalapeño pepper (optional)
1 teaspoon ground coriander
1 teaspoon ground turmeric
1 teaspoon ground cumin
1 tablespoon curry powder
1 tablespoon tomato paste
3 cups vegetable or chicken broth
8 corn or small flour tortillas
Garnishes: cilantro, plain yogurt, Indian chutney
Pasta with Simple Tomato Sauce
One 28-ounce can whole peeled tomatoes
1 large yellow onion
3 tablespoons butter
1 tablespoon extra-virgin olive oil
12 ounce rotini, spaghetti, or any other pasta shape
Parmesan cheese for serving
Optional additions: fresh basil, fresh cracked pepper, 1/2 teaspoon minced Calabrian chiles, or 1 to 2 smashed anchovies
Easy Cottage Cheese Dip
One 16-ounce container low-fat cottage cheese
2 tablespoons mayonnaise (I use light Best Foods)
3 tablespoons parsley
¼ cup red onion
Sticky Pretzel Cereal Bars
1 cup rolled oats
1 ¾ cup "O" cereal, such as Barbara's or Cheerios
1 cup salted pretzel sticks
⅓ cup roasted peanuts or other chopped nuts (feel free to toss in a tablespoon of pepitas as part of the mix)
⅓ cup dried cranberries
½ cup organic brown rice syrup
¼ cup peanut butter (substitute another nut or seed butter, if desired)
½ cup dark chocolate chips