Weeknight Rescue//Week 46//Fall 2021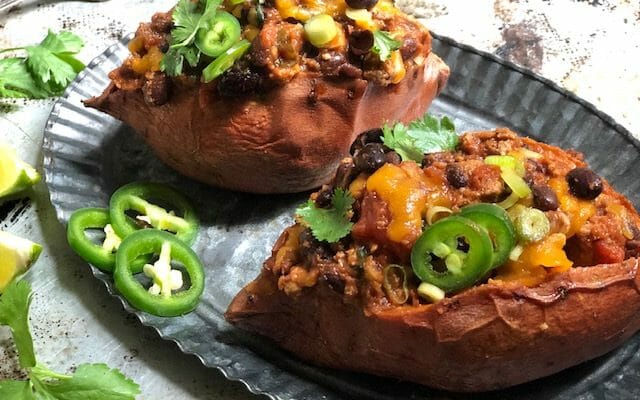 I've got lots of fall flavors for you this week! Of particular note is the recipe for Chicken Thighs with Maple Vinegar Glaze (a newish favorite) and the cozy Chai at the tail end of this week's menu. I'm also looking forward to making the Ravioli with Butternut/Brown Butter Sauce. Delish!


Parmesan & Black Pepper Ravioli pairs up with a creamy sauce made of roasted butternut squash and brown butter. It's easy enough for weeknight family dinner but elegant enough for a dressier occasion, too. Serve it as a main course or dole out smaller portions and enjoy it as a starter.


I made this a few weeks ago and my hubby declared it a new favorite. The tender chicken has a sweet/tangy glaze that pairs perfectly with a refreshing salad on the side. A whole-grain dish of farro, sorghum, or brown rice tossed with fresh herbs and a squeeze of lemon might be nice, too.


Tomato soup and grilled cheese are a classic comfort meal. Here, the soup is creamy thanks to olive oil instead of heavy cream. It's a snap to pull together, as is the grilled cheese, which gets done in a waffle iron. If you have a panini press, feel free to use that instead.


This is yumminess in a bowl that's been a hit since I first posted it. For a vegetarian version, simply leave out the sausage or swap in a cup or two of cooked grains or pasta for added heft once the soup is done.


The combination of tender sweet potatoes with just-so-spicy turkey chili is a good one. It's a one-dish meal that's nourishing and flavorful. Feel to serve the chili in bowls for any kids who aren't so keen on sweet potatoes.


Pumpkin season is in full swing, so now is a good time to bake up a batch of these nourishing muffins. They're tender with an extra hit of sweetness from blueberries you can pull right from the freezer.

Brewing a pot of cozy chai is my kind of self-care. This is a quick and easy version that I love to sip on chilly afternoons. Make it decaf and share with your kids.
Shopping List
Ravioli with Butternut Squash and Brown Butter
1 butternut squash that's about 2 1/2 pounds
2 large shallots
1/4 cup whole milk
1/2 cup low-sodium chicken broth
1/4 heaping teaspoon kosher salt
One 9-ounce package Buitoni Parmesan & Black Pepper Ravioli
2 tablespoons butter
1/4 cup grated Pecorino Romano cheese (or Parmesan)
2 teaspoons chopped fresh sage
Chicken Thighs with Maple Cider Vinegar Glaze
8 bone-in, skin-on chicken thighs (about 3 1/2 to 4 pounds)
2 tablespoons unsalted butter
1/4 cup pure maple syrup
1/2 cup apple cider vinegar
1 cup thinly sliced shallots (from about 3 shallots)
1 large fennel bulb
1 Honeycrisp apple (or other favorite variety)
2 tablespoons lemon juice, from about 1 juicy lemon
1 tablespoon olive oil
Tomato Soup and Waffle Iron Grilled Cheese
4 tablespoons extra-virgin olive oil, divided
1 large yellow onion, roughly chopped
1 large clove garlic, smashed and peeled
1/2 teaspoon ground fennel
1/2 teaspoon dried oregano
Pinch red pepper flakes
One 28- ounce can diced unsalted tomatoes
One 3/4- inch thick slice crusty French or Italian bread that's about 4 inches long (stale is fine)
8 slices whole-grain sandwich bread
6 ounces grated sharp Cheddar cheese (or other favorite cheese)
Instant Pot Italian White Bean Soup
1 1/2 cup dried cannellini beans
1 small chunk Parmesan cheese
1 tablespoon extra-virgin olive oil
1 large yellow onion
2 large carrots
1 rib celery
3 cloves garlic
One 15-ounce can diced tomatoes
8 cups low sodium chicken broth or vegetable broth
1 bay leaf
1/2 teaspoon dried oregano
1/2 teaspoon fennel seeds
1/2 teaspoon dried thyme
3 links pre-cooked Italian sausage
1 large bunch kale
Turkey Chili Stuffed Sweet Potatoes
6 medium sweet potatoes
1 tablespoon extra-virgin olive oil
1 large yellow onion
3 cloves garlic
1 pound ground turkey
Two 15-ounce cans black beans
1 tablespoon ground chili powder
1 teaspoon ground cumin
1/2 teaspoon smoked paprika
1/4 teaspoon cayenne pepper
One 28-ounce can plum tomatoes
1/4 cup fresh cilantro
Favorite garnishes: lime wedges, shredded cheese, sour cream, or scallions
Pumpkin Blueberry Muffins
¾ cup raw almonds
2/3 cup whole wheat flour, spooned and leveled
2/3 cup all-purpose flour, spooned and leveled
¼ cup firmly packed brown sugar
1 ½ teaspoons baking soda
1 teaspoon baking powder
2 teaspoons pumpkin pie spice
1 egg
¾ cup pumpkin puree (not pumpkin pie filling)
¼ cup milk
½ cup honey
1/3 cup canola oil or grape seed oil
1 heaping cup frozen blueberries or wild blueberries (no need to defrost)
Easy Chai
One 2-inch piece fresh ginger, unpeeled, thinly sliced
2 tablespoons sugar
2 tablespoons honey
1 teaspoon vanilla extract
1 cinnamon stick
1/2 teaspoon ground cardamom
1/8 teaspoon ground cloves
1/4 teaspoon ground nutmeg
2 cups water
4 black tea bags, such as Assam or English Breakfast
2 cups 2 percent or whole milk (use coconut or coconut/almond milk for a plant-based version)