How to Cook Tempeh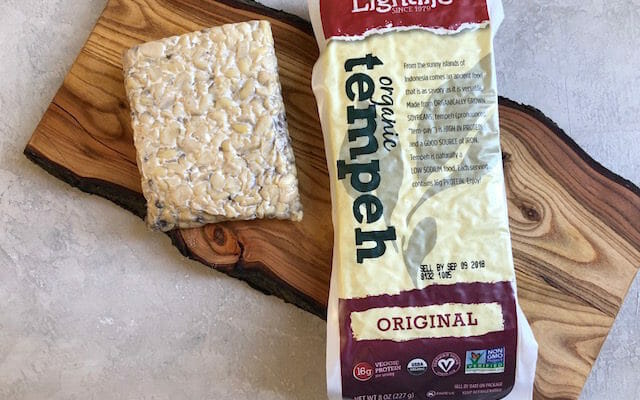 If it weren't for the fact that two of my offspring are now vegetarians, I probably wouldn't be talking tempeh. But the truth is, our kids help us learn and grow and evolve, which is why I'm now buying, cooking, and yes, embracing tempeh. Even if my entire crew returned to their carnivorous ways, I'd still include the occasional tempeh in my repertoire. If you are interested in tinkering with this soy-based superfood and want to learn how to cook tempeh, here's what you need to know:
What is Tempeh?
Tempeh, which originated in Indonesia, is essentially cooked and fermented soybeans. It forms into a solid, firm cake that you can find in shrink-wrapped packages in the refrigerated section of the market, often where other soy products are displayed. Unlike tofu, which is made of soy milk, tempeh is whole soy beans, and therefore is considered less processed than tofu.
What Does Tempeh Taste Like?
Tempeh has an earthy, nutty flavor with a slightly bitter undertone. It has a hearty texture, much firmer than tofu, reminiscent of other beans or legumes.

Why is Tempeh Good for You?
Tempeh is a fermented food, which means it has the sort of desirable bacteria you'll find in yogurt, kefir, and kimchi. That said, tempeh is typically pasteurized, which effectively extinguishes any probiotic benefits (as will cooking the tempeh after purchase). The good news is that it's also rich in pre-biotic fiber, which is also good for your gut. Each 3 ounce serving has roughly 7 grams of fiber and a whopping 17 grams of protein. Buy organic tempeh if you want a guarantee that it's a non-GMO product.
Tips for How to Cook Tempeh
Tempeh lends itself to numerous applications in the kitchen. Here are a few tips for using tempeh:
It's a good idea to marinate it before roasting or pan frying for flavor, since it doesn't pack a whole lot of flavor on its own. It works well with soy sauce and other asian sauces, barbecue sauce, curry and coconut-based sauces, and peanut sauce.
It's firm enough to slice into slabs or cut into cubes and can get an appealing crisp in a hot oven or skillet.
You can crumble it and use as you might ground meat, such as adding it to tacos or chili.
It can help to steam it as a first step in your cooking to make it more tender and less bitter. Alternatively, you can boil it in water or simmer in broth.
Lots of seasonings, hot spices, flavorful sauces, and other taste-makers help build flavor.

How to Make Tempeh Less Bitter
There's no doubt that tempeh can run on the bitter side. To minimize the bitterness, cut it as needed for your recipe, such as sliced, cubed, or crumbled. Put it in a steaming basket or in a pot with about an inch of water and steam it for seven minutes. Remove and continue to cook as you wish. It doesn't really alter the textures, just improves the flavor.
10 Tempeh Recipes
Once you know how to cook tempeh, here are 10 ways to use it:
Cut into thin slices, marinate, and pan fry as you would bacon (go easy on the oil, since tempeh is like a sponge). Use in sandwiches and salads, such as this recipe from The Kitchn.
Crumble and cook like taco meat for old school tacos  or as a filling for enchiladas.
Use as a filling for potstickers like you might ground pork.
Cube it for a flavorful stir fry
Add it for a boost of texture and protein in a pot of chili
Use as the base for Eggplant Tempeh Meatballs in Tomato Sauce
Steam it, then stir fry it for this Kung Pao Tempeh
Cut it into sticks, pan fry, and enjoy with Turmeric Rice Bowls
Slice it into triangles and roast with a Peanut Marinade
Make Easy Barbecue Tempeh