Weeknight Spaghetti and Clams made with Canned Clams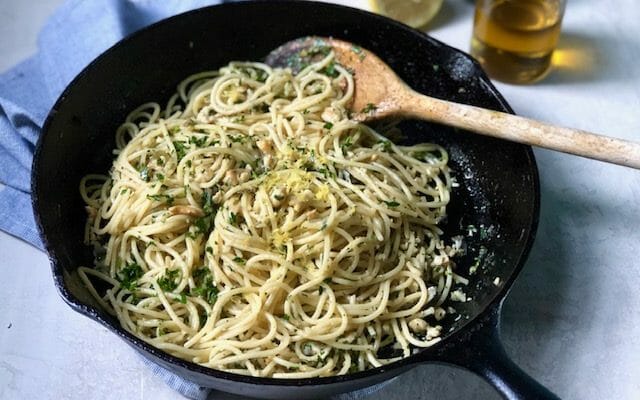 A few weeks ago Mr. Mom's Kitchen and I took off for a much-needed overnight away from the kids. We did some nutty stuff, like — slept, read a book, and ate dinner, and watched a movie — all blissfully uninterrupted. On route to the getaway, we stopped in Sausalito, just North of San Francisco, for an al fresco lunch at Fish, a restaurant known for skillfully prepared sustainable seafood. On our way out, I picked up a pound of clams for dinner that night. The idea? I would depart from my usual spaghetti and clams made with canned clams, and go for fresh instead. This was a special occasion, after all. 
Classic Spaghetti with Clams
Tinkering in the kitchen without the chaos of kids felt downright decadent. Eating dinner for two at nine p.m. seemed like we were really going off the rails. I sautéed up those pretty little clams, still in their shells, in garlic, wine and a scattering of parsley, and served them over linguine. It was tasty and satisfying, but strangely, didn't seem to measure up to the old-school version I grew up on using canned clams.

Use Clams from the Can
Spaghetti with clams was a dinner staple in my house. No doubt, it was the first pasta I ever ate. Nobody did it better than my grandfather, Bapa, who was never shy with butter or garlic. I was curious if the canned clam recipe could really be as good as I remembered it, indeed, superior to one made with fresh clams. So last week I cooked up spaghetti with clams for family dinner.
It didn't disappoint. And with only a handful of ingredients and minimal prep, it can be knocked out in the time it takes to cook the pasta. Weeknight Spaghetti with Clams, indeed.
Are Clams Good for the Environment?
The dish also measures up in terms of sustainability and nutrition. Clams rank in the "best choice" and "good alternatives" category according to Seafood Watch. That's in part because they act like little filters that effectively improve the environment of the waterways in which they live.  
Clams:  a Healthy Choice
They are also good for you: high in protein, iron and zinc, off the charts in selenium, and low in fat. And though I don't have quite the heavy hand with butter that my grandfather had, the recipe calls for just enough to add richness and to coax the flavor from the garlic. Cooking the pasta al dente is key, both for taste and nutrition, something you can read about here.
My crew gobbled down the Spaghetti and Clams with great enthusiasm. I lapped up every briny, garlicky, savory bite. Mr. Mom's Kitchen missed out completely; he was on the road for work. Perhaps I'll save it up to make on our next overnight getaway.
How to Make Spaghetti and Clams with Canned Clams
The method for making this satisfying and budget-friendly dish is easy.

Gather your ingredients, which aren't many: canned clams, garlic, butter, olive oil, parsley, and lemon.

2. Start by sautéing garlic in butter and olive oil. Don't cook it at too high a heat, since you don't want the garlic to brown.
3. Add canned, chopped clams and continue to sauté until they absorb the flavors in the pan.

4. Add cooked spaghetti, along with a little juice from the canned clams, parsley, lemon juice and zest, and salt and pepper. Toss until all the flavors coat the pasta. Serve piping hot.
Like Spaghetti and Clams? Check out these other pasta recipes: 
Spaghetti with Butter, Egg, and Cheese
Spaghetti with Tomato Sauce and Garlic Basil Oil
Pasta with Pistachio Pesto and Chicken
Easy Weeknight Bolognese from Smart in the Kitchen
Gluten-Free Roasted Meyer Lemon and Brown Butter Pasta from This Mess is Ours

Weeknight Spaghetti and Clams
Using canned clams and just a handful of other ingredients, this dish comes together with ease. If you like a kick of heat, add a big pinch of red pepper flakes when you add the clams.
Ingredients
1

pound

spaghetti

2

tablespoons

extra-virgin olive oil

2

tablespoons

butter

4

large cloves garlic, finely chopped

Four

6.5 ounce cans chopped clams in clam juice

1/3

cup

finely chopped parsley

1/2

teaspoon

kosher salt, plus more to taste

Freshly ground black pepper

Zest of 1/2 lemon plus 2 tablespoons juice

Big pinch red pepper flakes
Instructions
Get a big pot of generously salted water going on the stove to cook your pasta. When the water boils, cook the spaghetti until al dente.

While the pasta is cooking, heat the olive oil and butter in a large skillet over medium heat. Once the butter melts, drop the heat to medium-low and add the garlic. Saute the garlic until it softens and releases its aroma, about 2 minutes. Do your best to avoid browning the garlic, since that will make it bitter.

While your garlic is cooking, open the cans of clams and drain off all but 1/2 cup of the clam juice. Set aside. Once the garlic is tender and aromatic, add the clams to the pan and sauté until they soak up the flavors, about 2 minutes.

When the pasta is cooked and drained, add it to the skillet along with the 1/2 cup clam juice, parsley, lemon zest, lemon juice, salt, a light shower of black pepper, and red pepper flakes. Cook it for a final 2 minutes or so, coating the pasta with the sauce  (I like to use tongs to turn the pasta in the pan). Taste and add more salt, lemon juice, black pepper, or chiles, as desired.

Lightly drizzle the top of the pasta with olive oil just before serving.