Adventure Bread: Gluten-Free Nut and Seed Bread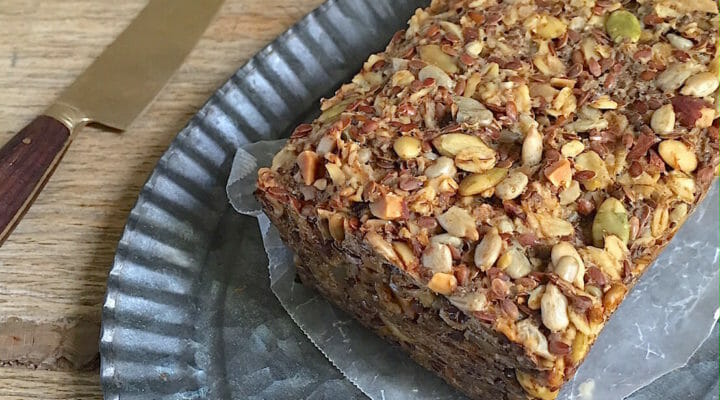 I was prepared to not like The Mill, a local bread shop and coffeehouse populated by millennials in man buns selling toast famous for being both delicious and costing $4 a slice. But within minutes of my first visit, I was hooked. Understandably so given the lovely space, friendly staff, and stacks of gorgeous loaves for sale. Working at the back was the baker himself, Josey Baker (yes, his real name), looking so healthy and ruggedly handsome that anyone who'd sworn off grains might be inclined to tear into a loaf on the spot.
A Gluten-Free Nut and Seed Bread
I've since taken to stopping at The Mill on my drive across town to stock the bread basket in our house. The Adventure Bread has become a favorite. A dense gluten-free bread made without yeast or xantham gum, its ingredient list reads like a bag of trail mix. It's the loaf I tucked into my suitcase on a recent visit to my sister, Annie, in New York. Bereft that there is no Adventure Bread in her neck of the woods, we decided to make it ourselves. The fact that the recipe is generously shared in Josey Baker's very own cookbook made this quest totally doable.

Start with Adventure Bread
The book, like the shop, is warm and inviting. It will make you want to bake every crusty loaf, pizza, and scone on every page. I suggest you start with Adventure Bread, an endeavor that involves little more than mashing together oats, almonds, and seeds with water, olive oil, and a glug of maple syrup. No yeast. No rise. No flour. Entry-level easy, nutrient-packed, and so so good.
A Terrific Breakfast Bread
In our house, Adventure Bread has become a breakfast staple, the perfect fuel — toasted and topped with butter or avocado — to get me through a morning workout. As for the kids in the house? Two are fans. The third abstains, referring to it as "mom bread".
I consider that a compliment.
If you like Adventure Bread: Gluten-Free Nut and Seed Bread, check out:
Whole-Grain Scones with Coconut and Dates

Adventure Bread
I feel like this bread should come wearing a cape -- it's such a superhero (delicious, nutritious, and so satisfying). At The Mill, where this bread is sold, it's baked in small loaves, which is how I prefer to do it at home. I have several bread pans that measure roughly 5 by 3-inches. If you don't have and don't want to invest in a set of small pans, feel free to use a single standard loaf pan instead. It's best toasted before eating.
Ingredients
Dry Ingredients
2 1/4

cups

rolled oats

1

cup

roasted sunflower seeds

, salted or unsalted

1/2

cup

roasted pepitas

(hulled pumpkin seeds), salted or unsalted

3/4

cup

roasted almonds

, coarsely chopped

3/4

cup

flax seeds

1/3

cup

psyllium seed husks

(see notes)

3

tablespoons

chia seeds

2 1/2

teaspoons

kosher salt
Wet Ingredients
2

tablespoons

pure maple syrup

1/4

cup

extra-virgin olive oil

2 1/2

cups

water
Instructions
Lightly grease 3 small loaf pans (about 5 3/4 x 3 1/4-inch) or one 8- or 9 x 4-inch loaf pan.

Put the dry ingredients into a large bowl and mix well.

Add the wet ingredients and use your hands or a sturdy spoon to mix the ingredients thoroughly. Be aggressive here, smashing everything together well.

Transfer the mixture to the 3 small (or 1 large) bread pans, patting it firmly into the pans and smoothing the top so it's even.

Cover the pans with plastic wrap and refrigerate for at least 2 hours, up to overnight.

When ready to bake, pull the pans from the fridge and remove the plastic wrap. Put a rack in the center of the oven and preheat to 400 degrees.

When the oven is hot, bake the bread until firm and just beginning to brown around the edges (about 45 minutes for the small loaves and 1 hour for the large loaf).

Let cool for at least 2 hours. Don't rush it; this bread is quite dense

Cut into thin (1/3-inch or so) slices and toast well.

Wrap in plastic and store in the fridge, where it will keep for about a week, or wrap and store in a resealable bag in the freezer.
Recipe Notes
Psyllium husks are typically sold in the nutrition supplement section of many supermarkets and most organic markets.
Slightly adapted from a recipe in Josey Baker Bread (Chronicle Books, 2014)