10 Ways to Get Kids Cooking Breakfast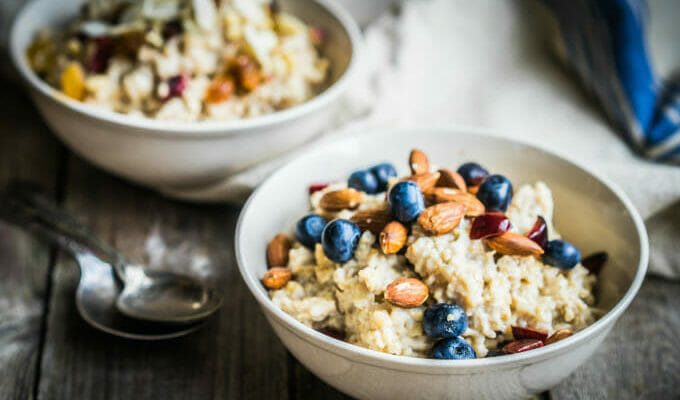 I've always found the back-to-school season to be a good time to step back and take a hard look at how we're doing as a family, reassessing routines, rules, and habits, and putting news ones into places as needed. One year we completely changed our approach to family chores. Another time we asked the kids to ride scooters to school several days a week instead of routinely driving them. Somehow they seem more amenable to change when the change from summer to school is already in motion.
As we approach another back-to-school season, consider starting (or upping the ante on) this healthy habit: getting kids to help with breakfast. Whether they're a first grader or a freshman in high school, making the first meal of the day can build their independence and lighten your to-do list. Here are 10 guidelines to get you started along with 10 recipes (down below) to put into practice.

1. Put Out Breakfast Fixings

 
Before your kids land in the kitchen, gather a few items from which they can make breakfast: a tub of yogurt, granola, and a banana with a stack of bowls; a loaf of bread and jar of almond butter next to the toaster; the fixings for a smoothie laid out by the blender. The ingredients are their reminder of what is expected of them. Just the sight of something good for breakfast may trigger an appetite.
2. Invite for their Input
Check in about what interests them for breakfast. If it's reasonably healthy, stock the kitchen accordingly. If you've got food they want to eat, they'll be more likely to want to make it.

3. Make Foods Easy to Reach
Arrange breakfast ingredients in an easy-to-reach spot in the fridge and/or pantry. It might be helpful to put morning foods in a designated container right at eye level and label it "breakfast".
4. Work As a Team
If your kids are on the younger side or just not ready to go it alone, start making breakfast as a team. Divvy up the tasks. You make the eggs, they toast the bread, for example. Eventually, they'll be able to go it alone.

6. Show them How
Whether it's something as simple as pouring a bowl of cereal or cracking an egg into a pan, if kids have never done for themselves, you'll need to show them how. A lesson on setting the toaster just right so the toast doesn't burn and pouring the cereal so the entire box doesn't empty onto the table can make all the difference in breakfast success.
5. Talk about What Makes a Balanced Breakfast
Kids can be tempted to shove their fist into a box of cereal and call it breakfast. Without droning on so long you trigger an eye roll, talk through what a good breakfast looks like — a protein food, a calcium source, a fruit or vegetable (or both!), and good-quality carbohydrate foods.

7. Teach a Few Recipes
My daughter Virginia has made scrambled eggs plenty of times, yet it was only last week that I took the time to walk through the best way to go about it. "These are so so good"! she said, and has made them several times since. The point? It pays to get kids started with a few recipes, whether it's making a favorite smoothie or cooking oatmeal. On a weekend, show them how to make something they can eat throughout the week such as Pumpkin Spice Blueberry Muffins or Cranberry Ginger Baked Oatmeal.

8. Pick up a Copy of Rise & Shine
We all need inspiration to get excited about meal prep. Have them peruse the pages of Rise & Shine to see what jumps out at them. The book is full of entry-level-easy recipes and tips for getting kids independent in the kitchen.
9. Ask them to Clean Up
Whether it's putting their cereal bowl in the dishwasher or washing out the blender from a smoothie, it's ideal to establish not just the cooking, but cleaning up habits, early on.
10 Give Heaps of Praise
Whatever big or little part of breakfast they helped out with, give them plenty of praise for doing their part.
Here are 10 easy breakfast ideas kids can make themselves (maybe with a little help from you)

Bowl of oatmeal photo credit: Alena Haurylik/Shutterstock