Weeknight Rescue // April 2021 // Week 14
I've got a colorful line-up of recipes this week and the first signs of spring on the menu. You'll also find a recipe that might be just right for Easter morning. Happy cooking.


If you've never tried your hand at Afghan cooking, this is a delicious place to start. Chicken thighs in a turmeric-spiced yogurt sauce are delicious over brown basmati rice. On the side, toss together equal parts diced tomatoes and cucumbers with a little red onion and a splash of lemon juice and olive oil.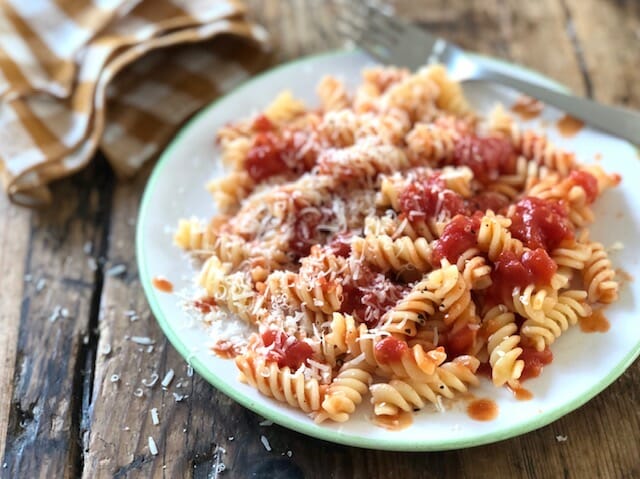 Sometimes a basic plate of pasta with red sauce hits the spot. This sauce couldn't be easier and is delicious tossed with any shape of pasta you like. Add freshly shaved Parmesan and a crisp salad. For a second veggie, try roasting asparagus using this method.


A longtime blog favorite, this is savory, sweet, and a little bit spicy. Serve it over cooked brown rice and it's a complete meal.  Need a side? Sliced cucumbers and radishes doused with rice vinegar, a pinch of sugar, and a crack of black pepper will do. 


I pull this out every spring when asparagus and peas come into season. It's quick to pull together (especially if you use store-bought pesto) and marries fresh mint, lemon zest, goat cheese, and plenty of veggies. Tune in on Wednesday, when I'll demo this over on Instagram.


Called "lazy" because you layer all of the ingredients instead of rolling up each individual enchilada. The result is no less tasty. Any Mexican sides are fair game: sour cream, guacamole, pinto beans, extra salsa. A salad on the side adds nice crunch!


Cinnamon rolls are an Easter morning staple around my house. These are a whole-grain version made with buttermilk, brown sugar, and a lemony glaze. They are pretty unfussy as far as cinnamon rolls go, and rise with baking powder instead of yeast (that means they can be in the oven in about 30 minutes!).

A healthy diet is all about balance, right? So enjoy those cinnamon rolls, but make room for the likes of this creamy green smoothie. If you don't have protein powder, no worries. It will be plenty nourishing without it.
SHOPPING LIST // WEEK 14
Turmeric Braised Chicken in Yogurt
1½ cups low-fat or full-fat Greek yogurt
3 pounds skinless, bone-in chicken legs and/or thighs
5 tablespoons extra-virgin olive oil
2 medium yellow onions
4 cloves garlic
½ teaspoon ground black pepper
1 tablespoon ground turmeric
1 ½ teaspoons ground coriander
1 cup fresh cilantro
Steamed basmati rice for serving
Pasta with Simple Tomato Sauce
One 28-ounce can whole peeled tomatoes
1 large yellow onion
3 tablespoons butter
1 tablespoon extra-virgin olive oil
12 ounces rotini, spaghetti, or any other pasta shape
Parmesan cheese to pass at the table
Optional additions: ½ teaspoon crushed Calabrian chilies in oil, handful fresh chopped basil, fresh cracked pepper, or 1 to 2 smashed anchovies
Brown Sugar Baby Bok Choy with Pork and Tofu
3 cloves garlic
1 tablespoon toasted sesame oil
1/3 pound ground pork
6 baby bok choy, about 2 bunches
2 tablespoons soy sauce (or gluten-free Tamari)
1 tablespoon seasoned rice wine vinegar
2 tablespoons brown sugar
1 to 2 pinches red pepper flakes
12 ounces firm tofu
2 to 3 cups cooked brown rice
Spring Vegetable Flatbread Pizza
6 scallions (about 1 bunch)
1 1/3 cups asparagus
2 teaspoons extra-virgin olive oil
2/3 cup fresh or frozen English peas
Pinch salt
Two 8×10-inch pieces whole-wheat or white lavash bread
¼ cup basil pesto
3 to 4 ounces fresh goat cheese
1 lemon
2 tablespoons fresh mint
Lazy Girl's Enchilada Pie
2 teaspoons extra-virgin olive oil
1 small red or yellow onion
2 medium zucchinis
2 ears corn (or 1 ½ cups frozen corn that's been defrosted)
1 lime
Nine 6-inch corn tortillas
One 15-ounce can low- or non-fat refried black or pinto beans
One 15-ounce can mild green enchilada sauce
2 cups coarsely grated Monterey Jack or Cheddar cheese (6 ounces)
No Yeast Whole-Grain Lemon Pecan Cinnamon Rolls
1 ½ cups whole-wheat pastry flour
½ cup almond flour
1 cup all-purpose flour
2 tablespoons sugar
1 ¾ teaspoons ground cinnamon
1 lemon
2 1/2 teaspoons baking powder
9 tablespoons butter
1 ¼ cups buttermilk
½ firmly packed cup brown sugar
½ cup pecans
1 cup confectioners' sugar

Pineapple Kale Protein Smoothie
¾ cup milk (cow's milk or favorite plant milk)
1 cup cut frozen pineapple (fresh works too, it will just be a thinner consistency)
½ ripe, frozen banana
1 to 2 tablespoons vanilla protein powder
½ cup roughly chopped kale or spinach