Weeknight Rescue//Fall 2022//Turkey Taco Salad, Pesto Pasta with Chicken, Beef and Butternut Chili, Salmon Burger Lettuce Wraps, Spinach and Feta Pie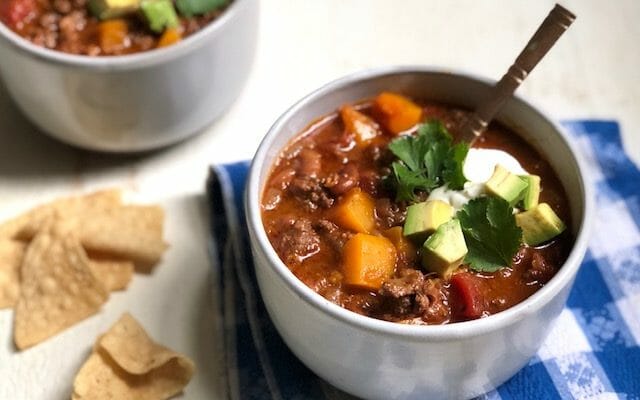 This week's menu is a mash-up of old favorites with a few newcomers in the mix. It's officially fall, so I'm also bringing out a few cozy recipes to welcome the new season. Enjoy!


This crunchy chopped salad tossed with old-school turkey taco meat is a longtime family favorite. If you want to make this vegetarian, swap in Beyond Meat or use black beans instead. Top with crumbled tortilla chips and you've got a main dish meal on your hands.


The dish serves four, but the portion is on the smaller side, so if you have teenagers or hearty appetites, you might want to scale up the recipe (worse case you have leftovers, which are great for lunch the next day). If you need a short cut, buy basil pesto at the market and assemble the rest according to the recipe.


Since fall is here, it's time to roll out the butternut squash recipes. First up is this delicious, nourishing Instant Pot chili. Beef and butternut make a winning pair and using taco seasoning mix just means fewer ingredients to worry about. Swap in ground turkey or even a meat alternative (ie Beyond brand) for the beef if you like.


I just made these this week, scaling down the recipe since it was just two of us. It's an inventive way to enjoy the convenience of frozen salmon burgers, done in a lettuce wrap with crunchy veggies, avocado, and a tangy/spicy sauce. The meal is on the lighter side, so if you have hearty eaters, throw an extra burger or two in the pan or do up a side of steamed rice.


A lighter spin on a Greek-style spanikopita, this is an excellent make-ahead dish that doubles as a leftover for lunch. Don't worry, filo dough is pretty easy to work with and seeing that golden puff come out of the oven is darn satisfying. As for sides? Maybe start with a cup of tomato soup or your favorite store-bought boxed soup.


Toast piled with all kinds of sweet and savory toppings is a breakfast staple in my house. There's no end to creative ways you can top toast and you'll find loads of ideas here if you're looking for some inspo.

These energy balls are a snap to make and tasty to eat. The figs adds naturally sweetness and pairs deliciously with lemon and coconut. Stash the energy balls in the fridge for a quick healthy treat or pre-workout bite.

SHOPPING LIST // WEEK 39
Turkey Taco Salad with Cumin Lime Dressing
1 pound ground turkey
1 packet taco seasoning mix
1 head Romaine lettuce
¾ cup halved cherry tomatoes
1/3 English cucumber
5 radishes
½ large avocado
1 cup coarsely grated sharp cheddar or Monterey Jack cheese
2 tablespoons lime juice
1 tablespoon apple cider vinegar
¼ cup extra-virgin olive oil
½ teaspoon honey
½ teaspoon ground cumin
Handful tortilla chips
Instant Pot Beef and Butternut Squash Chili
2 teaspoons extra-virgin olive oil
1 large yellow onion
1 pound ground beef (or turkey, lamb, venison, or a combination)
One 1 1/4-ounce packet taco seasoning mix
2 cups uncooked, cubed (1/2 inch) butternut squash
1 1/2 cups cooked pinto beans (one 15-ounce can, drained)
One 14.5 ounce can diced tomatoes
1/8 teaspoon cayenne pepper
Favorite chili garnishes, such as sour cream, avocado, cilantro, scallions, cheese, and salsa
Basil Pistachio Pesto Pasta with Chicken
12 ounces boneless, skinless chicken breasts
1/2 teaspoon salt
1/4 teaspoon freshly ground black pepper
Cooking spray
8 ounces uncooked fusilli or rotini
2 garlic cloves
2 cups basil leaves
1/4 cup shelled dry-roasted pistachios
2 tablespoons fresh lemon juice
1 1/2 tablespoons extra-virgin olive oil
1 ounce grated fresh Parmesan cheese (about ¼ cup)
Salmon Burger Lettuce Wraps
3 ounces dried rice stick noodles
1 heaping cup shredded carrots (use pre-shredded for ease)
1 1/2 medium ripe avocados
1 large head Romaine or butter lettuce
2 scallions
4 four-ounce frozen salmon burgers
3 tablespoons mayonnaise
1 tablespoon plain yogurt or Greek yogurt
1 teaspoon sriracha
1 tablespoon lime juice
3 Persian or ½ English cucumber
2 tablespoons rice vinegar
2 teaspoons sesame seeds
Spinach and Feta Pie
1 tablespoon extra-virgin olive oil
½ large yellow onion
1 pound frozen chopped spinach
1 teaspoon Kosher salt
¼ teaspoon ground nutmeg
¾ cup low-fat cottage cheese
6 ounces feta cheese
2 eggs
6 sheets whole wheat or regular filo dough
3 tablespoons butter
Healthy Breakfast Toast with All the Toppings
1 slice whole grain bread
Spread of choice (peanut butter, nut or seed butter, cottage cheese, cream cheese, all-natural jam, smashed avocado or hummus)
Fruit choice (apple, pear, grapes, banana, peach, apricot, figs, fresh or frozen and defrosted berries, or other)
Vegetables/leafy greens (cucumbers, tomatoes, peppers, arugula, baby spinach, or other)
Toppings of choice (chia seeds, hemp seeds, pepitas, nuts, coconut, dried fruit, granola, cacao nibs)
Seasonings of choice (salt, pepper, herbs, chiles, spices, salsa, honey, lemon or lime juice)
Cashew Coconut Energy Balls
1/2 cup dried figs 1/2 cup raw or roasted cashews
2 tablespoons shredded unsweetened coconut
Zest of 1/2 lemon
Pinch salt