Weeknight Rescue//February 2023//Week 9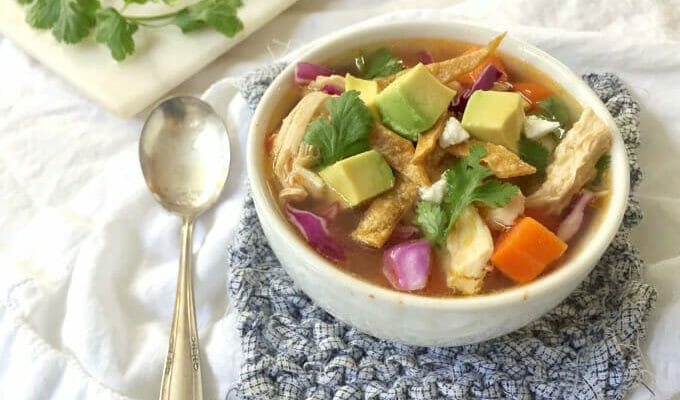 I've been on the road for a bit, but with the line-up of recipes this week, I am looking forward to getting back behind the stove. Enjoy!


I love this light, super crunchy, and plenty satisfying salad. It's really packed with flavor and is just as good with a chicken as tofu skewers (or make both!).


This lighter version of mac and cheese is built on a base of cooked carrots that you whirl with low-fat milk into a creamy puree. All you have to do is add pasta, sharp Cheddar and chopped chives and bake until bubbly. Throw a sheet pan of broccoli in the oven to roast alongside the pasta.


They say chicken soup heals, and when I'm under the weather this is the one I crave. Luckily, it's excellent when you're the picture of healthy, too 🙂


To me, pot roast is the very definition of comfort cooking. It is hearty and soul satisfying. The slow cooker does a terrific job with pot roast, but you can also roast it in the oven (instructions for that are in the recipe headnote).


Make the most of virtually any type of root vegetable by roasting them slow and finishing with lemon tahini dressing. Add chickpeas to the mix to make it a main dish. Or serve with spoonfuls of protein-rich Greek yogurt mixed with a splash of olive oil and big pinch of salt and pepper.


Getting a pot of these beans simmering on your stove takes no time at all and your future self will appreciate all the simple meals that beans can deliver. Make breakfast burritos, lunch bowls with rice and avocado, dinner soups, and sides or snacks with a splash of salsa and a few tortilla chips for scooping.

I recently gave this recipe a tune up and I've made it several times since. It's a bit of a makeover of the classic Toll House recipe, which whole-grain and nut flour, olive oil in place of some of the butter, nuts, and good dark chocolate chips.
SHOPPING LIST
Crunchy Salad with Chicken/Tofu Skewers
½ cup lime juice (3 to 4 juicy limes)
2 tablespoons sambal oelek
2 tablespoons fish sauce
2 tablespoons canola oil
2 ½ tablespoons packed brown sugar
1 pound boneless skinless chicken breast or firm tofu
½ head Napa cabbage
½ head red cabbage
2 large navel oranges
2/3 cup roughly chopped fresh basil or fresh cilantro
½ cup roughly chopped fresh mint
3 scallions
1/4 cup roasted salted peanuts
Creamy Carrot Mac and Cheese
1 pound carrots, peeled
2/3 cup water
12 ounces penne pasta
1 1/4 cup low-fat milk
5 ounces sharp Cheddar cheese
2 tablespoons fresh chives
Chicken Tortilla Soup
4 teaspoons extra virgin olive oil
1 large yellow onion
2 large cloves garlic
5 ½ cups chicken broth
1 cup diced tomatoes (use canned when tomatoes are out of season)
1 1/2 pounds skinless, bone-in chicken breasts
4 corn tortillas
Kosher salt
3 large carrots
2 ½ cups roughly chopped red cabbage (about 1/3 of a head)
¼ cup fresh lime juice (2 to 3 limes)
¼ cup chopped cilantro
1 jalapeño pepper
1/3 cup crumbled cotija cheese
Cubed avocado for garnish (optional)
Lemon Tahini Dressing with Vegetables
2 large carrots
1 pound small waxy potatoes, such as red, yukon gold, or yellow finn
1 large sweet potato
1 large bulb fennel
1 large red or yellow onion
1/4 cup + 2 tablespoons olive oil
1 cup cooked chickpeas (optional)
1 large clove garlic
2 teaspoons honey
¼ cup lemon juice
¼ cup tahini
1/2 teaspoon ground cumin
1/2 teaspoon ground coriander
Slow Cooker Pot Roast with Vegetables
One 2 1/2 pound grass-fed chuck roast
2 teaspoons canola oil
1 large yellow onion
1 cup red wine
4 cloves garlic
1 cup beef broth
One 14.5-ounce can diced tomatoes
1 pound small, waxy potatoes (red skin, white or Yukon Gold)
4 large carrots
6 large sprigs fresh thyme
Simple Black Beans
1 pound dried black beans, about 2 cups
2 large cloves garlic
½ yellow onion
Chocolate Chip Cookies
3 tablespoons extra-virgin olive oil
3 tablespoons salted butter
3/4 cup firmly packed brown sugar
1 egg
1 1/2 teaspoons vanilla extract
1/2 cup almond flour
1 cup whole-wheat pastry flour
3/4 teaspoon baking soda
3/4 cup dark chocolate chips or chopped dark chocolate
Flaky salt, such as Maldon (optional)