Weeknight Rescue//Summer 2023//Week 36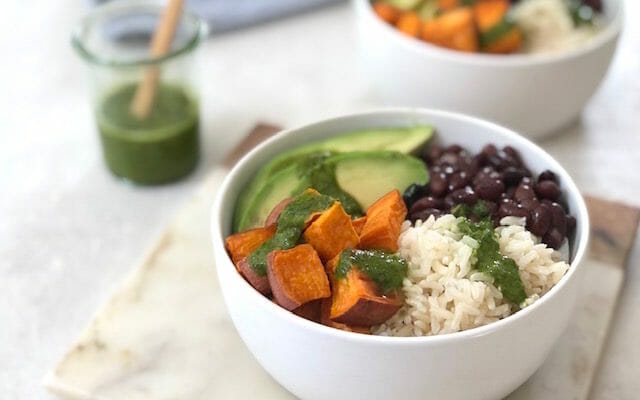 I'm a little late to the party with this week's meal plan. Apologies! I hope you still have room in your week for a recipe or two. If you've never tried my banana date shake, it's so simple and yummy. Ad the Tex Mex Salad is not to be missed. Enjoy!


This is light and easy enough for everyday cooking, but is also the sort of dish I'd serve guests. As for side dishes, a loaf of crusty bread and simple green salad would do if you want to keep things simple. The grilled vegetables recipe down below would also work on the side.


These nourishing bowls are a fan favorite in my house. Roasted sweet potatoes, brown rice, black beans, and avocado get dressed up with a tangy, slightly spicy cilantro sauce. Add pickled jalapeños, Cotija cheese, toasted pepitas or whatever else strikes your fancy.


This is sort of an heirloom recipe, since it was inspired by the pasta my grandfather made us growing up. It's simple, affordable weeknight cooking that relies on canned clams and spaghetti. Consider adding a green salad (with this dressing).


I'm making this for Sunday supper at home tonight along with roasted root vegetables. It's simple, so seasonal, and very delicious. If you don't have fresh figs, you can use another seasonal fruit, such as seedless grapes or sliced pears (instructions in the post).


This is a recipe I developed for Simply Recipes and forgot about entirely. It's full of flavor and crunch and well worth sharing. You can assemble the salad ingredients, make the dressing, and cook the chicken ahead of time, and then assemble just before serving. It's also a good one to pack up for school or work lunches. (photo credit Alison Bickel)


Gather up your favorite grilling vegetables, get them good and tender on the barbecue, and whip up a side of herb crème fraîche to go with. This makes a terrific side dish or a light main, maybe with a side of beans or lentils or the grilled chicken above.

This shake is a study in simplicity. It has just four ingredients, all of which you may already have in your pantry and fridge. Best of all, it tastes like a creamy treat, even though it doesn't have a lick of ice cream or a spoonful of sugar. Be sure to freeze your banana before making this.

SHOPPING LIST
Harvest Bowls with Glossy Green Sauce
2 medium to large sweet potatoes
1 tablespoon extra-virgin olive oil
1/2 teaspoon kosher salt
1 cup uncooked long grain brown rice
11/2 cups cooked black beans (one 15-ounce can, drained)
1 large ripe avocado, cut into thick slices
1 bushy bunch cilantro (2 cups chopped)
3 tablespoons extra-virgin olive oil
1 1/2 tablespoons lime juice
1 1/2 tablespoons white wine vinegar
1/4 teaspoon red chile flakes
Optional additions: pickled jalapeños, crumbled Cotija, roasted pepitas
Spaghetti and Clams
1 pound spaghetti
2 tablespoons extra-virgin olive oil
2 tablespoons butter
4 large cloves garlic
Four 6.5 ounce cans chopped clams in clam juice
1/3 cup finely chopped parsley
Zest of 1/2 lemon plus 2 tablespoons juice
Big pinch red pepper flakes
Pounded Chicken with Olives, Tomatoes, and Avocado
1 1/4 pounds boneless, skinless chicken breasts
1 tablespoon extra-virgin olive oil
1 large clove garlic
3 tablespoons balsamic vinegar
3 tablespoons lemon juice
2 teaspoons ground cumin
1 1/3 heaping cups cherry tomatoes
1/4 cup roughly chopped fresh basil
1 cup castelvetrano olives (or other favorite meaty olives)
1 small ripe avocado
2 scallions
Pork Tenderloin with Roasted Figs
3 cloves garlic, minced
2 teaspoons finely chopped fresh rosemary, plus 2 big sprigs
1 tablespoon Dijon mustard
2 teaspoons pure maple syrup
1 teaspoon kosher salt, plus more as needed
Freshly ground black pepper
Two 1 to 1-1 /4 pound pork tenderloins
1 tablespoon extra-virgin olive oil, divided
16 fresh figs (about 1 basket)
1 tablespoon balsamic vinegar, divided
Tex Mex Chopped Chicken Salad with Cilantro Lime Dressing
6 cups romaine lettuce
1 medium red bell pepper
1 cup diced English or Persian cucumber
1 cup cherry tomatoes
3 scallions
1/3 cup extra virgin olive oil
1 1/2 cups fresh or frozen corn kernels (2 medium ears)
1 pound boneless skinless chicken thighs
1 tablespoon taco seasoning mix
12 corn tortilla chips
1/4 cup crumbled Cotija cheese
1 tablespoon lime juice
1 tablespoon white wine vinegar
1/2 teaspoon honey
1/2 teaspoon cumin
1/2 cup cilantro leaves
Herb Creme Fraiche with Grilled Vegetables
Heaping 1/2 cup crème fraiche
1 1/2 tablespoons chives
1 tablespoon fresh basil
1 tablespoon fresh mint
2 teaspoons extra-virgin olive oil
Favorite vegetables for grilling such as bell peppers, onions, eggplant, and zucchini
Banana Date Shake
1 cup low-fat milk (cow or plant milk)
1 ripe frozen banana
1 to 2 large Medjool dates
6 walnut halves