Weeknight Rescue//Week 37//September 2021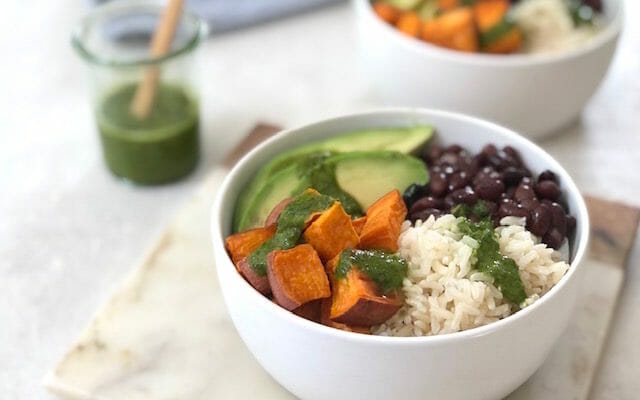 It's Labor Day Weekend, people, and I've got a line-up of goodies for the grill (along with weekday meals to carry you through). I hope you all get a hot second to put your feet up and enjoy it all.


Gather up your favorite grilling vegetables, get them good and tender on the barbecue, and whip up a side of herb crème fraîche to go with. It's on the light side, so sliced crusty bread, brushed with olive oil and burnished on the grill makes a nice addition. Alternatively, make the grilled vegetables the side dish and throw chicken or chops on the grill as well.


New to the blog, these nourishing bowls are a fan favorite in my house. Roasted sweet potatoes, brown rice, black beans, and avocado get dressed up with a tangy, slightly spicy cilantro sauce. Add pickled jalapeños, Cotija cheese, toasted pepitas or whatever else strikes your fancy.


This is one tasty and very healthy summer supper. It's light and easy enough for everyday cooking, but is also the sort of dish I'd serve guests. As for side dishes, a loaf of crusty bread and simple green salad would do if you want to keep things simple. The Watermelon Wedge Salad below would also work on the side.


Minimal cooking involved! You gather and set out all the ingredients, everyone else assembles their own just they way they like it. Kick up the fun faction and do up these sandos on the grill. Just add a big plate of cut up veggies or a salad and dinner is done.   


Cooking pork low and slow in a crock pot with a serious hit of chipotle is an excellent starting point for weeknight tacos. From there it's a matter of gathering your best taco fixings with a salad or street corn on the side.


This is a healthy spin on my sister-in-law's excellent upside down cake. I usually make it with plums, but peaches and nectarines would be tasty too. Add a spoonful of this dreamy whip to every slice.

This shake is a study in simplicity. It has just four ingredients, all of which you may already have in your pantry and fridge. Best of all, it tastes like a creamy treat, even though it doesn't have a lick of ice cream or a spoonful of sugar.

SHOPPING LIST // WEEK 39
Herb Creme Fraiche with Grilled Vegetables
Heaping 1/2 cup crème fraiche
1 1/2 tablespoons chives
1 tablespoon fresh basil
1 tablespoon fresh mint
2 teaspoons extra-virgin olive oil
Favorite vegetables for grilling such as bell peppers, onions, eggplant, and zucchini
Sweet Potato Black Bean Bowls with Glossy Green Sauce
2 medium to large sweet potatoes
1 tablespoon extra-virgin olive oil
1/2 teaspoon kosher salt
1 cup uncooked long grain brown rice
11/2 cups cooked black beans (one 15-ounce can, drained)
1 large ripe avocado, cut into thick slices
1 bushy bunch cilantro (2 cups chopped)
3 tablespoons extra-virgin olive oil
1 1/2 tablespoons lime juice
1 1/2 tablespoons white wine vinegar
1/4 teaspoon red chile flakes
Optional additions: pickled jalapeños, crumbled Cotija, roasted pepitas
Pounded Chicken with Tomato, Olive, and Avocado
1 1/4 pounds boneless, skinless chicken breasts
1 tablespoon extra-virgin olive oil
1 large clove garlic
3 tablespoons balsamic vinegar
3 tablespoons lemon juice
2 teaspoons ground cumin
1 1/3 heaping cups cherry tomatoes
1/4 cup roughly chopped fresh basil
1 cup castelvetrano olives (or other favorite meaty olives)
1 small ripe avocado
2 scallions
DIY Grilled Cheese Night
Favorite sliced bread (such as levain, pullman's, sourdough or walnut)
Favorite sliced or grated firm cheeses (such as Cheddar, Gruyere or Havarti)
Favorite soft cheese (such as goat cheese, Brie, or feta)
Sandwich-friendly vegetables (such as roasted red peppers, leafy greens, or tomatoes)
Sliced cold cuts (such as ham, turkey or salami)
Little extras (such as sun-dried tomatoes or sliced cornichons)
Condiments (such as mustard, pesto or tapenade)
Butter or olive oil for greasing skillet
Slow Cooker Pork Tinga Tacos
1 tablespoon extra-virgin olive oil
1 large yellow onion
1 large tomato
One 7-ounce can tomatillo salsa (~1 cup tomatillo salsa)
2 cloves garlic
1 chipotle chile en adobo
1 tablespoon adobo sauce (from canned chipotle chiles)
1/4 cup low-sodium chicken broth or water
One 2 to 2-1/2 pound boneless pork loin roast
Upside Down Plum Cake
6 to 8 plums (depends on size)
1/4 cup brown sugar
8 tablespoons unsalted butter
1 cup whole-wheat pastry flour
1/2 cup almond flour
2 teaspoons baking powder
3/4 cup sugar
2 eggs
1 cup buttermilk
1 teaspoon vanilla extract
Banana Date Shake
1 cup low-fat milk (cow's or plant milk)
1 ripe frozen banana
1 to 2 large Medjool dates
6 walnut halves